THE DIFFERENCE BETWEEN SEO AND PPC
When a company starts to think about marketing themselves online, they want to be clear about the methods available to do this.
There are two main avenues, pay-per-click advertising and search engine optimisation. Both of these have benefits and can be used alone or in combination to raise a company's profile online.
Pay-per-click advertising, or PPC, is a form of paid online advertising that when done right, can bring in new customers with a few clicks.
Search engine optimisation or SEO is conversely known as unpaid online advertising. This is not because it is completely free to do, someone has to be paid for their time and expertise to implement it unless of course, the business owner has the knowledge of how to write optimised content themselves.
However, the majority of people will need help with their SEO.
THE POSSIBILITIES OF SEARCH ENGINE OPTIMISATION
The unpaid element of SEO alludes to the fact that it does not cost something every time someone clicks on an advertising element within a webpage i.e. a PPC advert.
The cost of SEO comes into play when a company employs a content marketing agency to write webpage content and accompanying social media posts, often on an ongoing basis. Adding the written content to the website will involve the agency using a content management system or CMS to re-write and optimise existing website pages with new keywords.
What if a company doesn't have a website, however, or no online presence? This is when web design and development are also needed. Before SEO and content management can start, a website needs to be created with a modern user experience (UX) design that will attract potential leads and encourage them to convert into new customers.
Once the website is designed, search engine-optimised content can be added via a content management system. This content can then be managed over time, either updated by the agency or by the company owner themselves - again, if they have the knowledge to do this.
THE CLEVER USE OF KEYWORDS
Once ready, the website should then bring in visitors via organic search. This is where a person will type in a search term into a search engine, if it contains keywords in the right combination that are also contained in the website's pages then the website should be visible in the search engine results for that search term.
It is very difficult for websites to rank at the top of the search engines however, but if keywords are used cleverly, then the website could potentially list in the first couple of pages of results and so be found by the person searching.
Finding the correct keywords and key phrases to bring people to the website in the first place is one of the jobs of a content management agency, which will implement these keywords throughout the pages of the website.
They will likely use a keyword tool to find words or phrases to be used on the site that have a high enough search volume, but not so high as to be too competitive.
A content management agency will also use other types of content, like blog posts and social media posts, to point people towards the website and its pillar pages that contain calls to action - i.e. contact us buttons and forms that encourage website visitors to make contact with the company, if they want to know more about their products or services.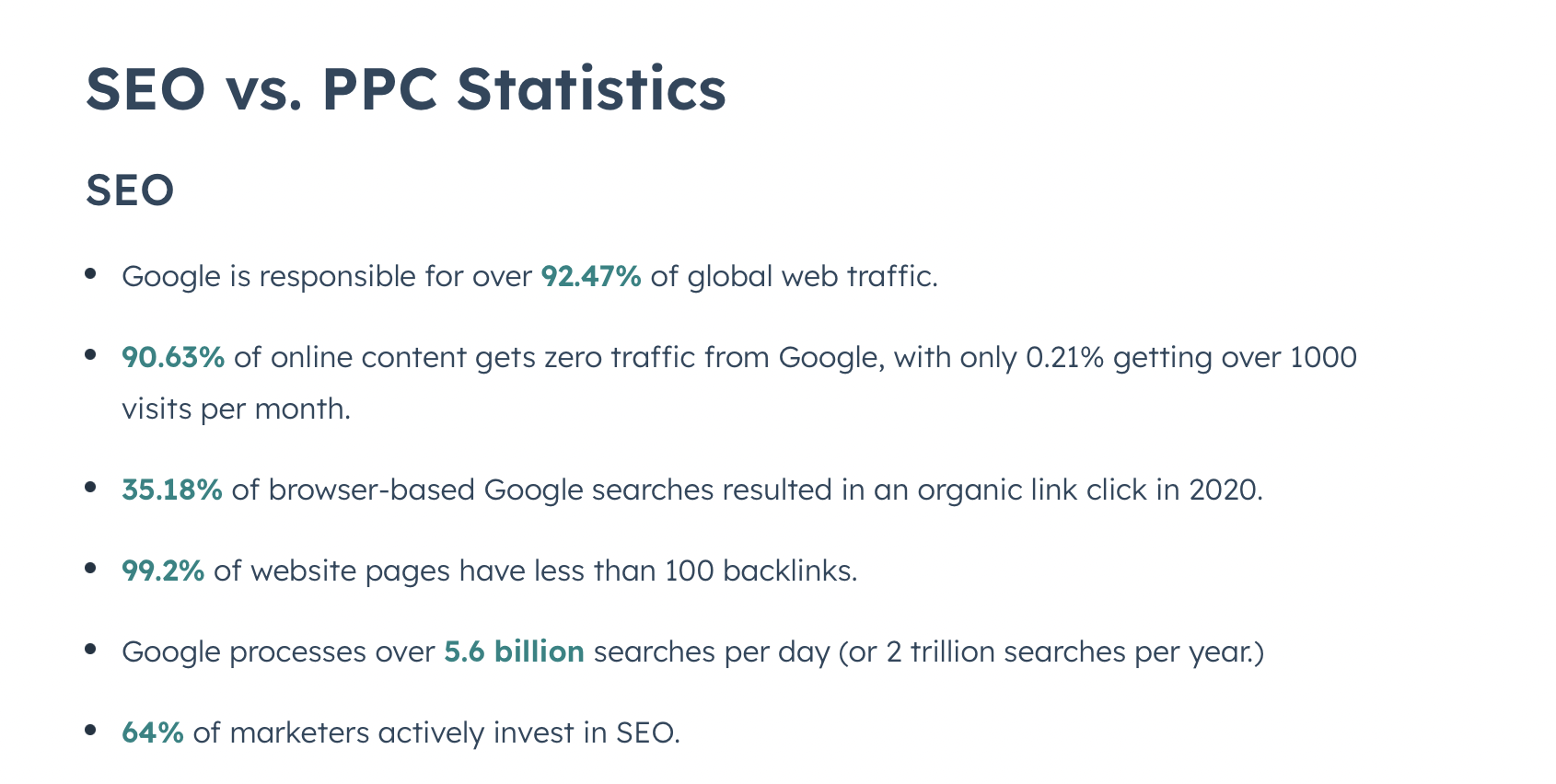 THE POWER OF PAY-PER-CLICK ADVERTISING
So that is SEO explained in a nutshell, now what about PPC advertising? Again, implementing this type of in-depth online marketing strategy needs the expertise of specialists in this field.
Experienced PPC Managers will know how to set up a successful pay-per-click campaign. They can recommend what paid ads platform to use and put together PPC ads that contain the right wording and design to attract attention.
Once a campaign plan is agreed upon, a PPC Manager will then choose suitable keywords to include in the paid ads and also set up a list of negative keywords. These are words or phrases that the ads shouldn't show because they would result in clicks from unqualified leads, i.e. those who are not genuinely interested in the company or products in question.
So as you can see, PPC is complex and a pay-per-click campaign needs to be finely tuned by experts to ensure that clicks are not being wasted and money is thrown away on unqualified leads - after all every click counts with PPC. However, if successful, pay-per-click advertising can be the quickest way to grow a business online and it can provide a great return on investment.
The best way to approach PPC is to decide on a budget and let a PPC management agency create a campaign to test the results it could bring. Campaigns can always be adjusted or paused if they are not bringing in qualified leads.
However, it can take a few months for pay-per-click campaigns to achieve results, so committing to PPC does involve an initial outlay that will then bear fruit in the long run.
C
OMBINING SEO AND PPC FOR SUCCESS
Perhaps the best way to make an overall success of online marketing is to use a combination of both SEO and PPC to achieve the required results.
Instead of looking at things in terms of SEO versus PPC, the best way forward is to talk to an online marketing agency that offers expertise in all the elements discussed.
They can then draw up a plan based on specific goals and aims that should result in the creation and ongoing success of an online presence, that justifies the investment put in.
If you would like to create a successful online marketing plan that combines the powerful elements of both PPC and SEO, contact us today and we can schedule a time to discuss your specific requirements.