What is Web Design and Development?
Web Design and Development is the catch-all phrase that refers to the process of creating and maintaining a digital product; a website.
Website Development

establishes and secures the functionality of a site, through technical development including coding and web engineering. As digital devices and operating systems advance, websites need continued development to remain accessible.
Web Design

enhances the visual and user-related components of a website, including User Experience (UX) and User Interface (UI) elements, as well as the overall look and feel of a website. It is highly beneficial in the current digital climate, where an unprecedented focus is placed on brand affinity and user perceptions.
Many businesses benefit from combined Web Design and Development services that ensure the upkeep of their website from a functional and usability perspective.
Web Design vs Website Development
Website Development and Web Design both form a crucial part of digital product creation and maintenance. They are notably different and require very different skills, applications and software.
At Digital Media Stream, we offer specialised Web Design and Development Services across the UK.
Our development process keeps your website efficient, providing the user with the best experience possible while conforming to search engine best practices.
Whether you need to design an icon for your website, create engaging collateral for your paid social campaigns or craft enticing calls-to-action, our team of experts can provide the assistance you need.
If you're ready to pull your website out of the dark age, we can help your business stand out from the crowd. Our websites are designed to achieve your business objectives.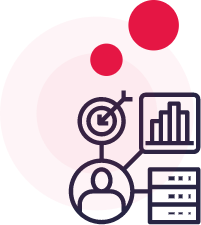 In a short amount of time, Digital Media Stream were able to positively impact our organic search traffic through blogs and social media. They even got us to the top spot in organic search for one of our most desired keywords.
Julia Valentine
Head of Marketing
Web Design and Development Agency Services
What do Web Design and Development Services include?
At Digital Media Stream, we take a strategic and systematic approach to the design and development activity of your website.
We build a website around your specific business objectives. Throughout the design process, we draw out individual briefs for your web pages, provide custom-built wireframes and document designs through detailed mockups.
With an emphasis on transparency, we ensure you have full visibility of your Website Development and Design project throughout the project's lifecycle.
We deploy a full-funnel design to nurture visitors through the buyer journey, including landing page design, UX testing and Conversion Rate Optimisation (CRO).
We take into account the human experience, the need for simplicity, and the technical requirements to help Search Engines index, rank and organically promote your website.
Uncompromised quality and an indelible brand experience are part and parcel of our Design & Development service offering.
Get to know the finer details of our services below.

And if you're ready to experience next-level Website Design and Development, we're ready to make it happen
Responsive Development
Respond to the user's behaviour and environment based on screen size.
Handle Variations In Size And Functionality
All Sizes: Desktop, Tablet And Mobile
Higher Website Conversion Rates
Custom Layout Structure
SEO Optimised
Careful planning and a structured approach to representing your business and services.
Growth-Driven Design
A strategic and systematic approach to your website's design and development.
Collect User Data And Identify Gaps
'LaunchPad' Development
Incremental And Continuous Improvement
Your Greatest Impact Changes First
Block Modules Structure
Meet users' specific needs and focus on the logic of displaying elements.
Easily Editable
Optimised
Reusable
Configurable
Site Design
Define the layout, support styling and create attractive websites.
Wireframes
Mockups
Revisions
HubDB, HubSpot API And Integrations
Graphic Design
Carefully crafted messages where imagination & innovation come together.
Visual Hierarchy
Page Layout Techniques
Typography And Picture
Interactive Designs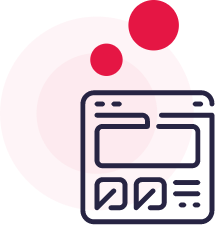 What is Web Design?
Web Design is the process of creating a digital product in a visually compelling, user-friendly manner. It focuses more on the visual components of a website, the site layout and general usability; it can sometimes include content as part of the design, although this typically forms part of a larger Search Engine Optimisation (SEO) or Content Marketing scope.
Web Design incorporates various elements that contribute to the user-friendliness of a website. Web designers spend a lot of time and effort in stylising a site with just the right typography, User Interface (UI) and User Experience (UX) elements - and sometimes top-level SEO techniques.
As a more practical example, Web Design focuses on the front end of a website. Everything that you see - buttons, images, sliding carousels, illustrations, fonts and more - are the work of a Web Designer.
What is Website Development?
Website Development refers more specifically to the technical development of websites to either determine or improve the functionality of the site.
More commonly known as web dev, this is an overarching process that includes development specialities such as network configuration, coding, and website engineering.
Website Development focuses on creating a robust back-end structure for websites to operate within the requirements of networks, like intra- and internets.
Development can be explained as the background framework of a website; the code that allows a page to lazy load, for example, is part of the work of a Website Developer. When you hover over a site's navigation options, and they expand like an accordion? Also the work of a Web Developer.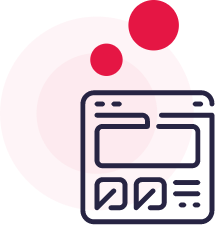 How can a Website Development Agency help my business?
Successful digital marketing projects demand ongoing Website Development and Design. We create websites that grow with your campaigns, attract more visitors and turn them into customers.
A Website Development Agency is the most practical and proactive approach to anticipating and meeting your customer needs. In the rapidly changing digital landscape, businesses must ensure they are meeting their customer's needs, and are making profitable decisions about their online presence in the face of relentless competition.
A quality website is a powerful tool to guide your online marketing activities and grow your digital business.
By choosing a Website Development Agency to optimise your front-end and back-end functionality, you'll be opening up a world of possibilities including:
Memorable UI and UX that drives customer engagement, loyalty, and brand affinity.
More qualified leads and more closed deals thanks to an easily navigable and truly useful website that compels on-site actions and higher AOV.
Better exposure on search engines thanks to technical, structural and visual enhancements supported by development and design respectively.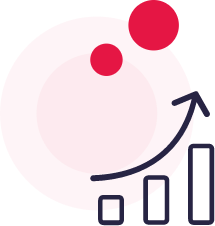 Web Design and Development FAQs
What is website development process?
Discover our design and build process below:
Goal setting:

we work with you to get a full understanding of your business objectives, and how we can support you in achieving these objectives with your website design and build.


Briefing:

we put a strategic plan into place with tangible milestones and KPIs.


Wireframes:

our designers get to work on the first stage wireframes. These are sent to you for sign off before commencing the next phase.


Mockups:

get a real feel for the functionality and look of your new, improved website. Once you sign off on the wireframes, we get to work on the full mockup.


Development:

once mockups have been signed off, your website goes into development. This is where the magic happens, and ideas are brought to life. Once the development is complete, you have the chance to review and sign off on deployment.


Deployment:

our team of Web Developers will launch your new website for you, ensuring all the technical and data safety measures are taken along the way.
Will my website work on all devices?
Yes.

All of our websites are built to be responsive and are carefully constructed to interact and display across desktop, mobile and tablet devices. This means that no matter the screen size, operating system, or even the device type - your website content will be displayed in a formatted and readable manner.
What does SEO stand for in web design and development?
Search Engine Optimisation (SEO) in the context of web design and development refers to the technical and navigational fundamentals required to ensure your website is crawlable, displayable and usable by search engine crawlers, like Google, Bing or Yahoo.

SEO in Web Design and Development mostly includes technical SEO elements such as sitemaps, URL structure, redirect directives and more. On-page and technical SEO are both important parts of a successful website build.
Will my website be optimised for search engines (SEO)?
All sites are built to conform to SEO best practices where possible. From the image sizing to the hierarchy of the content, we follow Best Practice Guidelines from the briefing stage through to deployment. The best way to ensure comprehensive Search Engine Optimisation is if we write the content for you, though we are always happy to work with any content you have.
Combining one of our optimised website builds with a Content Plan from us is the best way to ensure you get results from your new site.
Will I be able to change & update the content myself?
Yes.

We build websites to be as easily editable as possible, and during the project lifecycle, we are available to help you understand how to update your content going forward. This means that once we have deployed and handed it over, you will have all the tools you need to change content and potentially even build out new pages on your own.
How much does it cost to hire a web development company?
If you are in the process of looking to hire a web development company, the chances are you've seen a variety of prices and received many quotes. Simply put, there is no one-size-fits-all solution to website development.
Each website is unique and therefore has its own requirements. That's why, at Digital Media Stream, we understand your business needs first. We find out your goals and outline your vision before recommending the best fit solution for your business.
How many hours to develop a website?
The duration of a web design and development project can vary drastically depending on the size, complexity and functional requirements it will need to meet.
Generally speaking, a website consisting of up to 8 templates can take up to 100 hours to complete. This can be extended if there are changes required on the templates.
Our web developers will provide an estimate of the duration of your project once goals have been established, and they have had a closer look at the technical and visual requirements of the project scope.
Which platform is best for website development?
"Best" is subjective, especially when it comes to website development.
At Digital Media Stream, we specialise in CMS (Content Management System) builds on HubSpot. As HubSpot Platinum Solutions Partners, we have unrivalled expertise on the platform and the right team of experts to ensure your web design and development project is a resounding success.
Web Development and Design Services Pricing
Our bespoke Web Development and Design Services offer flexible and affordable solutions across the UK. There is no black-and-white pricing model for our Design and Development services; you can customise your project or retainer based on your objectives and budget.
Each Development and Design Service will be customised to your needs, which we will discuss in detail before taking any steps. Digital Media Stream is your strategic partner; we make every effort to understand your needs and align them closely with our services to ensure the best possible results for you.
With our vast digital experience and HubSpot Platinum Solutions Partner credentials, you can rest assured you'll be guided and supported by industry experts, prioritising quality outputs for the entirety of your project and beyond.
Digital Media Stream is an accredited HubSpot Agency and provider of best-in-class Design and Development Services across the UK.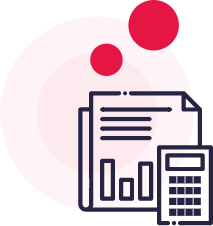 The Heaton Group
259% increase in organic new contacts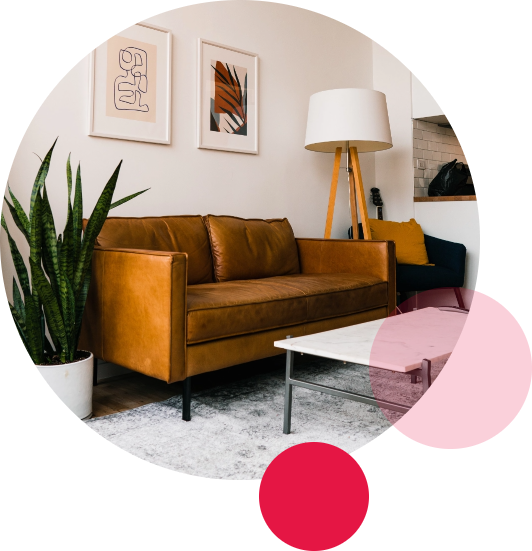 Why choose Digital Media Stream as your Website Development Agency?
Digital Media Stream has evolved into one of Manchester's leading Web Design and Development Agencies. Locally based, we proudly service businesses across the UK.
We understand the importance of an optimised website, and pride ourselves on ensuring that our services are delivered on time, by the right team of experts, and to the highest quality standards. We use a strategic partnership approach to all our projects - whether on a retainer basis or once-off.
Our purpose? To help ambitious, growth-driven businesses achieve their goals - continually. We do this through refined, focused Web Design and Development processes, and a touch of our secret marketing magic.
When it comes to delivering top-tier Design and Web Dev projects, we focus on creating a comprehensive digital product that encompasses technical, visual and user-friendly strategies with the highest potential to enhance your online presence and performance. These elements all combine to produce profit for your business.
We're a HubSpot Certified Agency Partner – an accreditation awarded to those who have demonstrated excellence in HubSpot methodology.
We're ready to take your website to new heights. Are you?