In the rising age of chatbots, AI and other technological advances, email marketing is still holding steadfast. 86% of professionals still prefer to use email as the number one platform for business purposes. And what of the future? According to HubSpot, email usage will only set to increase over 3 billion by 2020.
We love a good statistic or data-laden report at Digital Media Stream, so when we heard about Digital Doughnut and dotmailer's 'Email Benchmarking Report 2017', we just had to take a peek. And the results were eye-opening.
The report is put together with data collected from over 1,500 marketers who took part in the research. Digital Doughnut calls it a "comprehensive analysis of the email marketing environment."
Client Services Director Skip Fidura from dotmailer states, "Email is the workhorse of the digital marketing suite. It has stood the test of time."
We're picking our favourite statistics from the report as well as sharing some bonus HubSpot stats, too and see how email is keeping up with the times.
The Most Important Email-Related Trends
Data from the research revealed the top-most important email trends according to those who took part.
Personalisation & Relevance
A quarter (26%) of respondents said that 'personalisation and relevance' would remain a top trend over the next 12 months. 19% said that would it remain a trend over a five year period.
Automation
Only 16% of respondents thought that email automation would keep trending over time.
Artificial Intelligence
Though it was the second most important trend across a five year period, only 6% of marketers are currently implementing AI. Yet a whopping 36% said they are planning to employ the emerging technology as part of their email marketing strategy in time.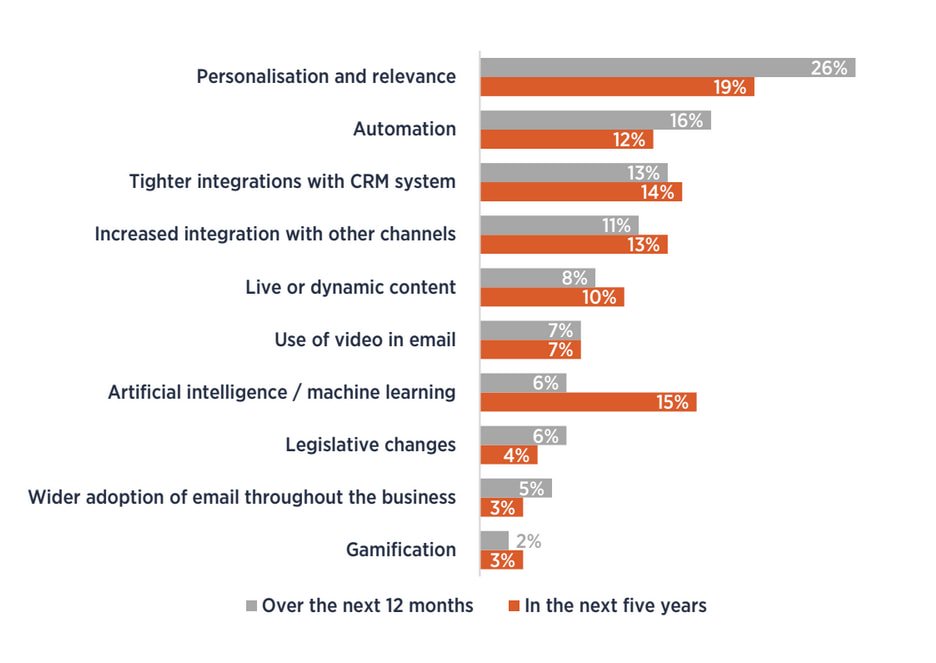 Commonly Used Metrics
Any marketer worth their salt know the importance of being able to measure email marketing performance effectively. But with so many different metrics, it was interesting to see which were the most common to analyse.
Unsurprisingly, the top result was a huge 82% measuring email open rates, closely followed by 78% of click-through rates and 63% checking unsubscribe rates. But then the numbers start to slip. Just over half (52%) monitor click-to-open rates and even less (45%) check conversions - with the numbers for other metrics dwindling down.
Europe is Hands-On with Email
Surprisingly, when it came to seeing how email marketing is used geographically by companies, the majority (59%) of those surveyed who stated they were "dedicated email marketers" came from Europe. The next in line was North America with 21%.
Email is Still on Top
Email is the king of ROI as cited by at least a third (73%) of survey respondents. The channel even trumps the likes of web, social and SEO.
Top Email Objectives
Email marketing is incredibly versatile as a communication channel, mainly because it can serve so many different functions for a range of business sectors.
That said, the report certainly recognised the top objectives that B2C businesses wanted to gain from email marketing, with the top three being:
Raise business awareness - 46%
Improve retention and loyalty - 45%
Generate leads as a B2C - 45% (B2B's came in a little higher at 66%)
BONUS: HubSpot Email Marketing Statistics
Because we're a HubSpot Partner, we just had to share a few bonus email marketing statistics from HubSpot's State of Inbound report 2017!
Some Statistics You Can't Swipe Away:
A massive 78% of people unsubscribe from emails because a company has sent them too many.
15% of marketers still don't review open and click-through rates.
Just over half (51%) say personalisation is the most effective tactic of getting people to open an email.
Over 54% of respondents said that increasing engagement rates is a top priority for their business.
Conclusion
So there you have it. Email marketing is a Jack for all kinds of trades, the forebear of communication, knowledge sharing, raising awareness, lead nurturing and so much more. For more insights from Digital Doughnut and dotmailer, check out the report here.
Something else to consider: with GDPR laws for the European Union looming and email clearly being most popular in Europe, all businesses communicating with the EU need to adapt their email marketing processes for the future.
Come 25th May 2018, every business that handles and processes data in any way will need to comply with the new GDPR stipulations. That means email marketing will also be affected. You can find out more information by reading out GDPR Guide for Businesses.

If you need more information about GDPR and how it will affect your business, download our free 'GDPR for Business Toolkit' today with everything you'll need to becoming compliant before the deadline.