What is Inbound Marketing?
Inbound Marketing is a HubSpot Methodology that utilises various types of digital marketing activities to create and distribute content. The content serves to attract website visitors and convert them into customers by solving a problem of theirs.
Effective Inbound Marketing can complement (or even replace) outbound marketing methods. The goal of Inbound is to make people happy to be your customer.
Digital Media Stream is a proud HubSpot Platinum Solutions Partner. We offer a full complement of Digital Marketing Services to successfully deliver on all aspects of Inbound Marketing.
How does Inbound Marketing work?
Inbound brings people to you. High-quality, precision-targeted content earns the attention of users and cultivates them along their journey to becoming leads, customers, and brand advocates.
Inbound Marketing is a graceful interplay between Search Engine Optimisation (SEO), Social Media, Conversion Rate Optimisation, Content Marketing (including landing pages and blogging), Marketing Automation (email campaigns), and many other familiar practices.
The pioneer of non-disruptive marketing, Inbound was founded by HubSpot. It was designed to align with their ideology of creating meaningful connections with prospects, and helping them to solve their problems through valuable, timely and relevant content.
Inbound Marketing is heavily centred on organic activities (as opposed to paid or sponsored), although Pay Per Click and Paid Social Advertising activities can work in tandem to achieve results.
There are numerous benefits to Inbound Marketing; from increased brand awareness and loyalty, to effortless generation of organic leads for years to come - the results are tangible and long-lasting.
If you're looking for an Inbound Marketing Agency to boost your online presence, generate more leads or even support your sales team, we can help.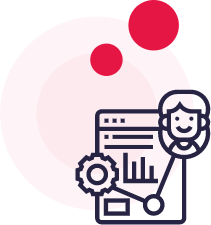 In a short amount of time, Digital Media Stream were able to positively impact our organic search traffic through blogs and social media. They even got us to the top spot in organic search for one of our most desired keywords.
Julia Valentine
Head of Marketing
HubSpot Inbound Marketing Services
What do Inbound Marketing Services include?
Inbound Marketing Services incorporate various digital marketing activities to culminate in an effective overall strategy. Content Marketing is the cornerstone activity of Inbound, supported by various other services to ensure optimal performance, visibility and reach.

Digital Media Stream is a HubSpot Platinum Solutions Partner. Our credentials give us the insights, resources and expertise to successfully execute effective Inbound Marketing Campaigns across a variety of industries and budgets.

We take an integrated approach to our Inbound Marketing Service offering. We deploy the right expertise, at the right time, to ensure the most effective results.

Discover our Integrated Inbound Marketing Services.
What is an Inbound Marketing Strategy?
The Inbound Marketing Strategy places the customer's needs at the centre of all activity. It is a tried and tested B2B Lead Generation strategy that addresses the customer's problems and provides solutions.
There are four distinct phases to the Inbound Marketing Strategy: Attract, Convert, Close, and Delight. These four stages seek to progress a potential customer from being a stranger, all the way to becoming a brand advocate or promoter.
The Flywheel is the foundation of the Inbound Marketing Methodology.
There are specific integrated inbound marketing activities involved in each stage of a strategy.


Attract More Users
Grab the audience's attention. Utilises content, SEO, web pages and social publishing to reach them in the most relevant way.
Convert More Leads
Capture the audience's details and communicate directly with them. Utilises optimised and relevant CTAs (Calls to Action) and landing pages to capture their details.
Close More Deals
Transform leads and contacts into customers. Utilises CRM (Customer Relationship Management) tools like HubSpot to engage the audience, as well as Closed-loop Reporting to align sales and marketing teams.
Delight More Customers
Engage with existing customers to provide an exceptional customer experience, driving loyalty, repeat purchases, and brand advocacy. Utilises content, surveys and other activities to provide a memorable experience.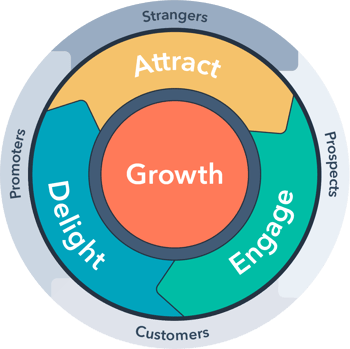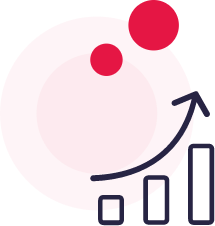 How can an Inbound Marketing Agency help my business?
The digital landscape is unpredictable, and customer demands are evolving faster than ever before.
Businesses need to ensure they remain competitive while meeting the changing needs of their audience. Inbound Marketing is an ideal solution for businesses looking to improve their organic performance, enhance their customer experience and create a steady stream of new and repeat buyers.
An Inbound Marketing Agency can provide all the resources, skills and expertise you need to create and maintain a winning B2B Lead Generation Strategy through Inbound Marketing.
The Inbound Methodology utilises various types of content to attract, engage and delight every customer, at every stage of their buyer's journey. By choosing an Inbound Marketing Agency, you will have access to a vast array of digital skills that combine to produce a profitable and robust Inbound Strategy.
An Inbound Marketing Agency has immediate access to a pool of diverse talent, cutting-edge technology and industry tools. HubSpot Solutions Partner agencies add a further layer of expertise to this matrix; awarded to agencies that demonstrate excellence in Inbound Methodologies, this credential is something to look for when considering the best Inbound Marketing Agency for your specific needs.
Explore some of the benefits of using an Inbound Marketing Agency, below:
The Benefits of Inbound Marketing
Inbound Marketing has an endless array of lasting and profitable benefits. From enhanced trust through to increased lead quality and quality (and everything in between), choosing Inbound Marketing has never been easier or more important.
Nothing beats the original, and the same can be said for Inbound. Utilising HubSpot's Marketing Hub technology, we can further enhance your Inbound Marketing Strategy to increase your traffic, conversions, sales, and ROI.
The benefits aren't limited to Marketing ROI; you can provide your prospects and customers with an unmatched brand experience, and you'll enjoy the unmatched rewards.
By choosing Digital Media Stream's Integrated HubSpot Inbound Marketing service, you can expect to amplify your Inbound Strategy in the following ways:
Benefit from effortlessly effective content creation and management: one centralised, easy-to-use CMS to underpin your Inbound Marketing efforts.
Prospects benefit from content that is tailored and timely. Giving them the right support, in the right format, at the right time makes it easy and desirable to continue their buyer journey - with

you!
Prospects benefit further from real, valuable content. Laser-precise insights let you optimise for any demographic with fine-tuned content perfectly aligned with your audience's needs and interests.
Key landing pages can be created with fine-tuned, strategic copy, and content is optimised for any device by default. Content that is a pleasure to engage with creates customers who are a pleasure to deal with.
Nurturing leads is easy with streamlined and non-intrusive communication: monitor interactions with each lead to make sure they're getting what they need, rather than getting spammed.
All of this combines to bring you more, and better-targeted traffic, and ongoing data collection leads to more insights to further increase visits, conversions, and ROI.
You (and your prospects) can enjoy the benefits of results-based, data-driven Inbound Marketing.
HubSpot Inbound Marketing FAQs
What is the difference between inbound and outbound marketing?
Inbound and Outbound are polar opposites of the marketing matrix. The three comparisons below highlight the differences on all levels (approach, value proposition and goals).
Inbound Marketing

is a non-disruptive marketing method that is based on creating content that helps potential and existing customers address their problems; it is unbiased and does not come across as a sales pitch.
Outbound Marketing

is a disruptive, sales-oriented marketing method; it is a traditional approach that focuses on promoting a product or service to a wide audience, even when they are not actively seeking it out.


Inbound Marketing

passively provides resources and value that attracts and retains customers by addressing their challenges and providing a great brand experience.
Outbound Marketing

proactively persuades an audience to become interested in your product or service, regardless of the value it provides.


Inbound Marketing

focuses on the customer.
Outbound Marketing

focuses on the product or service being marketed.
Why is inbound marketing so important?
Customers, especially in the digital age, have higher expectations from brands - regardless of their size or market share.
Inbound Marketing provides the added value consumers are looking for, while simultaneously benefiting businesses utilising this marketing method
Inbound is an important marketing method for long-term sustainability and growth. It's an affordable and profitable way to ensure a steady stream of leads, increased customer loyalty and spend, as well as being one of the most effective lead generation strategies in a B2B setting.
What are inbound marketing channels?
"Inbound Marketing Channels" collectively refers to the platforms used to execute Inbound activities.
This includes channels owned by the marketer - such as websites (pages, blogs and assets), social media platforms, YouTube channels, and email automation platforms.
These channels are under the direct and singular control of the marketer, and serve as the route to market for Inbound campaigns.
What is an inbound marketing strategy?
An 'Inbound Marketing Strategy' can reference two aspects of the methodology:
Referring to the Flywheel Methodology coined by HubSpot, an

Inbound Marketing Strategy

encompasses each stage of the customer lifecycle (stranger, prospect, customer, promoter/advocate) as well as the stages of buyers' journey (attract, engage and delight.)

A strategy in this instance refers to

creating resources to support each of these stages.


Inbound Marketing Strategy

also refers to the

integration of various digital marketing services

to combine to produce a comprehensive Inbound Marketing campaign.

Strategy in this sense refers to the

plan for each unique service

(SEO, Social, Marketing Automation)

to individually contribute to the success

of the overall Inbound campaign.
Where do conversations fit into your inbound marketing strategy?
Conversations fit into all three stages of the buyer's journey, the basis of Inbound Marketing.

Conversations refer to content that engages the audience with the marketer.
During the

Attract

stage, conversations help to

establish topical and brand authority

in a non-formal way.


During the

Engage

stage, conversations help to engage and support an already-captive audience. Engage-stage Conversations provide an

opportunity to present insights and solutions

that align with your prospect's pain points, and promote lasting relationships.
During the

Delight

stage, conversations help to

foster existing relationships

and allow you to showcase your brand's commitment to your customers through personalised and timely content. Through support and help, customers feel empowered to advocate for your brand.
The Shared Inbox for Customer Conversations on HubSpot has multiple features that allow natural conversations to happen at all stages of the buyer's journey. From live chat and Facebook Messenger integration to chatbots and team emails, this is a great tool to ensure you're available to chat when your customers need you most.
How to start inbound marketing?
An Inbound Marketing Agency is the most practical and affordable way to start Inbound Marketing effectively.
If you are keeping your Inbound campaigns in-house, the below steps are a good overview of what it takes to implement a campaign:
Explore the Inbound Methodology, and consider taking the HubSpot Inbound Course.


Choose the right people. Storytellers, writers and content creators are the backbone of your Inbound Campaign.


Determine your current marketing objectives and goals. What do you want to achieve?


Define your tone of voice and key messaging. This will become your brand identity and will help you stand out from the competition.


Find your audience's pain points. Explore forums, ask people in the industry, and listen to your current customers.


Build authority. Start with content; write about the issues your audience is facing, and tell them how to resolve them.


Create a content schedule - with regular publications and relevant topics.


Optimise landing pages, CTAs, headlines, offers - make it a memorable experience that makes the prospect

want

to deal with you.


Ensure your SEO is helping you reach your audience effectively.


Utilise Paid Social or PPC to boost your initial efforts.


Monitor and report. The only way to gauge progress is by monitoring it.


Utilise as many Inbound Marketing Channels as needed. From social posting through to email marketing automation, each channel provides a unique route to market.


Keep at it. Consistency is key.
How to improve inbound marketing?
If you have already started your Inbound Marketing activity, the below areas can help you improve your results:
Optimise your content for humans, but also Search Engines. On-page and off-page SEO enhancements can improve your performance, and as such improve your reach.


Promote your content in the spaces your audience spends their time. This can include social platforms, forums, YouTube, emails, even your website itself. Make your content easy to find.
Remember to download your free Customer Profile Template to help you identify where your target audience is spending their time.


Adjust, don't abandon. If you are seeing great click-through rates, but a drop in form submissions - analyse your CTAs. There is always a reason for poor performance, and instead of abandoning the project in light of disappointing results, rather adapt and adjust.


Be consistent. This includes publishing content regularly, engaging with customers reliably, and keeping your tone of voice consistent.


Keep up to date with Inbound Methodology updates. Staying abreast with new features, functionality, and strategies gives you a competitive advantage.


Consider outsourcing.

Inbound Marketing Agencies

work to create great Inbound Marketing campaigns using the skills, tools and expertise at their disposal. It can be a great money-saving and time-saving option for businesses looking to scale their Inbound Marketing activities.
What is inbound marketing in SEO?
Inbound Marketing in SEO refers to creating content that an online audience has created a demand for.
This relates to keywords, user intent and various other factors that affect the organic performance of content.
If your audience is frequently asking the same question, ensure you are answering it.
Inbound Marketing Services Pricing
Our tailored and Integrated Inbound Marketing Services are fitted with a fully customised price tag.
Your pricing plan will be customised to your needs, which we will discuss in detail before taking any steps. Digital Media Stream is your strategic partner; we make every effort to understand your goals and align them closely with our services to ensure the best possible results for you.
With our vast digital experience and HubSpot Platinum Solutions Partner credentials, you can rest assured you'll be getting the best strategic guidance and quality outputs from our team of experts.
Digital Media Stream is an accredited HubSpot Agency and provider of best in class Inbound Marketing Services across the UK.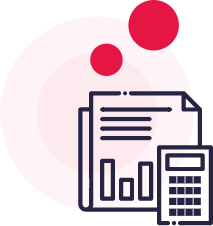 The Heaton Group
259% increase in organic new contacts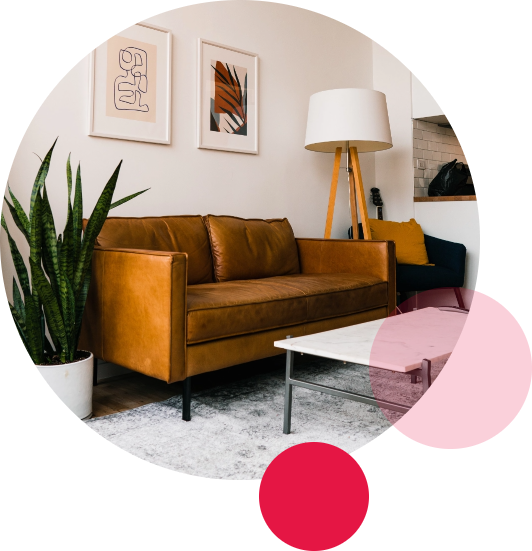 Why choose Digital Media Stream as your Inbound Marketing Agency?
We are Inbound Marketing experts, and we deliver Inbound Marketing success to our clients. Our team of experienced marketers serve businesses across a variety of sectors and campaign budgets. We have a strong B2B focus, with demonstrable success spanning 10+ years.
Our HubSpot Platinum Solutions Partner credentials demonstrate our ability to effectively market, sell, deliver, and grow business utilising HubSpot and Inbound Methodologies to their full potential.
Our motivation is simple: provide the best Inbound Marketing services in Manchester.
A deep understanding of HubSpot and its suite of Inbound Marketing technology gives us the tools to fine-tune your web presence and make it the centre of a well-oiled Inbound Marketing machine.
We're ready to take your Inbound Marketing to the next level.
Are you?