As a law firm, the majority of your time is normally spent dealing with a number of client cases. However, if you're looking to grow your business, increase leads and see improved ROI, it's likely that you're also trying to fit sales and marketing strategies into your overall business plan in order to achieve those goals.
Herein lies the problem with trying to juggle everything at once: while your law firm is busy working through the daily manual tasks at hand, you're actually spending less time nurturing leads and closing deals.
This problem is where automation saves the day. Marketing automation software is designed to… well, automate marketing and sales actions. Through automatic mechanisms that roll out daily repetitive tasks like sending emails, scheduling social media and rotating leads, automation technology takes away the stresses of these tasks.
So if you're on the lookout to make life at your law firm easier, here are some solutions using HubSpot's Automation software for both sales and marketing. These automations can help you nurture leads, deliver targeted and personalised messages, and help create a smoother transition of leads between your marketing and sales departments.
Problem 1: No Time to Send Emails to Clients
Often, businesses who don't have enough time to spend on their marketing, will blast email after email to their customers without a second thought as to whether the content they're sending is:
Relevant

Personalised

Timely

78% of people unsubscribe from emails because a company was sending too many. It goes without saying, sending a barrage of emails to people is never a great tactic and can end up driving potential clients away from your business.
Additionally, businesses can't keep up with numerous individual actions being performed by prospects on their website. As your law firm tries to take care of what it does best, it's reasonable that some details can slip through the cracks.
Solution: Email Marketing Workflows
Using HubSpot's Workflows tool, you can capture every last prospect into your funnel by using workflows to trigger targeted and personalised emails to be sent based on certain actions.
For instance, a workflow might look something like this:
You create and send a launch email to encourage the prospects in your CRM database to download an eBook on your website.

When a prospect downloads the eBook, the workflow then triggers a 'Thank You' email to them.

Three (or four - even five!) working days later, your workflow can then send a follow-up email to those prospects that downloaded, and offers them a downloadable case study that relates to the eBook.

When the prospect downloads the case study, your workflow will trigger a notification that is sent to the sales team so they can follow-up - this is because the prospect is now a qualified lead and further along the buyer's journey, than those who didn't download anything.

There are many other email workflows that you can set up to be triggered, including: when a prospect submits a form, clicking a link in an email, subscribing to or viewing a blog, when they are added to a list, and so many other actions.
However, automations and workflows aren't just for sending emails. They can also provide solutions to other sales and marketing problems like the ones below:
Problem 2: So Little Time, So Little Social Media
Social media matters. With over a third of world using some form of social media on a regular basis, this channel helps to:
Promote your law firm

Generate leads

Nurture leads

Retain current clients

Build up your law firm's online authority

In order to do the above, your social media channels need to be active and consistent, lest you be left behind in the digital dust.
However, between client cases, meetings, drawing up contracts, and scheduling calls - there's simply not enough time to post on social media every day and keep up with monitoring trends relevant to your business.
Solution: Social Media Scheduling and Monitoring
With HubSpot's social publishing tool, you can reduce the time it takes to set-up and publish your social media messages significantly. In addition to this, the tool allows you to:
Create a custom schedule with optimal times for publishing your posts
Automatically share your legal content once it's published
Schedule your social content to be published on future dates

You can also set-up the tool to monitor:
Mentions of your brand on social channels
Interactions and engagements with your messages

Specific keywords that your team can keep an eye on

Number of visits, leads and clients that social media generates

With social automation, you can easily set aside a small amount of time once a week and curate all the content that you want to share on your social channels in advance. Once they're approved and scheduled, you can get on with your day and not have to worry about attempting to get a post out three times a day.
Problem 3: Manual Tasks Override Sales Time
32% of salespeople spend over an hour or more on manual tasks such as data entry every day.
If your law firm's time is being taken up by pesky administrative tasks such as data entry, logging records into CRM and manually assigning leads, the ability to focus on nurturing those leads and closing deals can slip away.
Solution: Rotation, Deals, and Task Creation Workflows
Your law firm is a growing business so using HubSpot's FREE automation workflows and CRM, they can help your firm cut down on and save time with:
Lead Rotation: You can automatically assign a percentage of your leads to any number of owners evenly.

Deal Creation: When creating a deal, you can name the deal, assign it to an owner, specify the stage of deal, the close date, and the amount.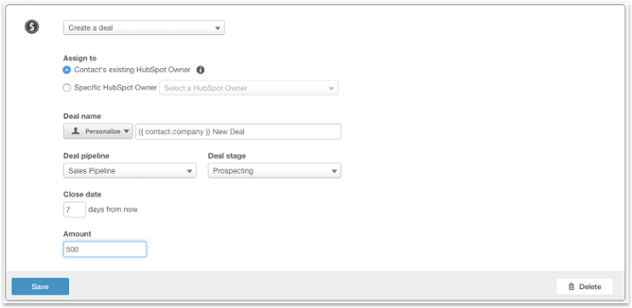 Task Creation: You can set the description, status and the deadline date before assigning a task to an owner.

You can automatically create new tasks when the stage of your deals change

Automatically create new tasks or deals when you import new contacts

Auto-create new deals when a prospect completes a form on your website

Automatically create tasks for when you want a sales rep to follow-up with a lead viewing one of your services pages


When you combine setting-up sales automation with HubSpot's CRM, you'll be able to achieve more in your day-to-day tasks and not have to worry about who gets what.
Problem 4: Which Leads Take Priority?
With 70% of marketers, the top priority is to convert quality leads. So it's no surprise that a lot time can be spent sourcing new leads for your law firm. After that, the biggest issue becomes determining which ones do you contact first?
Fact is, not all leads are equal in priority. If you spend your energy on the wrong leads, that's time, money and resource wasted on attempting to convert them.
Solution: Automated Lead Scoring System
Instead of spending hours examining behavioural and demographic data, you can utilise automated lead scoring to ensure that you're prioritising the best quality leads that have better conversion potential.
You can set-up the system by:
Assigning scores to your leads using relevant criteria, OR

Scoring leads based on the likeliness of closing that deal

Once you've set this up, you can filter to view all the leads which have the highest scoring potential and you can contact those leads first - simple!
Conclusion
Automation tools are on the rise: 70 percent of businesses are now adopting automation platforms in order to see an increase in lead generation results. When you invest in products that will not only help you save time and money on marketing, you can ensure you're getting the most out of the work you put in.
With HubSpot, your law firm can integrate a whole host of automated workflows that aid in your lead generation and conversion efforts. Moreover, it can help maintain and automate daily tasks and free up your team's precious time, which can be better used for nurturing leads, closing deals, and retaining clients.
Better still, you can talk to the team at Digital Media Stream about marketing and sales automation. As HubSpot partners and knowledge of your industry, we're ready to help you with the heavy lifting and free up even more time...

For more legal marketing solutions for your law firm, download our free eBook on Future-Proof Your Marketing to stay ahead of the curve in your industry.