What is Growth-Driven Design? Phase 2 | The Launch Pad Website
Web design concepts have come on in leaps and bounds, with sites feeling slicker and far more user-friendly than ever. This year has already seen some bold, brave moves made by designers, and there are plenty more to come.
The unfortunate result of traditional web design is that with designers and project managers taking control, consistent input from real-life users is far too often cast aside.
The result? Projects become encased in a kind of 'bubble' which often falls short of the perfect user experience and can be held up for up to a year, costing inordinate amounts of money.
Suffice to say, web design projects are difficult enough to manage as it is. Between over-delivery, missed deadlines, low-priority pages holding up delivery, up-front costs and weak project briefs, there is a lot that can go wrong. Glaringly, there is also little focus on improvement. Once you or your agency finishes your web project, it's straight onto the next task for both parties, right?
Which leads many inquisitive businesses to ask: What is growth-driven design? Our blog is set to answer that question, with an individual post dedicated to each of the following phases.
Now we have arrived at Phase 2.
1. Launch Pad Websites in a Nutshell
As the second and central phase of growth-driven design, the Launch Pad website is the starting point of a process of continual improvement. A site is launched quickly, turning it around in as short as a month, compared with full, project-based websites that can take up to six months.
Then, it's all hands on deck.
Your web design team continues to improve the site from its skeleton frame to a fully-fleshed, operational asset that serves the user experience completely. It is a platform on which a design team can use real user feedback to make improvements, fix errors and craft something your clients will be proud of.
And GDD's currently turning traditional web design on its head because it listens to the data users provide.
2. The Purpose of a Launch Pad Website
As mentioned earlier, the Launch Pad Website is the starting point from which your site will flourish. It contains the most essential, high-value pages that give your website maximum effect, a Pareto Principle that helps you determine what you need from the outset.
3. Your Wishlist and Your Must Haves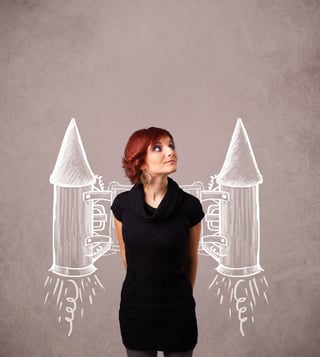 How do you arrive at the core pages that constitute your launch pad website? From the wish list you created in your strategy phase.
It's simple: take that list and simply determine the high-value web pages (in this case, items) using the 80-20 rule.
Identify the 20 percent of items that will…
Produce 80 percent of the impact and value for your website's users


With those core 20 percent items in hand, determine:
Which is merely "nice to have"?
Which are bonafide "must haves"?


Your must haves are the high impact pages that will become your Launch Pad website.
4. Ensuring Data Can Be Collected
One of the most appealing aspects of growth-driven design is that gut instinct goes out the window. Change occurs because a launch pad website is set up in order to collect user data and evolve the site's functionality and updates accordingly. No finger in the wind for GDD.
So pre-launch is where you need to know that the site needs to be able to collect vital user journey information. It should take into account the following three elements.
The goals you've defined
Your fundamental assumptions
A hypothesis statement of your action items

Here are some tools and to ensure you can successfully collect data:
Heat mapping
Heat mapping is a particularly nifty way of reviewing user interaction on a web page. It reproduces a graphical representation of data that uses colour coding to identify the areas of a web page users interact with the most.
Heatmaps allow you to see numerous things on your web pages:
Whether your headlines draw visitors in and make them click
Which images attract attention
What may be distracting visitors from your main content assets
How well your navigation works
If visitors can locate search options easily.

There are two kinds of heat mapping available to marketers, and both garner slightly different results, as they can:
Measure the number of clicks you receive on a web page.
For instance, when people click on links. This is a great indicator of whether your users are convinced enough to click through on your pages
Analyse the attention users give to particular areas of a web page.
Are your users taking particular time to read through a certain paragraph? It may be wise to place a call-to-action there.
Heat mapping is one of the clearest indicators of user engagement, so you'll definitely want to incorporate it into the information you acquire during this data collection phase.
Google Analytics
Web analytics gives you a whole host of tools with which you can reach a greater understanding of user engagement and gain valuable insight into UX. With Google Analytics, for example, you are privy to things like user behaviour, navigation summary and how many times a particular page is visited.
Here's a quick run-down of some tools you can use to inform your marketing efforts. They are super-intelligent and have proven to be great for understanding the buyer journey:
You can characterise user behaviour
Understanding user behaviour leads to a deeper comprehension of your website and its assets. What is a user doing on your site, and how are they engaging with it? With user behaviour insight you can bolster your assets and weed out the weak spots, honing your site until it performs with the user's best interests in mind.
You can set goals to track conversion rates
With Google Analytics, you can set goals to influence certain actions you'd like users to take. Think of 'actions' in terms of promoting your content assets; maybe you'd like users to sign up for your newsletters, or to simply direct them to your key services. With GA goal-setting, you can easily translate your business objectives into real, actionable metrics and use them as benchmarks for wider user engagement.
HubSpot Tracking Codes
With the HubSpot Tracking Codes, you can track your web activity and keep a close eye the strongest areas of your site, while being aware of the weak spots.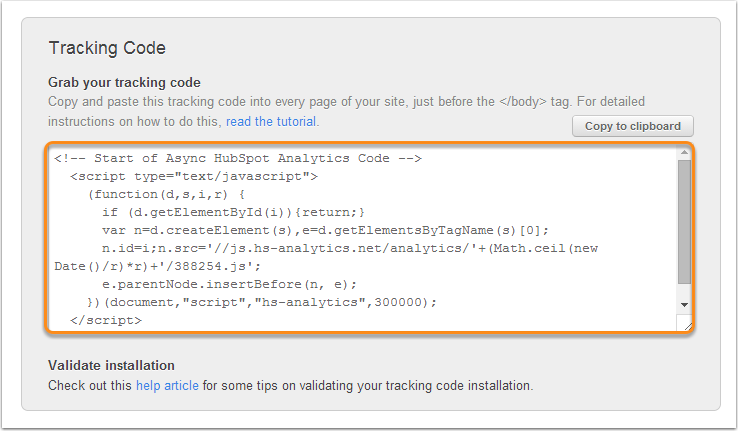 You can download the Hubspot Tracking Codes as an add-on to your CMS systems. There's a wide range of CMS' you can use, from Magento and Wordpress to Squarespace and Shopify.
The HubSpot tracking code helps you monitor:
How well your website is generating traffic and leads
What you can do to improve your website traffic
Sophisticated lead intelligence that enables you to turn more website leads into customers

Above all, monitoring and tracking need to be in place to ensure you collect data proficiently and turn insight into actions.
5. Opening the Door to Continuous Improvement
High-impact web pages at the launch pad open the door to the next set of priority pages that meet the needs of your audience.
Thus begins the continuous improvement phase.
Now live and collecting leads thanks to the quick-release launch pad, SEO concerns and the dynamics of the user journey are the top priority for your website. The goal is to then assess any problems that arise in these areas – again, using user data – and fix them accordingly.
This is done through the behavioural data that we're collecting from the launch pad. Thanks to the live site, your audience can now "tell" you and your designer what matters to them as they navigate through the site. Thanks to the launch pad, all subsequent pages you need to build will be dictated by the user.
How things should be built
What are they getting confused on, in order to guide us on how to build the site


The strongest weapon in the Launch Pad's armoury is the user data it helps you create. Think of the launch pad website as a catalyst in two particular ways:
It allows your online lead generation to get back online faster
It turns user data into answers to the buyer's journey your site should be building


Launch Pad websites collect data from users who have interacted with the site, and ask questions like;
"What do you find difficult?"
"Did you find what you were looking for?" or
"Are you dropping off the site altogether?"


With these questions answered, a design team can begin to put time into the site and improve it according to real-life UX reports.
6. The Well-Oiled Machine
The Continuous Improvement Phase marks real opportunities for your brand to reap some real, actionable, long-term rewards.
All thanks to the launch pad site. In Continuous Improvement, the launch pad takes long-term shape, transforming your site from a clean, fundamental framework into a well-oiled, lead generation machine.
So how are growth-driven design methods more cost-effective than traditional design? Through optimised, updated content. That's why inbound marketing agencies are the perfect complement to GDD, thanks to their focus on lead generation through an approach that delights instead of interrupts.
Furthermore, inbound marketing saves time and is 61% more cost beneficial than outbound.
That means your new web pages can collect even better user data.
CONCLUSION
With a launch pad website, the main aim is to take web design builds out of the self-contained bubbles in which designers work, bringing them out into the open and embrace the user experience.
For the goals of the growth-driven design process, launch pad sites create useful data affirmed by your visitor and works with cost-effectiveness and timeframes in mind. For such reasons, launch pad websites successfully serve professional firms, outpacing the staid, finite and rigid world of traditional web design.