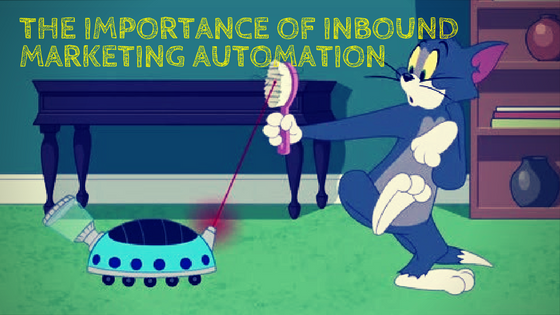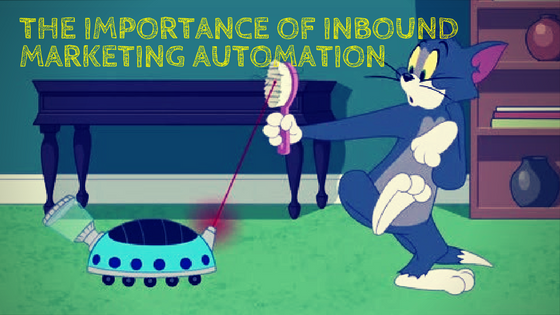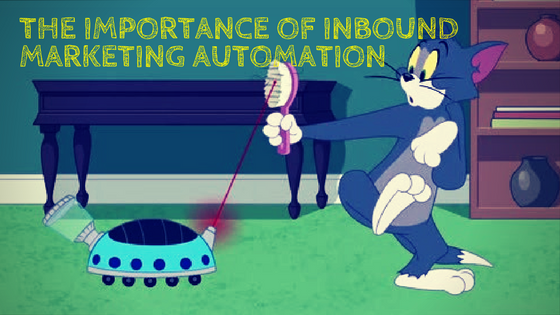 According to Hubspot, only 25% of your leads are ready to buy. If that's the case what are you going to do with the other 75%? How do you turn those leads into qualified, ready-to-buy customers?

One way of pulling in the 75% is nurturing those leads down the buyer journey using marketing automation e-mails; a set of carefully crafted emails that address customer problems and encourages them to take the next step and join the other 25% of ready-to-buy customers.

What is Marketing Automation?
Do you remember the simple 'thank you for reading' or 'thank you for downloading' messages we used to receive after visiting or downloading off a website?

Marketing automation takes this one step further and initiates a set of preset e-mails including pdfs, downloads and attachments. When a user downloads an offer on your website or visits a specific page, it will trigger the e-mail workflow you created. These can also be manually triggered.
Spread out over time, these e-mails will give the lead information on your other offers, let them know about any free trials, assessments or webinars you're offering, keep your business in the forefront of their mind and build a relationship between your company and the recipient. These e-mails are tracked and when the user clicks through to your website, the workflow will adjust accordingly depending on what rules you have put in place. Perhaps their actions will prompt another set of workflows, or will stop the automation. Marketing automation can be useful in the convert, close and delight stages of the Inbound Marketing methodology.
Here are some statistics showing the benefits of marketing automation:

There are nearly 11 times more B2B organisations using marketing automation now than in 2011

The majority of users think Marketing Automation is worth the price. 10% finds it inexpensive, 47% fairly priced, 22% pricey but worth it and 11% too expensive.

Best-in-Class companies are 67% more likely to use a marketing automation platform.

63% of companies successful in Marketing Automation plan to increase their Marketing Automation budget

79% of top-performing companies have been using marketing automation for more than 2 years.

The industries with the highest rates of adoption for marketing automation are Software & Internet

42% of CRM users plan to increase spending in marketing automation.

43% of companies using a marketing automation platform (MAP) have been doing so for over 4 years

91% of the most successful users agree that marketing automation is "very important" to the success of their marketing across channels.
If you haven't turned on your marketing automation software yet, now's the time.

The Benefits of Marketing Automation

Marketing automation is always working to take your leads along your sales cycle and towards the purchase stage. Once you have put these workflows in place, they are executed automatically and so these leads are being nurtured very efficiently and personally, but without your team manually managing them - it's a huge time and resource saver!

When you're ready to make contact, these qualified leads means more people who are likely to buy from you which should ensure your sales team are working more efficiently, focusing their time on those leads which are ready to buy.

It also helps align your marketing; making all your systems connect and partner each other. Instead of using shared spreadsheets, automation tools pull all your leads together and identify what content they need next in order to get them closer to buying.

Marketing automation also benefits the user or lead! They're receiving personalised e-mails with content useful to them, rather than generic e-mail content.

As they interact more with your website and download more offers, more information will be gathered on these leads. You will be able to gather more detailed customer profiles allowing your sales team to be more effective when reaching out and trying to close
For businesses with a longer sales cycle and high value products (like software and technology companies) inbound marketing automation is particularly important. Typically , these companies will need to rely a lot more on lead nurturing to get that sale!

What should my Marketing Automation look like?
Your marketing automation emails should can consist of varying messaging depending on the 'trigger' that has entered the prospect into the funnel i.e have they downloaded an introductory ebook resource, have they registered onto an advanced level webinar.
Imagine a user on your website has downloaded an eBook from your landing page - great! You might create a workflow something like this one to nurture your lead:
Step 1: Send them a 'Thank you' e-mail thanking them for downloading the offer. Provide them with a link to the offer so they can access it easily without re entering their details.
Step 2: Next, 4 days later, you can put another e-mail in the workflow. You might let the lead know you hope they found the previous offer useful and provide them a link to another one of your offers and explain why it might benefit them. It could also include a way to get in touch with you.
Step 3: Finally, 4 days later, for your last e-mail you can offer them a free assessment or free trial of your software. This last e-mail should let the recipient know this will be the last e-mail they will receive from you on this topic.
You can use more than one of the first two e-mails, but the step 3 e-mail should only ever be used once in each workflow. A good number of e-mail for each workflow is 5-7.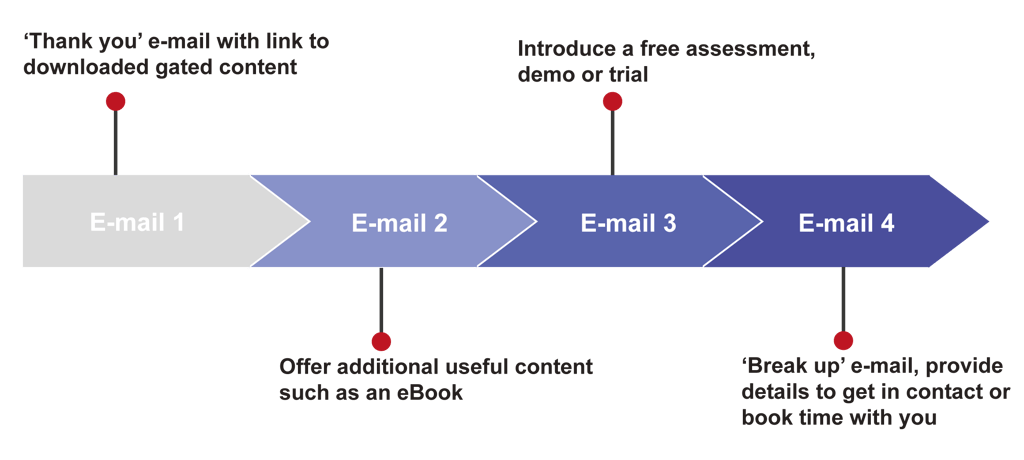 Experiment with the number of, time in between e-mails and the time you are sending them - figure out what works best for your target audience.
It's also a great practice to send these e-mails from an individual rather than the business as a whole. Remember, you want to keep the tone of your e-mails personal.

Marketing automation is important as both a sales tool and a marketing tool. By streamlining your lead nurturing using marketing automation, it will help you capture and process more sales, generating more revenue and higher ROI.
Learn more about Inbound Marketing and how it can benefit your lead generation and nurturing here.

Statistics courtesy of Jordie Van Rijn.