The term 'Inbound Marketing' is indelibly linked to HubSpot and its founders CEO Brian Halligan & CTO Dharmesh Shah, but as the market has exploded over the last few years, what are the HubSpot alternatives to be aware of during your HubSpot review?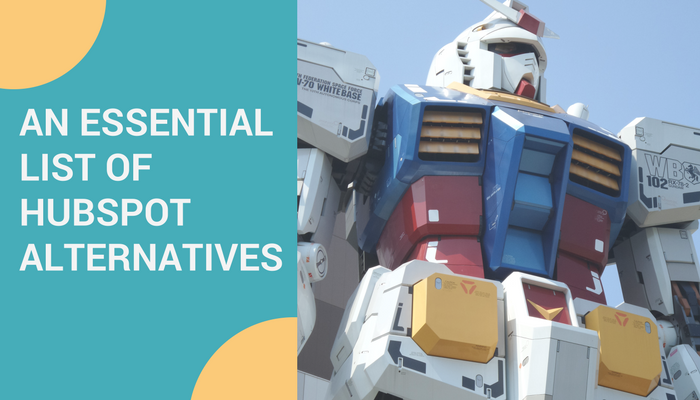 What inbound marketing options are you looking for?
You could be looking to increase visitors to your website, generating more qualified leads or introducing automated marketing to your Inbound Marketing strategy. Whatever your options are, you will still need to measure and amend your output continuously in order to maximise your results. This means adopting HubSpot, a HubSpot alternative or using a mix of multiple stand-alone applications.

Who is HubSpot for?

The type of companies using Inbound Marketing platforms range from start-ups to more established businesses and enterprises. Essentially, any company with a marketing team or marketing responsibility small or large.

HubSpot and HubSpot alternatives are marketing platforms that help companies achieve the following:
To attract website visitors

Convert visitors into qualified prospects/leads

Converting prospects to customers

Analyse processes & success metrics to increase and refine efficiency.
HubSpot, like any other tool, must be used properly to reap the rewards. This typically means time, effort and carefully planned thought. It costs money and it's key to think about the long-term costs versus the long term goals of your inbound marketing and the ROI projections.

Whether you are involved in SaaS, Education, eCommerce, retail, technology - in fact, any high-value product or service offering with a buyer journey then HubSpot marketing helps align your marketing activity with clear end goals i.e:

Combining sales and marketing departments to run efficiently

Gaining management buy-in for more marketing spend

Attracting a qualified audience
Who is competing for the market?
While HubSpot has the largest market share in the Inbound Marketing Software sector, there are quite a number of technology companies competing for their customer base. Many will offer a core set of features to enable the generation and nurturing of leads but beyond the basic, they vary considerably. You may be familiar with some of the popular solutions:
- InfusionSoft
- Marketo
- SalesForce
- SharpSpring
- Act-On
- MailChimp
- Constant Contact
- Eloqua
- SALESmango
- WordPress
Some Inbound platforms cater for large enterprises e.g Marketo & Eloqua, and some are smaller more niche platforms. Depending on what your priorities are, finding a balance in terms of scale and cost can be challenging.
When looking at alternatives to HubSpot there are some key comparisons you'll make with each software platform based on some or all of the following key aspects of your Inbound Marketing strategy:
Lead nurturing

Email marketing

Landing pages

Social media

SEO tools

CRM

Reporting & Analysis

Useability

It remains for us to state that HubSpot is the number one inbound software platform precisely because it offers everything in an all in one package you just don't find anywhere else.

If, that is, you really need everything?

So, to give a little more flavour on some of the main alternatives to HubSpot, here is a selection of 8 to consider:
Infusionsoft

Key Features: Build campaigns, set up landing pages, email contacts, and track all your data via their CRM. All of this while selling your products too.
Price Range: Their basic plan costs $199 per month for 2,500 contacts and 3 users all the way up to $599 per month for 20,000 contacts and 10 users.
TrustRadius Score: 6.6/10
Overview: While the basic package is competitively priced, it also comes with a hefty sign-on package suggesting the weight of the software platform you are getting; be prepared to read the training manuals!

Act-On

Key Features: The user access is very good, offering companies with large sales teams an easy way of managing and integrating with it.
Price Range: The entry package is their professional one which starts at $600 per month for up to 3 users and an additional 50 sales users.
TrustRadius Score: 7.2/10
Overview: A very close alternative to HubSpot without blog hosting.

Hatchbuck

Key Features: While it doesn't have social media management tools or landing pages it does have a CRM, lead forms, email marketing, sales tools and website tracking.
Price Range: Packages for a small business start at $99 per month up to $299 per month for unlimited users and up to 15,000 contacts.
TrustRadius: 8.1/10
Overview: It will get your inbound up and running in quick-smart time as it offers a great entry-level package.

Wishpond

Key Features: Offers a handy drag and drop landing page builder as well as marketing automation software.
Price Range: Starts at $45 per month for 1 user and 1,000 contacts, rising to $199 per month with unlimited users and a maximum of 10,000 contacts.
TrustRadius: n/a
Overview: Offers a particularly budget-friendly entry subscription level but can quickly scale upwards depending on the number of leads you generate.

Marketo

Key Features: Has all the tools you'll need for marketing automation like landing pages, lead scoring (and segmenting), CRM integration, email marketing, and social media tools.
Price Range: Pricing is based on the number of contacts you have and the bundles you choose. Bundles range from email marketing, to lead management and mobile marketing.
TrustRadius Score: 8.3/10
Overview: As a HubSpot alternative it isn't a cheap one so be clear on what aspects of Marketo you want to use and choose your bundle wisely.

WordPress

Key Features: An excellent CMS which offers a multitude of plugins offering everything you either need or desire.
Price Range: The cost of a site or WordPress conversion isn't expensive and while some plugins come free, others require registration and monthly subscription plans.
TrustRadius Score: 8.2/10
Overview: With WordPress, you have the freedom to do whatever and customise anything you want. It is affordable but relies on complementary plugin tools that you may still need help using.

SharpSpring

Key Features: If you are looking to create, optimise and track campaigns SharpSpring has all the tools to do so. It also includes email automation and segmenting.
Price Range: With options starting from one user you'll have to contact SharpSpring to see what packages are available for your company.
TrustRadius Score: 8.1/10
Overview: SharpSpring advertises itself as being cheaper than HubSpot yet doesn't release its pricing package except on application. But it has almost all the features you'd expect from a HubSpot competitor.

Eloqua

Key Features: Eloqua has always focussed on email automation as its fundamental go-to feature but it also offers effective landing page construction too.
Price Range: Probably more expensive than HubSpot, although without applying and providing your own particular industry demographics and numbers it is impossible to know.
TrustRadius Score: 7.2/10
Overview: Oracle's Eloqua is much more limited than HubSpot, but when it comes to email marketing and automation, few platforms run as deep with as many tools or features.

Inbound marketing is a growing marketplace, new software platforms come and others become inconsequential. As with any selection process, you should be aware of what your integration and requirements are.
Do you need help determining which solution is a good fit for your company?