Inbound Marketing generates qualified prospects for your business. It includes an Integrated Content Marketing Strategy which educates and nurtures leads along the buyer journey.
There are 4 key actions within the Inbound Marketing Methodology:
Attract,
Convert
Close
Delight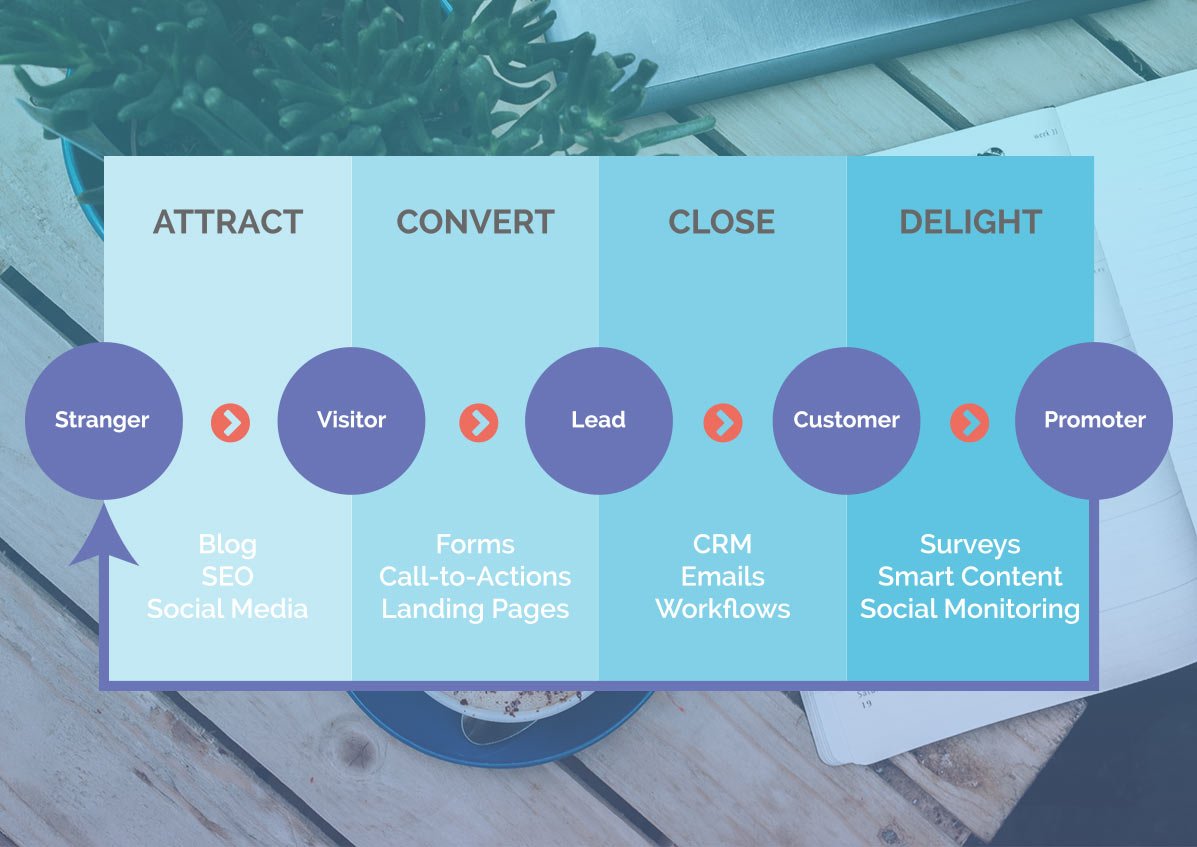 1. Attracting The Right Audience
Having a high traffic hit on your website is only a positive thing if it is made up of your target market. There are many channels to utilise that will enable you to become visible to prospective customers. Typically, the attraction strategies combine various tactics within:
Search Engine Optimisation:

Whilst the priority is to create content on your website that is created for the reader - educational, something of value etc. it is also important to ensure that the search engines understand the value of your content and it provides a suitable destination for the keywords and phrases that internet users are typing. Optimising your website for search engines and attracting the right type of popularity is one of the basic ways of increasing your visibility online.
Social Media Marketing:

Social Media continues to grow, adapt and engage internet users across a wide range of channels. Deploying a successful social strategy will really leverage the power of your content strategy by utlising these platforms as a targeted vehicle to bring users back to your website and increase your company awareness.
Content Creation:

Holds the key to bringing your Inbound Marketing Strategy together. Content is at the core of optimising your website for search engines, fuelling your social media activity and of course, nurturing your prospective customers down the buyer journey.
Website Pages:

Need to adapt to users technology of choice. With more internet usage taking place on mobile devices you need to ensure that the look and feel of your web presence and the type of content you produce is easily consumable across a wide range of devices.
2. Converting Visitors Into Leads
Attracting your target audience to your website is great, but how do you keep them there and encourage them to continue their buyer journey with your business before leaving? Ideally, you want to know which businesses or individuals are interested in your content, your products or services - so what we can you do to capture their interest?
Call-To-Actions:

When a visitor is on your website it is important to help direct that person to give a helping hand so they can benefit from the valuable content you have created to help solve their challnges or reach their goals. Putting clear buttons that direct the visitor to specific locations is key to continuing their buyer journey.
Landing Pages:

Once you have pointed your visitors in the right direction, the next step will be to provide further value and this is often done through promoted 'gated' content like eBook, whitepapers, webinars amongst other 'offers'. Landing pages should be optimised to convert - dont give the user a reason to leave before claiming an offer or submitting their details.
Forms:

Filling in forms may sound easy but not everyone wants to 'submit' their details the first time they visit your site. You need to establish trust with your users - designing your forms for conversion is vitally important if you are going to continue the relationship with your website visitors.
Contacts:

Knowing who your contacts are, understanding their interests, who they work for and many other attributes should be collected and segmented, ready for further nurturing so you can provide targeted value as they gain deeper qualification in your sales & marketing funnel.
3. Closing Leads Into Customers
Integrating your Sales and Marketing efforts is imperative, particularly for B2B organisations and high value consumer companies. As prospective customers move further down the marketing funnel, it is important to provide different content that marries up to their position in the buyer journey as they are getting closer to a decision stage.
CRM:

with the success of attracting visitors and converting them into leads comes the challenge of segmenting them and ensuring your sales team understands who they are, where they came from and which are 'warm' enough to reach out to directly. Integrating your Customer Relationship Management System with the same data that your marketing database utilises will accelerate the sales conversation.
Closed-Loop Reporting:

lets remove the use of 5 or 6 different tools to report on the success of your sales and marketing activities. By having a unified dashboard that groups together all of your campaign activities, it makes it very clear on how to leverage your strengths and improve your weaknesses.
Email:

gone are the days of 'cold' mass emailing - email should be used to nurture your prospective customers with content that is specific and helps them move further towards your sales team. Work with warm leads!
Marketing Automation:

Not every lead that you generate is going to be qualified on day one. Creating a sequence of automation marketing emails that react to the journey that the visitor has taken through your website will help to further qualify those marketing leads into sale-ready prospects.
Continuing the relationship with your customers can generate as much reward, if not more, than gaining new clients from scratch. With the possibility of cross-selling, up-selling & referral business - keep continuing to provide value to your customer base through:
Social Monitoring:

what are your customers saying, have they got questions, concerns, or are they presenting opportunities for you to provide further value? Monitor your customers movements and track relevant mentions throughout social networks.
Smart Calls-To-Action:

personalise what returning visitors see when they come back to your website. Identify who they are and what stage of the customer lifecycle they are in and present different calls-to-actions.
Smart Text:

when you introduce new services, features or products that your existing customer base can benefit from, adapt a personalised content approach that can change depending on who is visiting your website.
Surveys:

continuing to improve by gaining feedback from your clients can really help drive innovation whilst focusing on your strengths. Connect with customers through email , social media and specific website actions.
As a Certified HubSpot Partner, we deploy a fully integrated Software Platform to structure all elements of an Inbound Marketing Campaign.
Using this platform, we can integrate every aspect of inbound marketing to help you attract the kind of quality leads that help you grow your business.
HubSpot comes equipped with Content Marketing, SEO, Social Media, Email Marketing, Landing Page creation, Reporting and CRM tools - watch the overview video below to see how an Inbound Marketing Campaign comes together.