What is Growth-Driven Design? Phase 1 | Strategy
Question: Would you enter a darts tournament blindfolded?

Answer: Not really, because you won't be able to see what you're doing, what you're aiming for or where you need to go to succeed.
The strategy phase makes up the first of three phases in growth-driven design (GDD) and is the most important when it comes to this iterative, UX-focused design process. A well-researched and planned strategy is the foundation from which growth-driven design thrives.
By nailing down your strategy, you'll be able to understand:
Who will be using your website
The purpose of your website
The high-value web pages you'll need to employ from the outset
The nice-to-have web pages that can be put on the back burner initially
The time, money and resources you need to spend to gain traction
So how do we create a strategy? Here are the key components that you should concentrate on and use as the foundation of your growth-driven design process.
1. SET YOUR GOALS
To kick off the strategy phase, you need to have a clear understanding of your business objectives and set goals for what you want to achieve.
We find that the best way to do this is to this is through a 'Goals Questionnaire'. The questionnaire itself should be split into three categories:
High-Level Goals: These could be overall business goals in the revenue you aim to achieve, or even what your customer lifetime value should be - whatever they are, they have to be high-level goals of where you see your business going.
Sales Goals: Your sales team will have their own set of goals such as close rates or lead generation.
Marketing Goals: Your marketing team might have goals that focus on lead retention rates or costs of customer acquisition.
As part of this goal setting process, you should also note down details of your current website's performance in the last six months. This provides visibility of your website and will allow you to:
See where you can make improvements
Decide where your website will fit into the bigger picture of the business
Define your website goals and what you plan to achieve from a GDD redesign
This next is to define your goals. It might look something like this: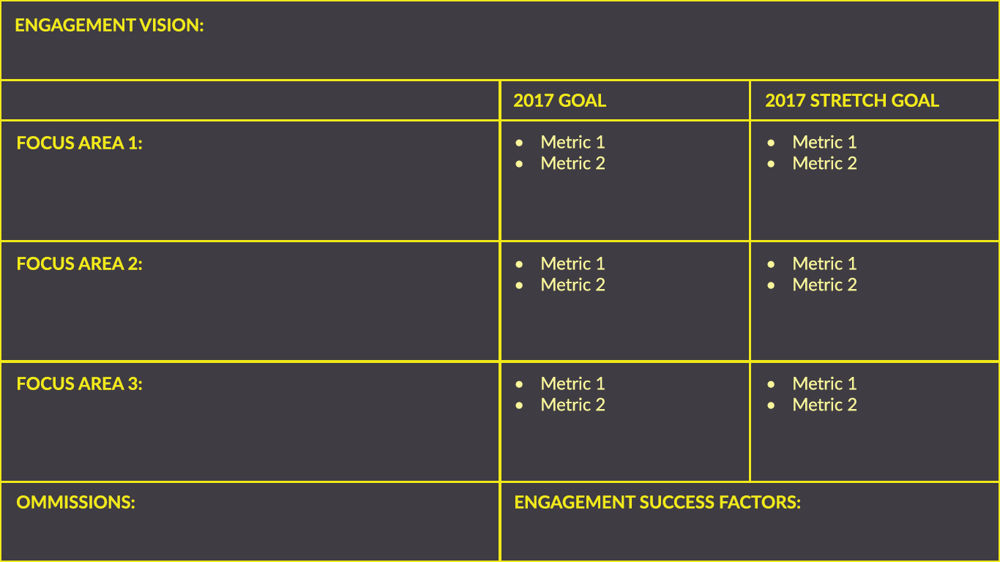 Start with noting your high-level vision at the top and then:
Create three to four key areas to focus on
Define two to three metrics for each area that will be easily achievable and on target
Define two to three metrics for each area that you can aim for (these are your stretch goals)
List areas that you will not focus on that could be distracting from your vision
Note your engagement success factors – this is what you are looking for in a good GDD agency partner. For example, explain how much communication you would like (weekly, monthly etc.) or how much data you need it to have.
This goals document will aim to provide your agency partner with the most important information about you as a business, your goals and your expectations.
2. IDENTIFY YOUR BUYER PERSONAS
We've spoken a lot about buyer personas in our previous posts. They're important for a great many aspects of your business - and that's a fact. It's knowing who your ideal customer is as a user on your website. They help evaluate ideas for your business and help to garner an understanding of how they might respond to what you're producing.
We'll show you the easy way to creating the right personas for your business here with our simple template.
3. MAKE REASONED ASSUMPTIONS
Assumptions are more than just guessing. In the right way, we can help you identify the core elements of your business and website by using your personas as a base: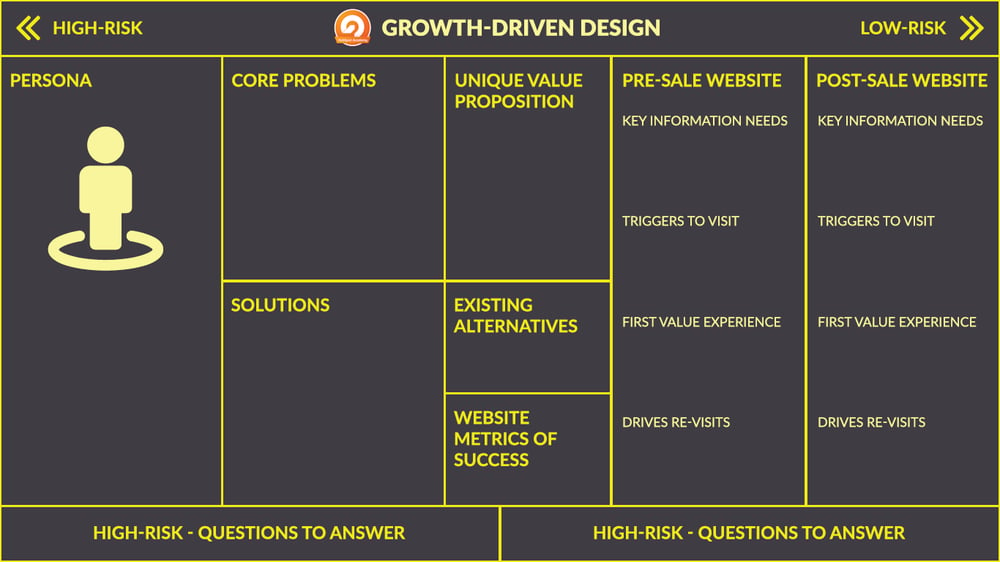 So let's break it down.
Core Problems - Define one to three root problems that your persona may have. Try to keep these as focused and narrowed down as possible (you can't fix everything in one night!)
Solutions - Write down one to three solutions that match up to your core problems. Instead of listing products and services you may offer, talk about what the outcomes of those would be.
Unique Selling Point (USP) - These would be one to three bullet points describing what is it that would delight your persona in a unique way and how it links to your solutions. What's unique against your competitors or alternatives in the industry? Think outside the usual buzzword box here (for example, don't say something generic like "we have the best customer service".)
Existing Alternatives - What do your personas currently use to solve their problems? Perhaps they use a competitor offering. This is a good time to figure out why.
Success Metrics for Website - You can use the metrics you define from your Goals document.
Pre and Post-Sale Website - This section is split up into elements that measure how your website fits into a persona's life:
Key information needs: List three to five needs that a user might come to your website for.
Visit triggers: Jot down all the potential causes of why a user visits your website
First value experience: Note how long it might take a user to experience something of value on your website.
Re-visit triggers: What offline events might cause a user to repeat a visit to your website?
These reason-backed assumptions will help you sculpt your website redesign with only the most important, high-value aspects that will drive traction towards your goals.
4. CARRY OUT EMPATHETIC JOURNEY MAPPING
Mapping a user's journey will help develop a holistic view of your personas' lives before, during and after contact with your business. In short, you put on the user's shoes and begin to empathise with their expectations, delights and/or frustrations as they scroll and click through your online storefront.
So, how do you build that empathy? Using a mapping template like the one below, go through a user's thought process as well as physical actions they undertake to get from one stage of the journey to another. You can even take this a step further by separating them into positive and negative interactions based on their emotional state at each stage: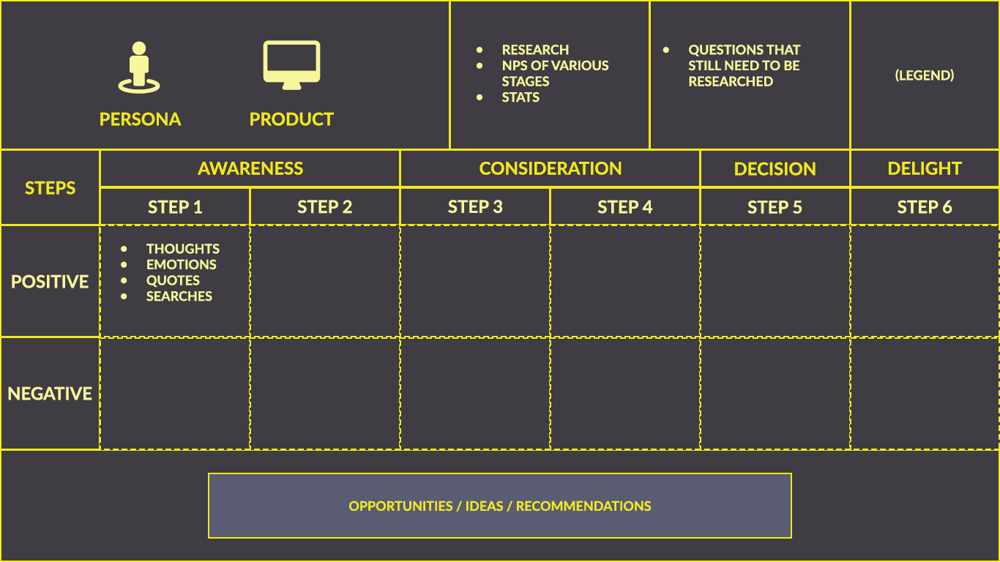 Here are some other tasks you can carry out at this point:
Add useful and relevant information for your user's journey map such as research or statistics
Sketch out any opportunities, ideas and recommendations
Ask any necessary questions – perhaps you don't understand what all the steps of the journey might be, but you can always solve these by conducting further research
The end result of journey mapping should be a full appreciation of what your visitors are looking for. In return, it will lead to new webpages, tools and website amenities you can build to give it to them.
5. IMPLEMENT USER RESEARCH
Conducting user research plays an integral role throughout the GDD strategy process. It works equally well during all three phases and will develop a clear understanding of how users behave before, during and after engaging on your website.
There are three ways to research:
Qualitative Research
This is where the user will personally tell you how to make the best impact and areas to improve. You can conduct user interviews, send out surveys, utilise online chat or even undertake user testing.
Observational Research
This is where you can become a fly on the wall and see how users might use your website. You can use click and scroll heatmaps and user recordings.
Quantitative Research
This is where you delve into the numbers and the metrics of how your website is used. Resources you may employ to do this include web analytics, event tracking, funnel reports (where and when do users drop out of the buyer's journey?) and cohort reports (how does one group of users interact with your website compared to a previous group?)
By extracting all the user research data you collect from the strategy phase, you can use it to establish your Launch Pad website. Your Launch Pad site will then be able to continue to collect more user data for ongoing iterations, pages, features and offers.
6. WRITE OUT YOUR WISH LIST
It's brainstorming time! Set-up a working lunch (sushi, sandwich platters, snacks, you get the idea) and sit down with your team to come up with 75+ ideas for your website using all the information you've collected throughout the strategy phase.
Start by noting your most important pages, 'About the Company', 'Services', 'Contact Page' etc. You can generate ideas that span from each of these - breaking them down into smaller elements.
This session will help you determine exactly which of these ideas will be a "nice to have" item, and which items will be "must haves" in the Launch Pad phase. These "must haves" will then inform the structure of your Launch Pad website.
CONCLUSION
Your website is for your users. The purpose of your website is to solve problems for users who visit your website and they must be able to take away something positive from the experience with your company and will eventually want to make them come back for more.
The Growth-Driven Design Strategy phase is the all-important fulcrum upon which you balance your business needs and the expectations of your online audience.