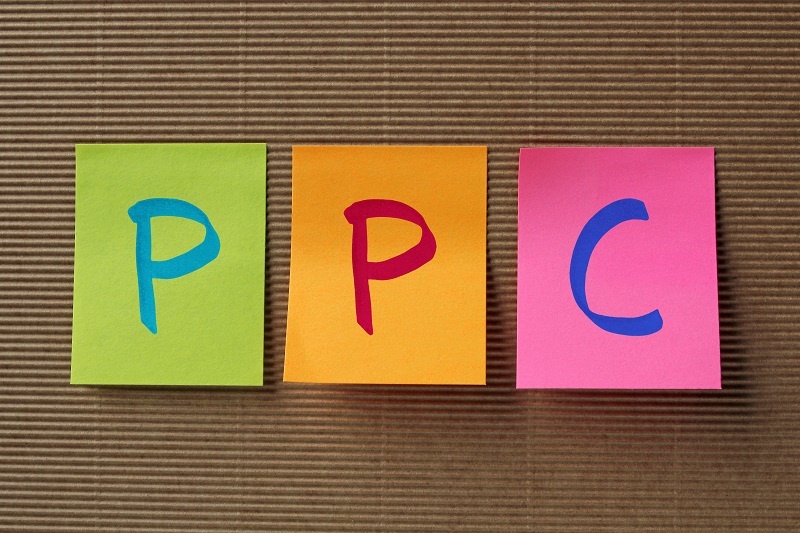 Some marketers believe that in an age of digital marketing and native advertising, traditional PPC (pay-per-click) is becoming less and less relevant. Inbound marketing focuses heavily on the user internet experience, and producing content users want to see, so much so that many marketers believe PPC adverts interrupt that experience and should not be a part of an Inbound Marketing campaign.

Despite these opinions, you can't deny how useful PPC is in boosting traffic and leads alongside that steady growth of organic traffic created by inbound. A the end of the day, Inbound marketing and paid advertising are two of the most effective lead generation activities and marketers need to find a way for them to work together to get the most from their campaigns.
Why use PPC?
So, why should we be using PPC in the first place? There are clear benefits to using pay-per-click advertising:
1.) See results quicker
As you may know, an inbound marketing campaign will take time to plan and execute. A community size on social will grow steadily and the impact of content and optimisation on SEO is a slow process too. Paid advertising will give you that short term boost in leads and traffic, while your inbound marketing slowly works away to grow your organic traffic and prove ROI over the long term.
2.) Targeted
PPC advertising is very accurately targeted. You can choose to show your advert to users who search a specific keyword on google, or target Facebook users based on their age, interests, martial status, location, job and more! You can also specify the time of day when your advert will appear. It will show your advert will show the right person, the right advert at the right time.
3.) Budget control
Pay-per-click allows you to choose exactly how much you want to spend each day, allowing you to cap you budget and change it at any time. Naturally, the results your PPC campaign brings in will depends on the competitiveness of your target market and keywords, and so a big budget doesn't always mean great results.
4.) Only pay when someone is interested
Traditional offline advertising sees you spend your budget and hope your target market sees it. You have no way of knowing how many sales or leads has come from that advert. With PPC however, you only pay when an interested party clicks on your advert. You know exactly where your budget is going and you can analyse the clicks and leads that come from that budget.
PPC is clearly an important addition to your inbound marketing, but it's important to remember that pay-per-click advertising works as a part of your campaign and is not a stand alone solution. PPC alone is costly over time given that you pay for a click regardless of conversion, has a high turnover of users and doesn't allow you to create a database of leads and customers for your business. It's great to direct traffic to your website but, once there, the user needs great content, calls to action, landing pages, emails and more to become a customer, all of which come from your inbound marketing campaign! PPC and inbound marketing should be seamlessly integrated to produce the best results.
This is best demonstrated in the 'Inbound Marketing Trifecta'. A well known digital marketing concept, it highlights the importance of having all three elements: paid, earned and owned media.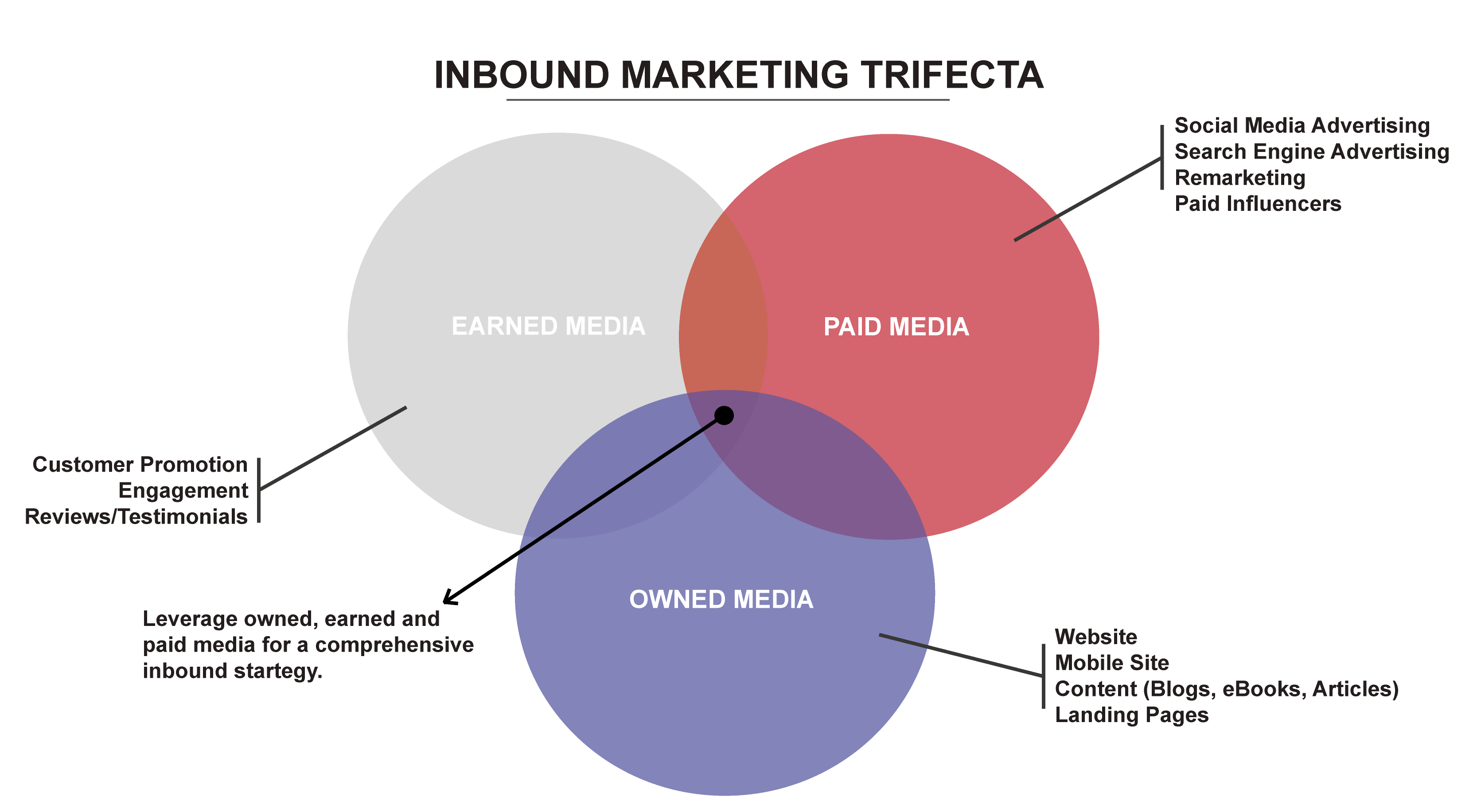 How can you implement PPC in your Inbound Campaign?

So, you need to include PPC management in your inbound marketing campaign, but how?
You may already be familiar with the different stages a potential buyer will go through before you close them.
A user will firstly need to be made aware of your business, services and products, then they will consider their different options or consider different businesses and then they will be ready to make a decision. Here is where and how pay-per-click should be implemented in your inbound marketing campaign to align with the different buyer stages.
Awareness
Social Media PPC - You should use social media in the awareness stage, by targeting your buyer persona (or target market) and providing them with educational content that will interest them. Perhaps your target market is teaching assistants and your business sells courses to help TA's become teachers. You might target those with 'Teaching Assistant' as they're job title, set the advert to appear around 4pm, after they will have finished work, and advertise a blog post titled 'Can a TA progress to become a teacher?'. If the user is interested, they will click on your ad and become aware of both your services and business.
Given my job title and the kinds of websites I visit, I see a lot of adverts for digital marketing software on my social media, like this: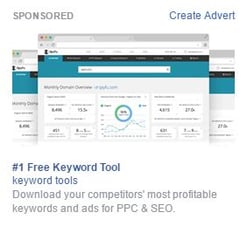 Search Engine Advertising - You can advertise on search engines like Google or Bing in a similar way and provide educational content to the user. Instead of choosing who to target, you capitalise on those already searching for a specific keyword. Perhaps you will choose the keyword 'become a teacher' and so your blog post 'How to become a teacher' will appear at the top of the search engine results for phrases that a user might type in, such as 'can i become a teacher'.
If you need a bit of help with your keyword research, we have written a handy step-by-step blog here.
Consideration
Social Media PPC - Once a user has visited your website, you can use social media PPC to remarket to them. Continuing with the example above, if the user has read your blog titled 'Can a TA progress to become a teacher?' you might want to provide them with additional blogs supporting this topic, or perhaps encourage them down the buyer journey with a blog titled 'How to choose your teacher training provider'. Don't let that user forget about you!
Search Engine Advertising - Remarketing on Adwords works in largely the same way, this time displaying remarketing adverts not on social media, but on advertising panels of websites.
Think about how many times you've visited a website and had a browse for a pair of shoes for example. You can bet that for the next few days you'll be seeing those shoes and complementing clothes being advertised on Social Media and other websites for the next few days!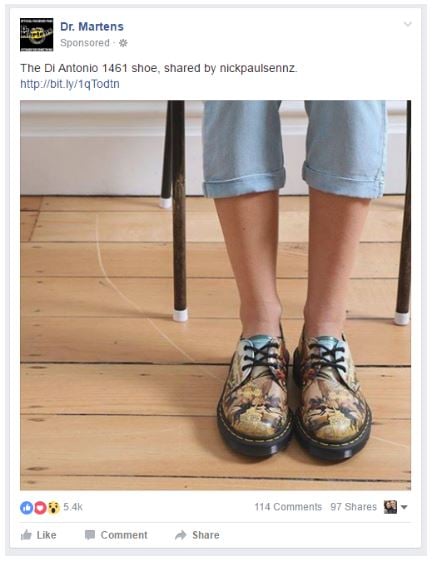 Decision
For both Social Media and Adwords PPC advertising, a user in the decision stage will have already decided they need your service, and will be in need of an incentive to close with your business. The content you need to advertise to those people in the decision stage might be free trials of your product, discount incentives or time sensitive offers.
To fuel lead generation and nurturing and produce the best results, you should seamlessly integrate PPC, alongside your inbound marketing campaign, in the different stages of your buyer journey. You can learn more about Inbound Strategy and the different elements involved here.