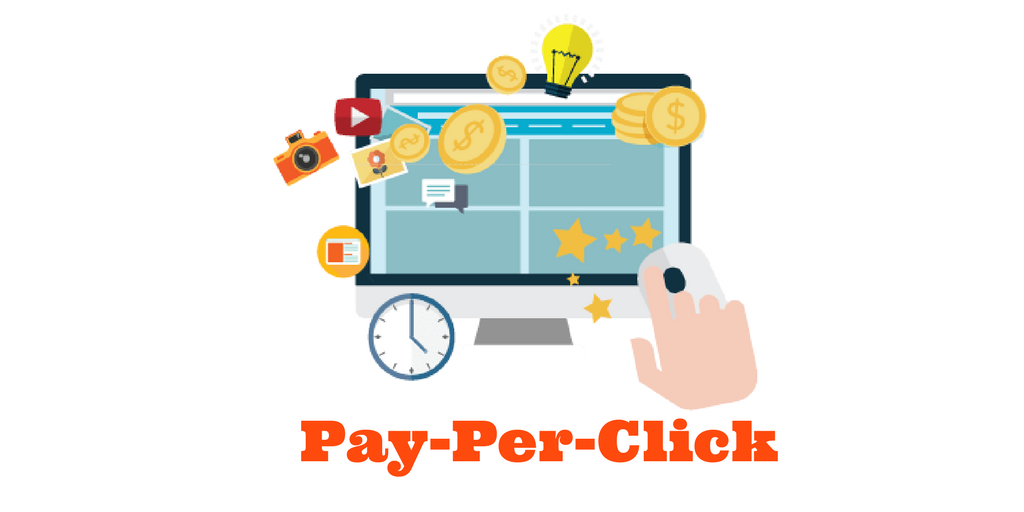 PPC (or pay-per-click) is a popular method of paid advertising that puts your message in front of a target market you have specified, and charges a fee every time one of your ads is clicked on by a user. PPC advertising can be instrumental in driving sales and leads but without precision, it can grow to be expensive if it's not properly managed.

PPC is not just limited to search engines, although Google AdWords is above and beyond the most popular form of paid advertising. Almost every popular site you visit on a daily basis relies on ad revenue whether that be businesses, blogs or news sites. Popular social networks such as Facebook, LinkedIn and Twitter are grabbing their piece of the PPC pie and it's easy to see why, as digital spend is constantly on the rise. In the UK, digital revenue went up by 27.5%, reaching £1.31 billion in the last year.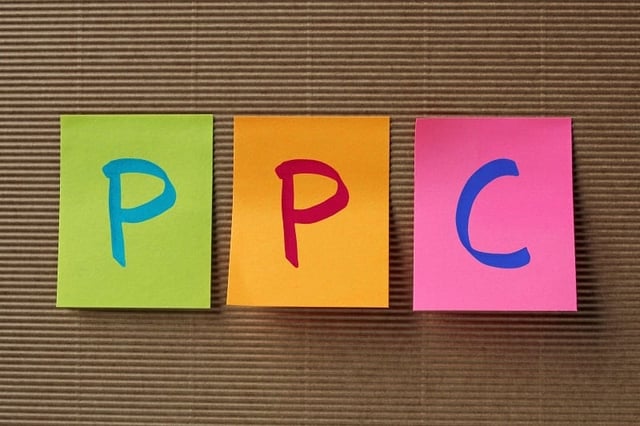 Whether you're spending big on paid advertising, or employing a small campaign only occasionally it's important that your campaign is properly researched, set up and analysed to make the most of your PPC budget and get more clicks for cost, especially when you may be spending extra on a third party PPC management tool. Make sure you consider:
Your target market (or 'buyer persona')
Do you know exactly who you're targeting? Do you understand their profile, challenges and motivations? Do they need to be targeted by age, interests, location? Will they be active on the platform you're paying to advertise on?
Where does the click take the user?
Once a user has clicked on your advert, their action has cost you. Make sure it's worthwhile. If you're advertising a blog, is that content quality? Does it have the neccessary calls-to-action? If you're taking the user to a landing page, is that page properly optimised to encourage the highest possible conversion? Remember, PPC takes a user to a page, it's up to you to make sure they're engaged.
ROI
In order to make the most of your PPC budget, you need to have a clear idea of how much that click is worth to you. If you're directing the user to a awareness stage blog post it's going to be worth a lot less than if you're taking a decision stage buyer to a free consultation landing page. Many third party PPC management tools cost, and so this will need to be taken into consideration in your ROI calculations too.
Once you have a clear understanding of your target market, your advertising goals and your budget you are in the best position to decide which PPC management tools might help you execute that fantastic PPC campaign!
It is first worth pointing out that all PPC platforms will have, by default, a standard online dashboard from which you can create, manage and analyse campaigns. Examples include Google Adwords, Facebook Ads Manager, Twitter Ads and Bing Ads. While these are certainly widely used pieces of software and do the job, we can't deny the additional benefits of third party software. PPC tools allow you to save time and therefore money, provide extra data either about your business, your competitors or what keywords and topics are popular and mean you can pull in all your data from various sources into one dashboard.
If you're considering using additional PPC management tools, here are 6 you might find useful...
WordStream
Making PPC simple and affordable
WordStream is a fairly recent AdWords tool that was considered to be a niche piece of software until as recently as 2015, when it was suddenly recognised and rose to notoriety. Its surge of popularity is no surprise when taking into account WordStream's wide range of tools compiled into one remarkably easy to use platform.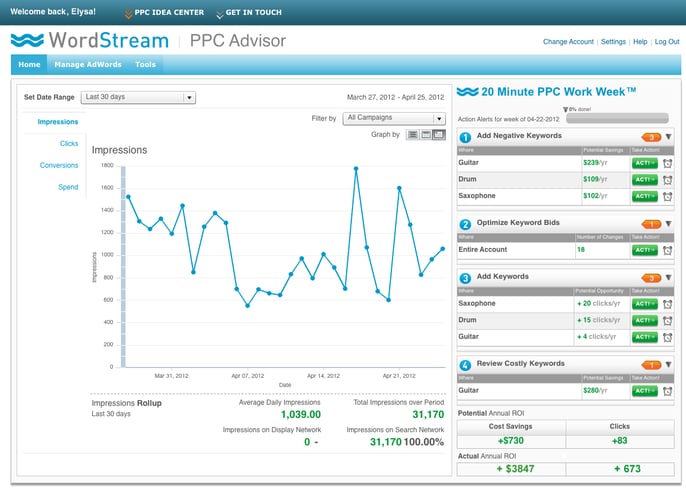 WordStream actually does a lot of the work for you; its self-styled "20 minute work week" actively suggests directions to go in for your PPC campaigns. It's so efficient that WordStream themselves confidently boast an increase in leads of 60% over Google's AdWords, but you can be the judge of that!
Before you even get started, WordStream can analyse your current PPC campaigns to see how you're faring. Quite a sneaky, yet brilliant way of getting you to purchase their software! WordStream, thankfully, is actually quite affordable for all sizes of business, should you choose to dive in. The relatively low price actually puts other, more cumbersome platforms to shame.


IgnitionOne
Marketing as an art form
What we really love about IgnitionOne is how it embraces the creative side of marketing. We feel IgnitionOne emphasises this better than any other PPC platform, and fear not as they put their mantra where their mouth is. IgnitionOne not only promotes the use of artwork and creativity in your campaigns, it allows you to organise your assets by campaign. This helps with keeping campaigns visually identifiable from one another.
UberSuggest
Sussing out long tail keywords
Earlier we mentioned that keywords are important to PPC. We know that keyword research to some can be a living nightmare, but UberSuggest might be the website that solves your keyword troubles. UberSuggest compliments programs like AdWords Editor in its usefulness for suggesting keywords based on your search. UberSuggest is especially useful when it comes to long tail keywords, as this is an area many marketers struggle with when considering search volume vs. ranking difficulty.


SpyFu
Keyword extraordinaire
Ever wanted to know the secret formula behind the success of your most profitable competitors? SpyFu lets you do just that. This program uncovers the keywords that your competitors are ranking for and how well they're ranking for them.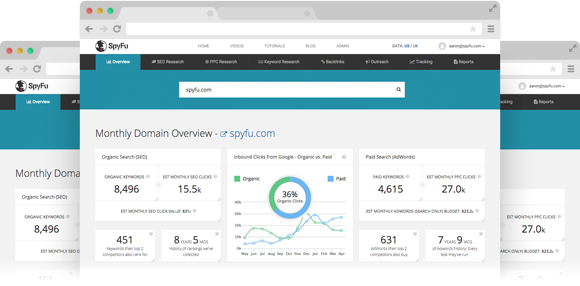 Much like UberSuggest, SpyFu can take much of the headache out of keyword research by potentially delivering valuable keywords instantaneously. SpyFu also provides recommendations on how to use those keywords better than your competitors, which could make it one of the most vital tools for your PPC campaigns.
Convertable
Your free marketing companion
Convertable is a great (and free!) companion to your marketing campaigns. If you've attracted leads through your PPC ads, Convertable provides detailed analytics on every visitor, making it easier for you to determine if you're targeting the right people. Confirmed leads can then be organised into an easy to use database. Additionally, Convertable features a form builder for your content offers. The drag and drop interface makes Convertable one of the most accessible programs we've come across for form building.
Convertable is a free platform, making it instantly more affordable than more costly platforms like Salesforce or Marketo. The simple interface is another large plus, trimming out the fat of more complex programs while also offering in-depth analytics.
Acquisio
Specific audience targeting
For specific audience targeting, look no further than Acquisio. Acquisio is focused around maximising your PPC campaigns by fine tuning your target audience. Fun fact: Acquisio supposedly hired a rocket scientist to perfect their algorithm, and if the customer testimonials are anything to go by, we're inclined to believe them.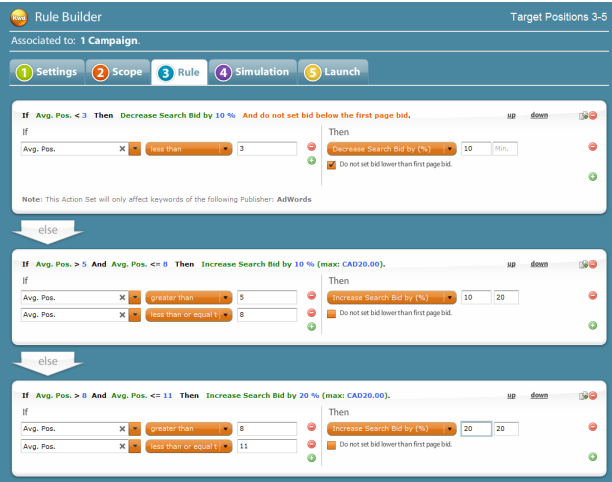 What's somewhat unique about Acquisio is their approach to small businesses. Site building, creating an AdWords account for you, and any nitty gritty backend stuff is all dealt with on their end. The website Acquisio builds for you is also optimised for mobile, allowing you to manage your campaigns when you're out of the office.
Here we've presented a range of tools that can help you to manage your PPC campaigns, from life simplifying companion apps to programs that can operate at the heart of your campaigns, we hope we've highlighted something of use for you and your business. If you, too, have any suggestions of excellent PPC management tools, feel free to share them with us!
PPC and Social Media marketing are integral elements of a successful Inbound Marketing campaign, click here to find out more about how paid advertising might help you generate more web traffic, leads and customers!