Want the very latest inbound marketing statistics? Considering switching from the old outbound way of marketing but unsure of the benefits inbound brings?
Well, look no further.
HubSpot released their State of Inbound 2018 Global Report on the current state of inbound marketing. The report consists of research on the most popular 2018 marketing trends, major challenges that companies face, and their goals moving forward.
But you don't have to trudge your way through the whole report. Luckily, we're here to give you the juiciest stats.
The world is becoming more inbound, and for good reason too. Outbound is the more costly and ineffective way of marketing, and here are seven statistics that prove it:
1. Inbound is a Global Methodology
When asked 'What is your organisation's primary approach to marketing?', 74% of global respondents answered that they primarily conducted inbound marketing.
The most popular nation for inbound marketing was North America, with 79% of respondents using inbound. Europe was close behind, with 75% using inbound, whereas Southeast Asia was the least popular inbound nation. Only 64% responded that they used inbound there, which means only 36% used outbound channels for their primary marketing methods.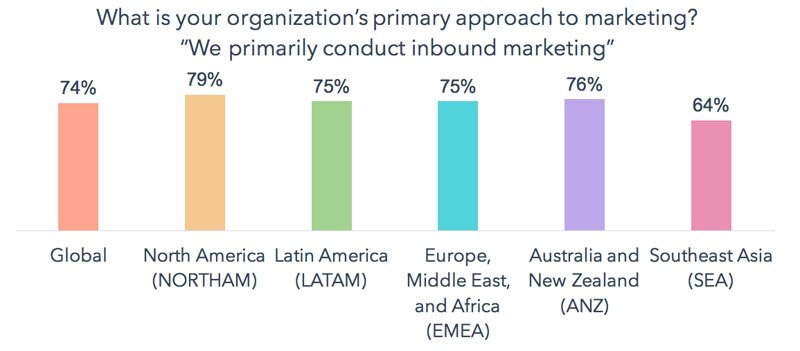 The numbers say it all: companies are choosing inbound worldwide, and for good reason too. Inbound is completely customer focused, and concentrates on providing solutions to the problems that consumers have. Outbound instead focuses on pushing often unwanted messages onto masses of people who aren't familiar with a product or service.
As a consumer yourself, which marketing method would you pick?
2. Inbound is More Effective Than Outbound
Inbound marketing teams are more likely to rate their marketing strategy as effective than their outbound counterparts.
When asked if they felt whether their organisation's marketing strategy was effective, 75% of those who used inbound voted yes, whereas only 62% of those who used outbound marketing did so.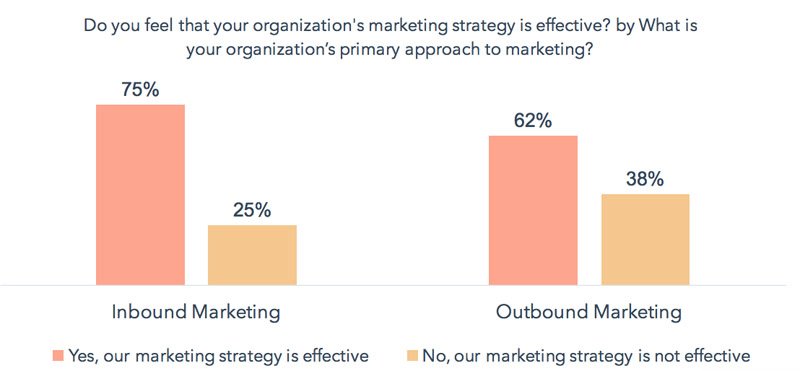 Effectiveness in marketing is everything. If you feel that your outbound methods are failing to get you the leads you crave, consider the switch to inbound. It feels good in the 75%!
3. Inbound Provides a Higher ROI
Of course, when choosing between inbound and outbound marketing, it all comes down to the numbers: which one is more cost effective? Which can give me a higher ROI?
The answer: inbound (again).
When respondents were asked 'Which marketing approach has given your organisation a higher ROI?', 53% answered inbound marketing, whereas only 16% responded with outbound.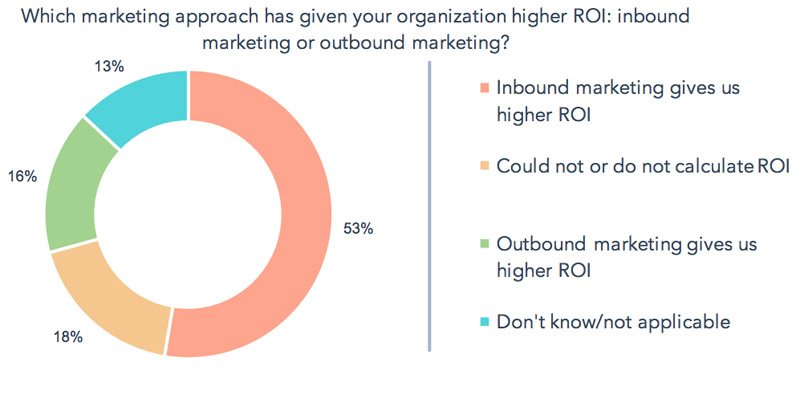 That's a whopping 84% who admitted that their outbound marketing efforts didn't give them a higher ROI! So if you're still using outbound, why not make the switch?
4. Paid Advertising is Overrated
When asked which marketing tactic was the most overrated, 30% of respondents answered paid advertising. This includes channels such as print, outdoor, and broadcast adverts such as those shown on the radio and television.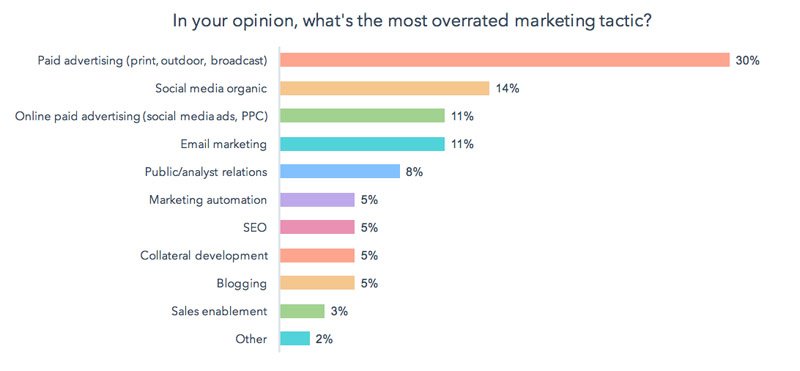 All these channels are outbound marketing tactics. This answer reflects the general and global switch from outbound to inbound, and shows that more companies are becoming aware of the inefficiency of outbound marketing.
After all, why force your promotional message onto unwilling participants through the use of paid advertising when you can attract willing prospects to your business through creating valuable content, the inbound way?
5. Top Priorities in Inbound Marketing: SEO and Content Creation
Inbound marketing is fundamentally based on creating content to drive consumers to your website.
So, it's no wonder why, when asked what their companies' top priorities were within their inbound marketing projects, 61% of respondents answered SEO and growing their organic presence, and 55% answered content creation for their blogs.
Focusing on blogging and SEO will help your business achieve high online visibility through ranking well on Google, and creating fantastic content will provide valuable help to your consumers, which increases the chance that they'll buy from your company later.
Find out how you can start creating content with Making a Content Calendar the Inbound Way and how you can track your company's online presence with 4 Free SEO Checker Tools Your Business Should Be Using.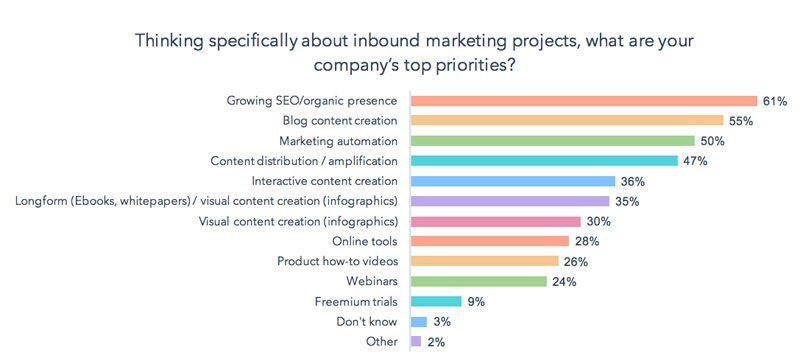 6. Constant Challenges: Generating Traffic, Proving ROI
When asked what their company's top marketing challenges were, 61% responded with generating traffic and leads, and 39% responded with proving the ROI of their marketing activities.
Proving ROI and measuring the effectiveness of marketing is a struggle for any business. Another big advantage of inbound marketing over outbound is that everything can be measured and analysed. Check out our blog that goes in depth on the 21 Ways You Can Analyse Your Web Marketing to measure and prove ROI to your stakeholders.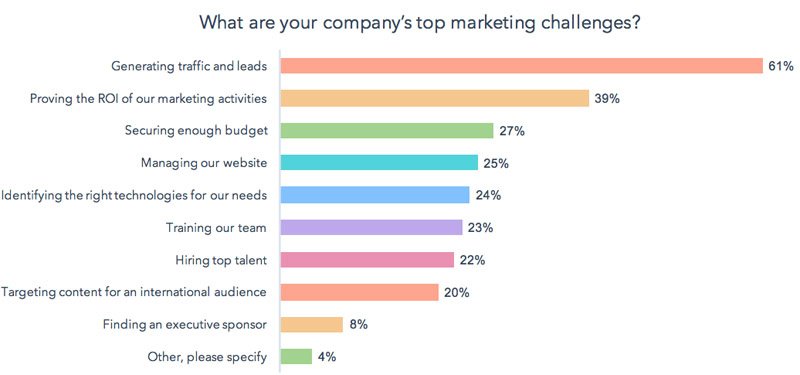 7. Converting Leads to Customers is One of the Top Marketing Priorities
When asked 'What are your company's top marketing priorities over the next 12 months?', a whopping 69% responded with converting their leads into customers, and slightly behind was 54% who responded with growing their website traffic.
Through the use of lead nurturing tactics, you can increase your lead-to-customer conversion rates. A great inbound practice to implement is to segment your leads according to their stage in the buyer's journey and market to them accordingly. If your lead is still in the awareness stage, then you could email them general offers that increases their knowledge on a topic. If they're in the decision stage, however, it's best to email them free trials of your product or service to encourage them to try it out, and take them one step closer to becoming a paying customer.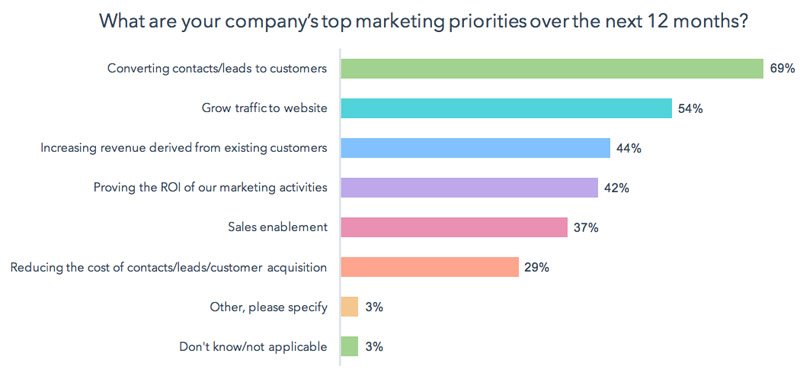 Not surprisingly, the results from the State of Inbound 2018 reflects the global change from outbound to inbound marketing. The two main challenges that businesses face, inbound companies included, are converting leads to customers and generating more traffic online.