What is Viral Marketing?
What's the point of selling a product if you can't have fun while you do it? No matter what kind of company you are, you'll likely have one key product or service you're interested in selling. In this day and age, there's no better way to generate brand awareness than eye-opening viral marketing campaigns.
A viral marketing campaign involves the use of social media or video sharing sites like YouTube to advertise products. These usually give the advertiser more creative freedom, tying in elements of social media to allow users and potential customers to play a proactive role in the campaign. This could be through hashtags, Snapchats, photos on Pinterest or Instagram and so on. Others use the platforms to raise awareness for a non-profit cause.
I've listed my favourites from last year below - (Enjoy).

The Netflix Watch
Around the time the Apple Watch was attracting major buzz, Netflix wasn't one to keep quiet. They stole onto the hype train by offering up their fictional version of the wearable tech craze. Behold: the Netlflix Watch.


We're sure a smartwatch specifically made for Netflix watchers (or indeed, smartwatch functionality for the streaming service on major smartwatch products) would sell quite comfortably. However, many people overlooked the dangers of being hooked on Better Call Saul while crossing a particularly busy street. Or indeed the stress it would put on your arm. Still, it generated enough interest that Netflix's subscriptions surely saw a healthy rise.
Samsung Safety Truck
The idea of the Samsung Safety Truck was so simple we can't believe it hadn't already been thought of, or implemented. A camera on the front of the truck captures the road ahead, while four monitors mounted on the rear of the vehicle display what's ahead for other road users. The idea is in allowing motorists to make more informed and safer decisions when they choose to pass a truck, as they'll be able to tell what's ahead of the truck (say, if a car is travelling down the oncoming lane) before they pass.

WWF's #LastSelfie Campaign
The World Wildlife Fund made inventive use of Snapchat to raise awareness for endangered species across the globe. Each Snapchat sent to the WWF's followers featured a close-up of an endangered animal, under the premise that it could well be the last time the recipient saw the species in any capacity. The campaign was a massive success, reaching 120 million Twitter users and led to an increase in the number of animals being adopted through the WWF's website.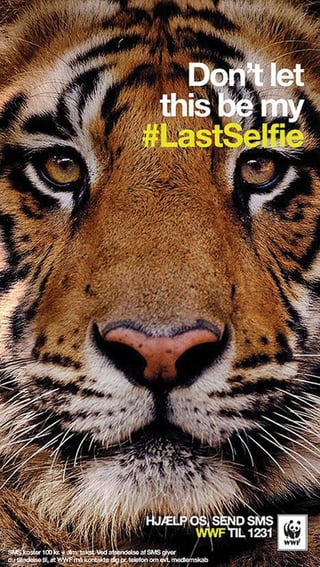 Burger King's Flame-Grilled Cologne
In a move reminiscent of Anchorman's infamous Sex Panther fragrance gag, fast food giant Burger King thought it would be a nice idea for its customers to not only eat their burgers, but smell like them, too. This campaign was half April Fools joke, half real thing. The Flame-Grilled cologne actually sold...for one day (the 1st of April) in Japan. Burger King actually made 1,000 of the bottles. The ridiculousness of the campaign did well to get people talking about Burger King online, and no doubt got people in the mood for fast food while they were at it.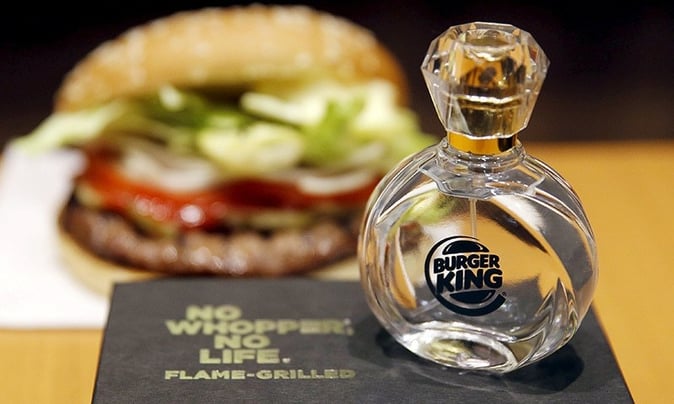 Billboards for Ants
Australia had a very creative approach to advertising the 2015 Marvel blockbuster Ant-Man, tiny billboards were placed in public areas promoting the film. At about the height of a small dog, these miniature posters were, presumably, made so that ants and other insects were made well aware of Hollywood capitalism.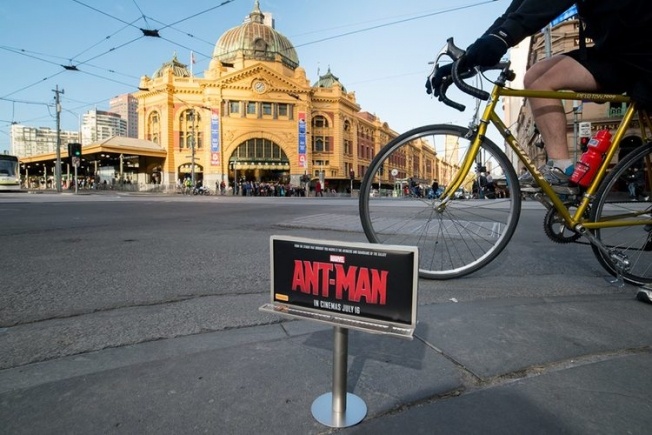 This campaign wasn't directly uploaded to social media, but then it never really needed to be. Like all the best (or the very worst!) campaigns, its presence was spread online faster than a colony of ants could steal the contents of your picnic basket.
Build Your Own Mercedes on Instagram
This Instagram based campaign may not have been as flashy or creative as some of the others on this list, but it was fun to mess around with at the height of its trend. To promote their GLA model, Mercedes allowed users to customise and share their own car creation with others. Users were able to change the paint job, rims, window tint and more.


The campaign was received positively, earning Mercedes over 100,000 likes and around 20,000 new followers. How many of those ended up buying a Mercedes, we don't know. But we're pretty sure it allowed people too young to drive the opportunity to get all Need for Speed with their friends, sharing their creations with each other in a pretty interesting way.
A Skateboarding Cat
Cats rule the internet, whether we like to admit it or not. Regardless of our affection for these mischievous moggies, they always find a way to draw our undivided attention. Case in point, GoPro's skateboarding cat made the internet stop in its tracks.
Yes, the video advertises GoPro's head-mounted video camera and we're sure their feline friend gave the product a ton of traction. But more importantly, let's take a moment to appreciate this cat's incredible skateboarding skills.