If you ask any business owner what their marketing aims are, one of the first things they are likely to list is increasing the traffic to their website. So let's take a look at some cool tips, hints and website hacks from the Inbound Marketing methodology that can help you achieve more visitors.
Blogging
Your blog is a great way of increasing your website traffic. Keeping your blog up to date with good quality content that helps your target customers will help to boost your website traffic in a number of ways.

Blogs can help support your attempt to rank on the results pages of search engines. Imagine what questions your customers might be asking, what challenges they may face, what they may have entered into Google, looking for answers. You can find more information on keyword research here.
Use your blog as a way of answering your FAQs. Not only will you find your ranking increasing it will also be particularly helpful for your customers, encouraging them to click on more of your content and share it. Beyond your own team and your customers, you can also do research on niche forums or community sites e.g we love to find out what others are asking in our industry so we keep a close eye on what is happening at www.inbound.org and www.quora.com - check these out and out what other sites are relevant to you and your industry.

Share your blog content far and wide. Not only through your business and it's social platforms but what about sharing it on industry new sites, online publications and more! Sujan Patel wrote a great article on Search Engine Journal which shared 15 places to share your content including:

Triberr

Google+ Communities

Bizsugar

Your Email List

Niche-based Social Bookmarking sites

Industry Specific Social Networks

Visual.ly

LinkedIn Groups
For the full article visit Search Engine Journal
Social Media
Using social media to promote your content is one of the best ways in which your efforts can directly affect the traffic to your website.
Twitter is great for posting out short and snappy links to your content and building a brand personality. Building a twitter strategy will take a little more thought than simply posting out a tweet to your latest blog post…
start connecting with your target audience by engaging with their content and their questions.

leverage popular and trending hashtags to reach a wider audience.

mention others in your tweets you may have helped contribute to your blog post (anyone you have referenced)

create private twitter lists and segment into your target audience profiles - for those who follow you back, reach out a let me know your blog post is live...
There are many other ways to utlise Twitter as part of your traffic generation efforts, Wishpond have put together some further tips to help you get the most of Twitter marketing basics.

Google+ can help build your search results but for many people it is looked upon a difficult nut to crack. Google+ is not for every business but if your target audience is active here then focus on on structuring and engaging effectively with these 10 Smart Tips To Leverage Google+ from Moz.
Pinterest (don't assume it won't help) helps present your product in a different style can open up the opportunity of increased sales and exposure, all of which will link directly back to your website. Wishpond make a great point about ensuring you practice SEO techniques to increase the visibility of your pinterest activity:
"Pins on Pinterest are indexed within the site, as well as search engines like Google. Make sure you are practising good SEO techniques when posting your blog post Pins on the site.
The first thing you need to do is to make sure your Pins are actually searchable. Check your account settings, and make sure your "Search Privacy" setting is set to allow for public search engines to find you!
Here are a few more SEO tips for Pinterest:
Use your blog title as your blog Board title

Use relevant keywords to describe your post

Include hashtags if you can't find a way to use the keywords in your description

Use keywords in your image 'alt' tags"
Hubspot have written a helpful blog about the anatomy of a fully optimised Pinterest pin.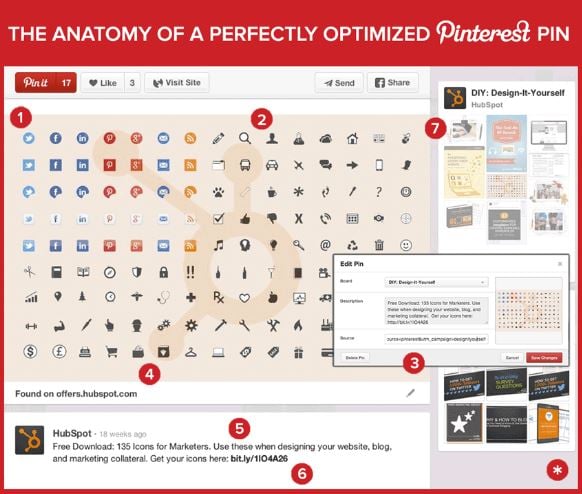 LinkedIn has become much more than just a glorified CV/resume database, it also encourages some of the most interactive group debates and has become a publishing platform in its own right. There are a number of areas to participate in including Groups and Linkedin pulse. Start by using the LinkedIn advanced search to find which groups your target audience are participating in.

Active engagement is easy to forget when you are busy posting and promoting your content. But by far the most effective way of succeeding on social media is through communicating - that's right, talking to people, just like social media was meant to be. So search out questions and answer them, offer solutions and be a helpful social media presence.
Paid Advertising
Advertising on social media networks advertising is an obvious first port of call. But before you start flexing the plastic fantastic consider carefully the commercial keywords you are targeting and whether your advertising will reach your target market.
Displaying advertising on Twitter and Facebook (like the one below) helps expose your brand to a whole bunch of new customers and push your website right under the noses of lots of people. Social Media advertising also allows specific targeting so you're not only getting more website visitors, but those visitors will be representative of your target customer!




PPC (pay per click) can be helpful in generating visits to your website, essentially buying those visits. So long as you do your keyword research properly you can have ready-to-buy customers lining up at your website door. However, be aware that the costs of each click add up and it won't guarantee you a sale.
With a lot of PPC tools on the market it can be difficult to choose a suitable platform so take a look at our article on 6 PPC Management Tools to Boost Your Campaign.
Website Hacks
When was the last time you optimised your website? Making sure you ensure your pages rank for the right keywords is still a necessity in ensuring that visitors actually find your pages.
Analyse the SEO for each page because keywords are important; both long-tail and short-tail ones. Long-tail keywords account for the majority of searches, if you aren't targeting them then you are probably missing out.

Linking to relevant external pages helps your website's SEO but also strong internal links will enhance user experience. A few well placed and helpful internal links to your pages and blogs will contribute to longer visiting times, helping keep your visitor engaged and more likely to purchase.

Landing pages have become the number one method of funnelling your visitors to exactly where you want them and the more your have the better your chances of converting them. Find out how to optimise your landing page forms here.
Make sure your website is fast enough, if it isn't quick or responsive then visitors won't be hanging around for long. Try using the Hubspot Marketing Grader Tool to get your speed results as well as a whole load of results on your website. The below image has some interesting stats on website performance and how it can impact traffic and conversion rates.



Is your website is responsive to the changing way in which users access your site, be it PC, tablet, mobile or gaming device.
Email Lists
Have you done anything useful with your email list lately? Sent them any offers, created a newsletter? Email is still the most effective form of marketing with 64% of marketers say email is their most effective lead generation channel when targeting new customers 64% of marketers say email is their most effective lead generation channel when targeting new customers(LINK: 100 B2B Lead Generation Stats).
Emailing your blog content is still powerful and even the most casual of email blasts can help increase your website traffic significantly.

Segment your email database into target groups so you can personalise your content to each persona - this ties in well with your marketing automation strategy.
Website Analytics
Google analytics, you've heard of it right? Its really is important. Having a keen eye on your website visitor data can reveal which are your most popular pages and content.
Reveal the content that is bringing in visitors, meaning you can concentrate on the content that is popular.

Who's linking? Using your analytics data is great for finding out which websites are referring to yours and offering you a way of reaching out and establishing even more links to yours.

Keywords that work, keywords that don't. Ensure that the keywords you have targeted are actually working for you. Accessing your analytics data can help you establish your keyword focus and on-page SEO.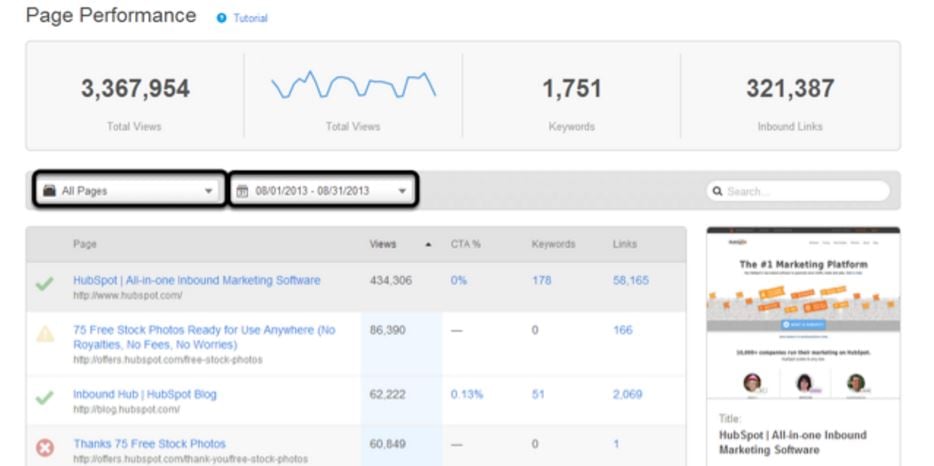 Source: Hubspot
Finally, the magic formula for getting more traffic to your website is...
Effort
When you commit to making changes to increase your website traffic, it's important to remember that one of the key factors that impact your success is the amount of effort you put in - you will reap what you sow! When you implement some or all of the methods outlined above you need to continue to, monitor them and make improvements to perfect your strategy.

The importance of more traffic to your website can be summed up in the following three statements:

No traffic = no leads.

No leads = no sales.

No sales = no business.

Having a strong inbound marketing strategy can ensure that all your website marketing goals are monitored and optimised, meaning you get more visitors with an incentive to use your services.
Find out more about how to generating leads, encourage sales and how to increase website traffic with Inbound Marketing by claiming your free web presence assessment!