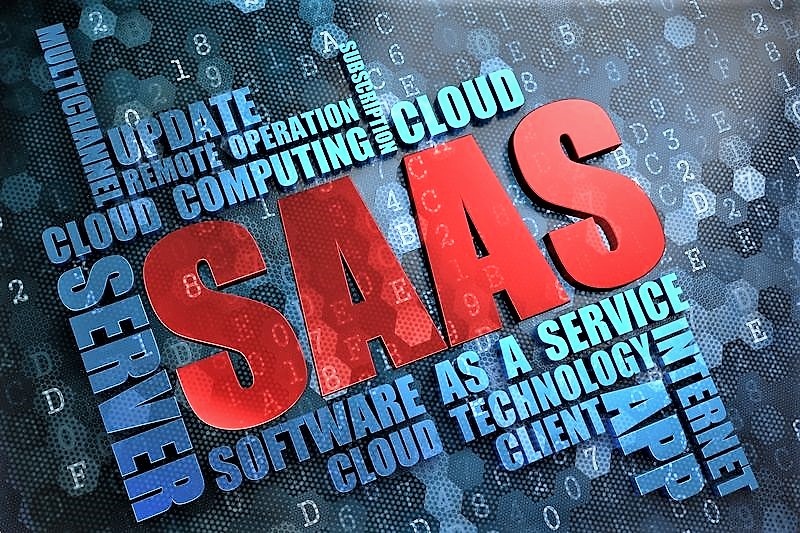 Performance metrics can be incredibly valuable; a few key variables can make a big difference to the success of any SAAS business. However, it can be difficult to track every metric. This article references

60

SAAS statistics to help marketers and business owners define what matters in relation to their goals
SAAS GROWTH STATISTICS
Software companies often grow faster than companies in other sectors, so keeping a close eye on growth numbers & benchmarks metrics should not be neglected.
1. The 2015 median revenue growth rate was 44%, while the median projected growth rate for 2016 is 48%. (forentrepreneurs)
2. 26% of SAAS companies with at least $15MM in 2015 GAAP revenue had a revenue growth rate + EBITDA margin of 40% or higher. (forentrepreneurs)
3. 55% of SAAS companies rate Customer Retention Cost as the key metric to measure. (

Totango

)
4. Unlike many other industries, if a software company grows at only 20%, it has a 92% chance of ceasing to exist within a few years. (

Mckinsey

)
5. Even if a software company is growing at 60% annually, its chances of becoming a multibillion-dollar giant are no better than 50/50. (Mckinsey)
6. SAAS companies in the $7.5MM-$15MM range are among the fastest growers. (

forentrepreneurs

)
7. High-growth companies offer a return to shareholders 5 times greater than medium-growth companies. (Mckinsey)
8. High-growth companies were 8 times more likely to reach $1 billion in revenues than those growing less than 20%. (

Mckinsey)
9. Increases in revenue growth rates drive twice as much market-capitalisation gain as margin improvements for companies with less than $4 billion in revenues. (Mckinsey)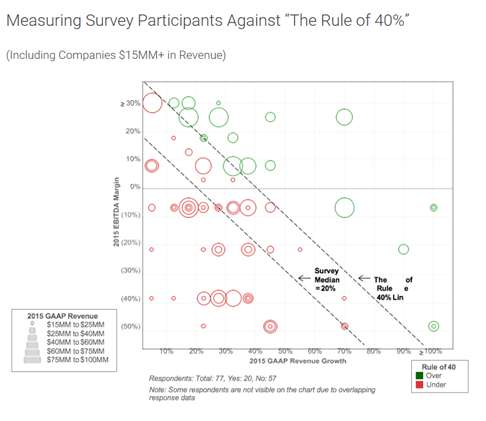 10. The median TTM revenue growth rate + adj. EBITDA margin for publicly traded SaaS companies was ~37%, implying that just under one half met or exceed "The Rule of 40%". (forentrepreneurs)

11. The average Quick Ratio of fastest growing SAAS companies (those with a CAGR of over 50%) is 3.9: generating $3.9 in revenue for every $1 lost to revenue churn. (InsightSquared)

12. Revenue per employee has been steadily increasing in SAAS companies. It serves as a great longitudinal measuring stick to understand the increasing or decreasing efficiency of the business. (Tomasz Tunguz)

13. Achieving a SAAS Quick Ratio of 4 is a good benchmark for young, high-growth companies but the equation changes as those companies reach scale. (InsightSquared)

14. If the numerator of your quick ratio is growing that means your revenue is growing. It's important to keep increasing revenue to counter any MRR (Monthly Recurring Revenue) that is lost to churn. (InsightSquared)
SAAS CHURN STATISTICS
Since churn metrics are such critical elements for success in a SAAS company, it is an area that requires deeper exploration to understand.
Making a small tweak to your churn rate can have a huge impact on the overall health of your business.
15. The median annual unit churn for SAAS companies was 10% in 2016. (forentrepreneurs)
16. More than two-thirds of SAAS companies experienced annual churn rates of 5% or higher. (Totango)
17. If your Net Revenue Churn is high (above 2% per month) it is an indicator that there is something wrong in your business; this will become a major drag on growth. (forentrepreneurs)
18. Net-revenue churn improves with a larger Average Contract Value (ACV), likely due to more structural churn among SMB customers and higher switching costs associated with larger contracts. (Mckinsey)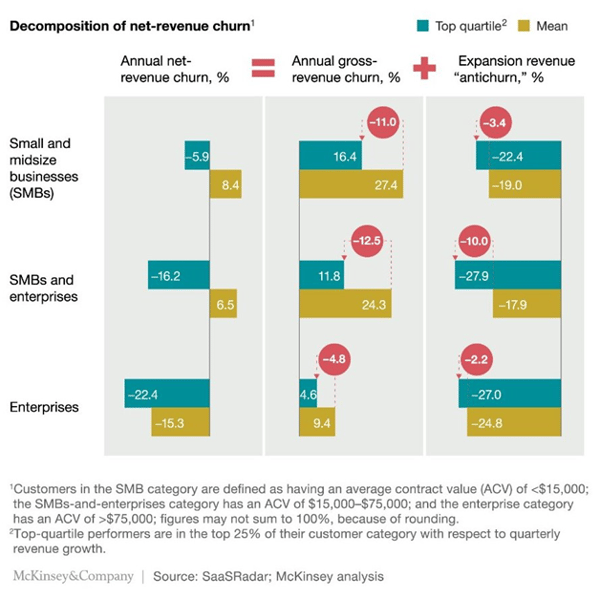 19. Between the SMB and Enterprise customer types, the top-quartile performers not only have net-revenue churn that is 14% to 23% per cent less than the average performers but also has net-revenue churn that is negative in an absolute sense. (Mckinsey)
20. Gross dollar churn among companies with an internet go-to-market strategy saw a meaningful increase, up from 8% in 2015. (forentrepreneurs)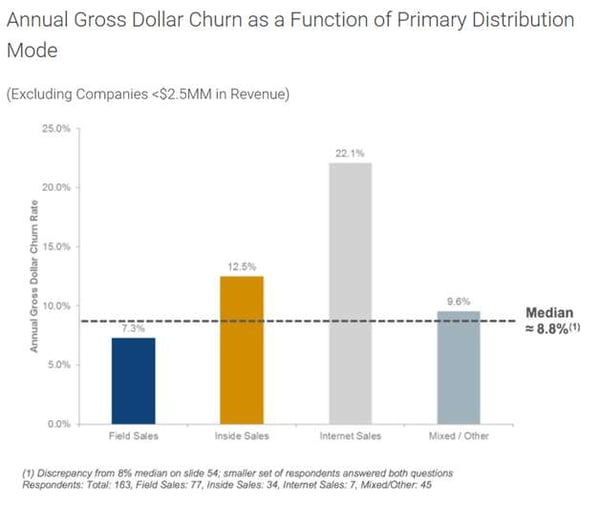 21. The fastest growing SAAS companies averaged $250k in MRR and were only losing around 3.2% of that revenue each month to churn. (InsightSquared)
22. As companies scale their growth engines, a slightly above-average churn rate becomes harder and harder to offset with net new revenue growth, especially when the goal is to outpace it by 4x. (InsightSquared)
23. The median SAAS business loses about 10% of its revenue to churn each year and that works out to about 0.83% revenue churn a month. (Tomasz Tunguz)
24. The very best SAAS companies keep monthly revenue churn at around 0.58%, that's only about 7% revenue churn a year. (sixteenventures)
25. The very best SAAS business has a negative churn rate and will have a Dollar Retention Rate of greater than 100%. (forentrepreneurs)
26. Median annual gross dollar churn was 8%, 7%, 6% and 8% in 2016, 2015, 2014 and 2013. (forentrepreneurs)
27. The best SaaS companies achieve 5-7% annual revenue churn - equivalent to a loss of $1 out of every $200 each month. (sixteenventures)
28. As with unit churn, companies with longer contracts (2+ years) tend to report lower annual dollar churn. (forentrepreneurs)
29. Non-renewal rates are higher than gross dollar churn rates and higher for shorter-duration contracts. (forentrepreneurs)
MArketing and Sales Statistics
It is important to analyse and research marketing and sales metrics when it comes to SAAS statistics. Putting more focus and resources on marketing and sales can not only ramp up leads and revenue, but it also helps you stay one step ahead of your competitors.
30. Companies that spend more on sales and marketing (as a % of revenue) generally grew at a faster rate than those that spent less. (forentrepreneurs)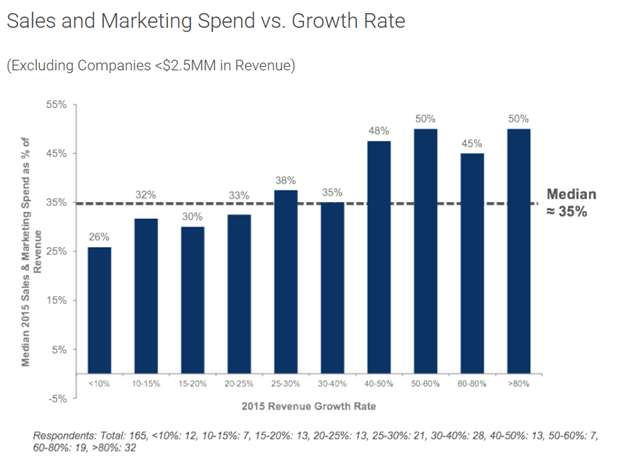 31. While field sales remain the most popular way to sell for companies >$2.5MM revenue, companies with <$2.5MM revenue tended to use inside sales as their primary mode of distribution. (forentrepreneurs)
32. Analysed by contract value, field sales are primarily evident for companies with median deals over $25K. Inside sales, strategies are most popular for companies with $1K-$25K median deal sizes. (forentrepreneurs)
33. SAAS companies invest between 80% and 120% of their revenue in sales and marketing in the first 5 years of their existence (Tomasz Tunguz).
34. Internet sales-driven companies have a much greater reliance on marketing, with 65% of the median company's CAC budget devoted to marketing. (forentrepreneurs)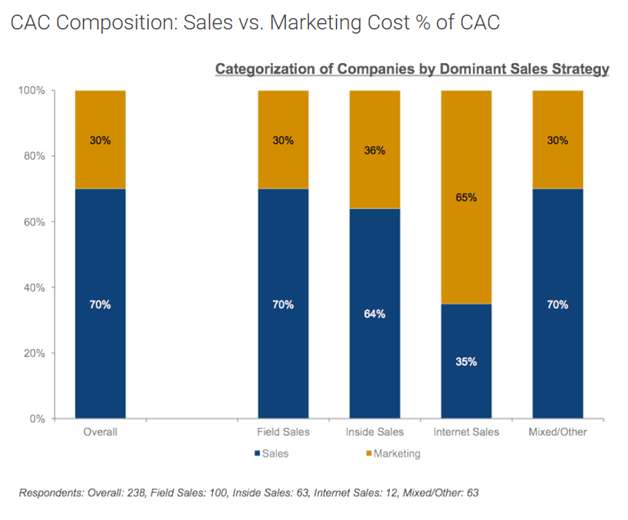 35. The average company gets 16% of new ACV sales from upsells and expansions, though companies with revenue between $10MM-$40MM are relying more heavily on upsells and expansions. (forentrepreneurs)
36. This is backed up as well by Totago: Less than 20% of new revenue came from existing customers in the form of upsell and expansion sales. (Totango)
37. SAAS companies that are focused mainly on enterprise sales have higher levels of professional services. Attach rates for Enterprise and SMB were 18% and 12% in 2016. (forentrepreneurs)
38. To establish a revenue or lead commitment based on your funnel metrics and revenue-growth goals, work backwards from the gross revenue amount that marketing is responsible for generating (generally around 40%). (HubSpot)
39. Moving from $1.5 million with an eye towards $10 million in ARR is a tough task and will take an excellent VP of sales to get you there. (HubSpot)
40. High-growth companies generate 60% fewer sales opportunities than low-growth companies. (InsightSquared)
41. SAAS companies need to track the number of visitors, trials and closed deals; And also track the conversion rates, with the goal of improving those over time. (forentrepreneurs)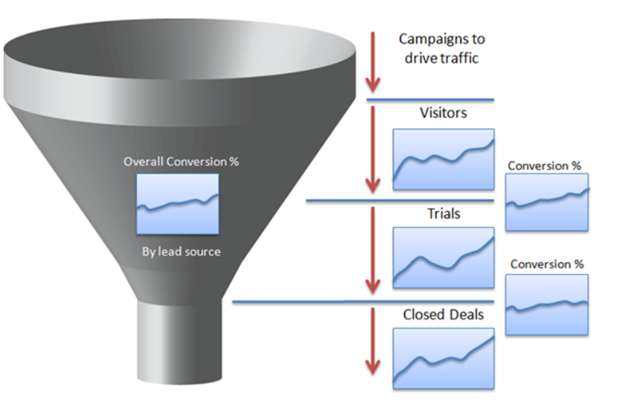 These conversion rates represent the ability to forecast future revenue and retention accurately. What's more, it will impact staffing levels, sales & marketing program spending.
It is important to measure the overall ROI from your lead generation activities.
The biggest challenge and greatest limiting factor to growth are growing the pipeline fast enough to feed the top of the funnel. Inbound marketing strategies can play a big role to help you drive up those numbers!
CUSTOMER AND BUSINESS SUCCESS STATISTICS
SAAS companies run a unique model that is much more focused on customer success than many traditional models. For this reason, it is important to have a deeper insight into performance metrics to make sure everything is on track and growing in a sustainable way.
Most SAAS companies could invest in acquiring more clients in order to grow faster, but many fall into the trap of neglecting customer success and retention.
So, you may have invested the money and time to gain new clients, but you lose out on the full revenue potential if they churn earlier than expected.
By reducing the revenue headwinds caused by churn, companies with strong levels of customer success grow faster and gain further revenues from upgrades/expansions.
There are typically 3 key churn metrics:
Customer churn;

Gross-revenue churn;

And, net-revenue churn.
42. More than 1/2 of SAAS companies increased their spending on customer retention last year. (Totango)
43. The best SAAS businesses have an LTV to CAC ratio that is higher than 3, sometimes as high as 7 or 8. (forentrepreneurs)
44. The median annual contract value (ACV) was $25K, $21K, $21K, $20K in 2016, 2015, 2014 and 2013. (forentrepreneurs)
45. The average SaaS business generates 16% of its new Annual Contract Value (ACV) from upselling to existing customers. (RJMetrics)
46. SAAS companies with >$250K median ACV book nearly 25% of their contracts at 3 years or longer. (forentrepreneurs)
47. Companies with longer contracts (2+ years) reported the lowest annual unit churn. (forentrepreneurs)
48. The average SaaS company spends just 6 hours determining their pricing strategy. (PriceIntelligently). Find out more and read our article on 'Which SAAS Pricing Model will work for you'.
49. If you are charging $500 per month, you can afford to spend up to 12x that amount (i.e. $6,000) on acquiring a new customer. (forentrepreneurs)
50. When determining Sales Capacity, "it's worth noting that some percentage of new sales hires won't meet expectations, so that should be taken into consideration when setting hiring goals. Typically we have seen failure rates around 25-30% for field sales reps, but this varies by company. The failure rate is lower for inside sales reps. can be counted as half of a productive rep". (forentrepreneurs)
51. The largest SaaS companies (>$ 75 million yearly revenue) attribute 2.5x as much new revenue to upselling than the smallest SaaS companies (<$ 1.25 million): 28% versus 11%. (RJMetrics)
52. The median average contract length is 1.3 years and the average billing term is seven months in advance in 2016. Comparable to 2015, with the average contract length shortening from 1.5 to 1.3 years and the average billing period increasing by one month from 2015 to 7 months. (forentrepreneurs)
53. The average company booking professional services revenue on new deals is equivalent to 16% of the first-year subscription value. Professional services margins are approximately 22%. (forentrepreneurs)
54. Smaller SAAS companies reported more frequent use of third-party providers as their primary application delivery method, while the largest companies were more likely to use self-managed servers. (forentrepreneurs)
USEFUL SAAS FORMULAS
55. Customer Acquisition Cost (CAC) = sum of all sales & marketing expenses/ number of new customers added
David Skok has noted that there is a problem with using this formula, as you may have several expensive people in the team that should scale to handle a larger number of customers as you grow. In this case, your CAC will be too high. David suggested making a very simple adjustment to the Sales & Marketing expenses to take only a portion of those salaries and expenses in the early days. This will provide a better indication of how CAC will look in the future when you are at scale.
56. Account Churn Rate (ACR) = customers at beginning of the month - customers at the end of the month/customers at beginning of the month
Account Churn is very important because it gives a very clear percentage of the customers that are leaving you. It takes away the bias from larger accounts so that you aren't left with one large customer paying for all of your revenue - which is a dangerous situation to be in. (InsightSquared)
57. Revenue Churn Rate = (RCR) (MRR at beginning of the month - MRR at end of the month) - MRR in upgrades during month / MRR at beginning of the month
You can achieve Negative Churn, which means you are adding MRR at a faster pace than you are losing it. (InsightSquared)
58. Revenue Renewal Rate= (MRR up for the renewal at beginning of the month- MRR not renewed at the end of the month)/ MRR up for renewal at beginning of the month)
You need to be thinking about how the length of each contract will affect churn in a given period when you calculate the renewal rate. (InsightSquared)
59. Customer's lifetime value (LTV)= average revenue per user (ARPU) / monthly churn rate.
The top SAAS companies have an LTV to CAC (the Cost to Acquire a typical Customer) ratio that is higher than 3. (forentrepreneurs)
60. MRR churn %= churned MRR/ previous months MRR
Defined as lost revenue due to churned customers as a percentage of total recurring revenue. Read our article '5 Ways to Reduce Churn Rate' for insight into how to tackle 'drifting customers.
We hope you enjoyed the SAAS statistics that we have compiled - good luck with your planning!