You're already sold on why your business, whether it be B2B or B2C, should be using Social Media and Digital Marketing for lead generation, brand awareness or even customer service. The next step is to decide whether you want to hire a team to handle your digital marketing in-house, or whether you want to outsource to a digital marketing or social media agency.
It's easy to see why so many businesses choose to outsource their marketing in an effort to accomplish and surpass their marketing and sales goals while keeping their own time free to focus on the core services of their business. A digital marketing agency can provide social media management, monitoring of competitors, content creation and optimisation, keyword research and SEO, design, e-mail marketing, lead generation/nurturing and so much more!
Here are the fundamental reasons why so many businesses are choosing to outsource their digital marketing and the benefits you can expect:
1.) COST
Every business will aim to keep its marketing efforts cost-effective. You might be getting tons of leads, but if your cost of acquisition is too high, you could even be losing money on the leads you close into customers.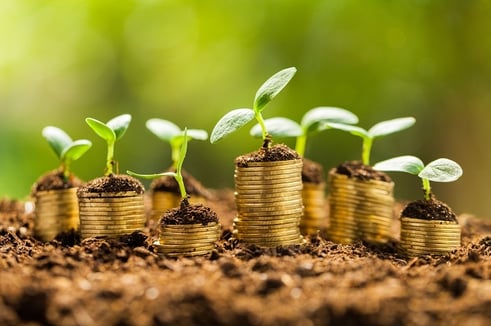 When you consider the cost of hiring an in-house marketing team, think about the different roles it might take to design, create and execute a successful digital marketing campaign. You might need a social media manager, content creator, SEO specialist, graphic designer, a paid advertising specialist… and that list isn't exhaustive! That's several salaries you'll need to take into account as well as the cost of recruitment and the cost of training. Then you'll need a paid advertising budget on top of all that expenditure - phew!
A great digital marketing agency will employ specialists in all of these fields above. When you outsource to an agency, you will get all the expertise of these specialists as and when your campaigns need them, rolled into one monthly cost.
Outsourcing can be especially vital for small businesses or growing start up. If you're working in a core team of 3 or 4, time and money will be tight and outsourcing allows you to remain focused on getting your business off the ground whilst still growing your visibility online and generating leads.
2.) IMPROVE PRODUCTIVITY
We've talked previously about how outsourcing can improve your business's productivity here. If you opt to hire a small in-house team or employ a junior team member to manage your online marketing efforts, this has the potential to become unproductive as they may struggle to cover all the responsibilities of running an end-to-end marketing campaign. Some of the responsibilities may be in areas they aren't familiar with.
Not only will outsourcing improve productivity in your marketing, but it will also free up more of your time, as a business manager. There will be no recruitment, management and training time lost and fewer HR and accounting considerations.
A good agency should allow you to dictate how involved you want to be in the management of your marketing campaigns. You can choose to get stuck in and be briefed on and confirm everything your agency carries out. On the other hand, to further improve your productivity, you might prefer them to take creative control and keep you up to date with a monthly meeting, leaving you to focus on your business - whatever works for you!
3.) KNOWLEDGE OF THE LANDSCAPE
There's no doubt the digital marketing landscape is constantly changing. Without being fully immersed, it's difficult to keep up with the constant advancements within the industry. New updates for social platforms, new software and search engine algorithm changes mean little time between what's trending now and what's old news.
A dedicated digital marketing or social media agency will live and breathe this landscape and constantly develop their skills and pick up new ones to make sure they're up to date on all the latest strategies and tools. They'll know about an update before it happens, and already be considering how this could benefit your business's marketing strategy.
4.) TOOLS
A digital marketing agency will have a number of paid tools at its disposal. As an Inbound Digital Marketing Agency, we use software that assists our social media management, graphic design, landing page creation, website pop-ups, SEO management and more… all of which come with a hefty price tag that we cover.
These tools can be costly but instrumental in creating and executing excellent marketing campaigns for clients. Imagine having to cough up for all of these tools yourself, or even just the most vital. Not to mention the time spent training to use them all!
Hiring an agency will mean all of these tools will be utilised for your business, helping the agency to create excellent marketing campaigns that produce results.
It's easy to see why companies ranging from startups to established businesses choose to outsource their digital marketing efforts. If you want to learn more about how outsourcing can benefit your business, why not get in touch with us for a no-obligation chat!