We know that staying relevant, on-trend and up to date in the rapidly advancing digital world will be one of your utmost considerations as an accountancy firm.
Making sure that your website can be found by new customers is essential for business growth. Search engines such as Google are processing over 3.5 billion searches every day, answering queries and directing your potential customers to the most relevant businesses in order to help solve their problems.
The design of a website is essential to any accountancy business that wishes to increase customers and revenue. A poorly designed website will ensure that visitors quickly exit the site as they cannot easily locate what they are looking for.
Remember that there are possibly millions of other websites that might provide the same answer to your potential customer's problems, so to compete it must be expertly created.
Websites should be designed so that the audience trusts in and relies on the information presented. The way that users interact with and experience your website are absolutely key in generating interested leads and happy customers.
To help attract more visitors and convert those visitors into leads, we have compiled our 3 golden web design rules you should follow to create the perfect professional website.
Rule 1: Optimise Your Layout for 'F'
Rule 2: Ensure Your Design Allows For Content
Rule 3: Keep It Simple - Design With Your User In Mind
Rule 1: Optimise Your Layout for 'F'
According to a study performed by the Nielson Group, our eyes are naturally drawn to the top left of a screen and users tend to browse pages in an 'F' shape, with test subjects rarely reading all of the content available on any given web page.
When visitors land on your website, they will make a judgement of your website within the first 50 milliseconds of seeing it (that's just 0.05 seconds!). So if you want to avoid your visitors deciding your website isn't for them and bouncing straight from your page, it's good practice to optimise the placement of important elements so that they are recognised in the blink of an eye - this is known as the 'blink test'.
Ensure that you have a strong, clear brand message in the top left on every page of your website, linking back to your homepage. Placing other key web elements within the field of the 'F', such as a navigation bar or clickable offers, will also prove to be beneficial as they are proven to draw the most attention
Below are some images from the Nielsen study which illustrate the focus of users attention on a web page. The spots highlighted in red show where the visitor's gaze was most concentrated. On the websites, especially in the middle image, you can clearly see the 'F' focus.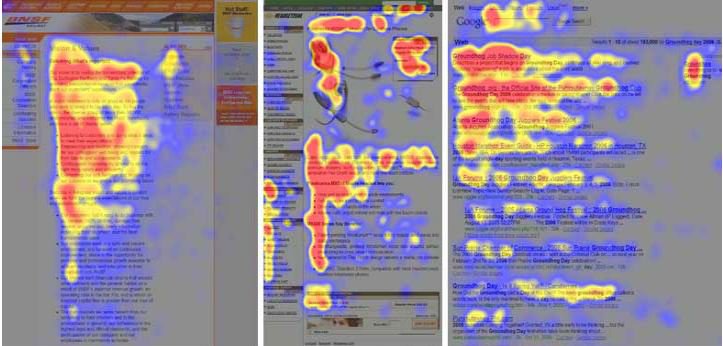 Source: https://www.nngroup.com/articles/f-shaped-pattern-reading-web-content/
Professional web designers should take into account the way that users view and interact with websites when designing and work with it to achieve the best results.
When deciding where to place important content, such as your company name, the top left will be the perfect spot. However, bear in mind you don't want to take it to the extreme. Ensure you keep this area uncluttered.
Rule 2: Ensure Your Design Allows For Content
Website content is essential for search engine optimisation (SEO) and your website should be designed to allow for significant amounts of high-quality content.
Websites that regularly publish and promote new content appear higher on search engine rankings. Designing your website for effective SEO means higher amounts of traffic to your website. According to public data, 95% of all internet traffic goes to first-page rankings on Google search, with the top spot claiming the lion's share at 32.5% of all traffic clicking through to their site.
As the statistics demonstrate, designing a website around top quality content is absolutely essential if you want to drive as much traffic to your website as possible. Great content means increased visitors, leads and customers for your business. To help you we have suggested some content related design tips to maximise your website SEO.

Content Design Tip: Construct your website to accommodate a blog
A blog is one of the most effective areas of your website that can be packed with useful content. Studies show that companies that publish 16 or more blog posts a month receive up to three and a half times more traffic than those that publish four or less. An effective website provides useful and relevant information to its visitors in order to help them recognise and solve any problems that they might have, and a blogging element will help you deliver on this principle.
Make your blog design easily navigable, with lots of space and clear titles to draw the reader's attention. Well designed and educational blogs will build rapport with your visitors. This will help to push traffic to your website and result in more interest in your business.
Content Design Tip: Use the most appropriate typography
Content is the currency of the internet, and the typography or font that you use on your site is a crucial part of the design. Ensure that your font is appropriate for your buyer persona, a.k.a. your ideal customer.
For example, certain typography is associated with a more modern, less formal design whilst other typography is viewed as traditional or more technical. Use the typography which would appeal most to your target buyer persona. (If you have not yet set your buyer persona, we have a free template which you can download here to help guide you through the relevant steps).
Use the font that best represents your carefully created content and it will go a long way towards forming the best impression on your visitor.
Content Design Tip: Ensure your website is designed to showcase content offers
Providing your visitors with a useful content offer is one of the most effective tools at your disposal for converting website visitors into leads - the basis of inbound marketing. We suggest having a dedicated page to host all your content offers on, and also linking to them with calls-to-action (CTA's) from other areas of your site, especially your blog. To read more about the principles of inbound marketing, check out our article on the Three Pillars of Inbound Marketing.
Your content is key, keep it in the spotlight.
Rule 3: Keep It Simple - Design With Your User In Mind
How easy your website is to use will play a huge role in the amount of time that your visitors spend on it, a metric which is now taken into account by search engines when they decide where to rank your website.
Designers call this usability. Usability.Net defines this as 'making products and systems easier to use, and matching them more closely to user needs and requirements.' Therefore, designing with usability at the core will ensure visitors don't click straight off your website.
This includes keeping your website clutter-free. Your website doesn't need to have flashing lights and pop-up banners flying across the screen in order to catch your audience's attention. If you're like me, it can be frustrating when you're reading something of interest only to find yourself bombarded with additional information, we recommend against it.
Best practice is to use plenty of white space and flat designs when constructing your posts. Flat design means avoiding the use of stylistics which give the illusion of three dimensions (such as shadows and gradients) with the focus on greater usability. This simplicity will perform miracles for your visitor's journey.
Your website navigation should also be simple in both design and usability. Make use of clear and consistent modes of site navigation such as a navigation menu in order to allow your visitors to move freely and easily within your website. We recommend reading this great article from Orbit Media if you would like to find out more about the best design practices for your website navigation.
Are You Ready To Learn More?
Website design is not an exact science, trends come and go, technology changes and design principles are updated. However, our three golden rules of optimising your layout, designing to allow for content and keeping it simple are solid principles which will stand the test of time in the fast-paced digital design world.


Did you find this blog interesting? Let us know in the comments and don't forget to share on social media.