All Boxes Checked for London Residential Lettings Giant With Rightmove & HubSpot Integration.
Fit For Purpose & Scalable
Multiple challenges, one solution: Custom HubSpot Integrations.
Fully Customised
Providing an augmented customer experience and streamlining internal data flow.
Bi-Directional Integration
Incoming contact management, outgoing property listings and updates.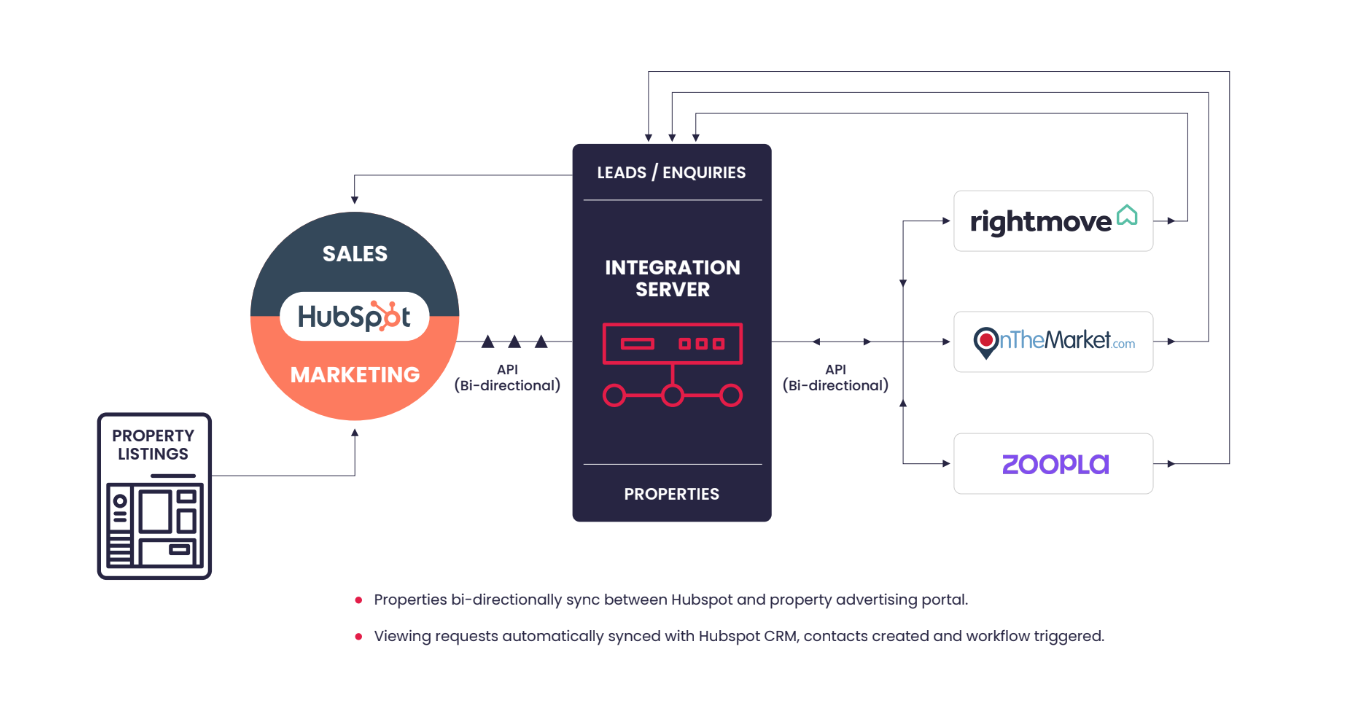 Rightmove Custom Integration with HubSpot
One of London's most sizeable private residential lettings brands has taken a major stride in augmenting its customer experience and streamlining its data flow. Multiple challenges, one solution: Custom HubSpot Integrations.
Rightmove and real estate are ubiquitous. In 2021, the digital landscape for property lettings is seeing unprecedented demand. Competition is at an all-time high, along with customer expectations.
Having used our HubSpot and Digital services to drive online performance and organisational growth since 2019, our custom migration & integrations team was entrusted to implement a bespoke bi-directional integration with two of the worlds most established platforms.


Before The HubSpot Website Integration: Challenges
Cumbersome legacy system

Tedious maintenance processes
Mismatched and inefficient data syncing
Disproportionate human resources allocated to manual listing updates
Multiple touchpoints between CMS and listing platforms all requiring individual input
Skewed user experiences
Costly maintenance and licensing fees for third-party software
Manual contact creation, segmentation and email sequences


Objectives for the Rightmove Integration Website Integration
A simplified, centralised system
Bi-directional data flow: incoming contact management, outgoing property listings and updates
Single input, multiple outputs
An easily managed system that would take up less human resources
Audience segmentation
Marketing automations based on interest
Automated lead scoring and nurturing
Cost-saving
Centralised database: HubSpot CMS
Uncompromised data quality and platform functionality
The Best HubSpot Integrations Are The Ones That Enable Your Goals
The current competitive landscape in the real estate industry demands nothing less than a robust online presence, and a consistent user experience across all platforms. Whether a user finds you via your very own website, or through the online giants like Rightmove, OnTheMarket or Zoopla - they need to see real-time availability. Having inaccurate and out-of-sync feeds, and a mixed user experience simply isn't an option.
To ensure data integrity and compatibility, we carried out a full data mapping process to get a clear idea of their current setup; from data cleanliness checks to a full analysis of where the data sits - we wanted to ensure we understood every possible nuance and intricacy of their legacy system.
The next step was data migration. We scripted the initial migration of the data from the client legacy system to the new centralised platform - HubSpot CMS. They avoided a time consuming and error-prone migration. We then implemented a platform integration layer using each platform API to sync the push and pull of data from their HubSpot CMS to each online lettings platform. It's also worth noting that custom integrations require HubSpot CMS Professional as standard.
Using the intuitive and user-friendly interface of the HubSpot CMS back end, staff can now easily manage where a property should be displayed.
Rightmove API Integration: The Outcome
Safe to say, we achieved all the objectives defined at the outset of the project scope.
The Rightmove HubSpot Integration created a scalable, fit for purpose, two-way integration for our client. There were some less-obvious benefits as a result of this integration, too.
Centralised system
Streamlined processes
Scalable solution to support their organisational growth objectives
Easy maintenance requirements
Exceptional user experience from the first point of contact through to purchase
Consistent user experience across all platforms
Real-time listings updates
Notable reduction in the requirement for human resources to maintain
New route to lead nurturing and segmentation through automated contact creation, lead scoring and marketing automation functionality within HubSpot
Fit for purpose, agile and adaptable to future plans
Enhanced use of HubSpot features and functionality to support marketing and sales goals
Drastic reduction in the time-consuming manual inputs required on a daily and weekly basis

Cost-saving through the elimination of third-party licensing fees
Why Choose Digital Media Stream as Your HubSpot Integration Partners?
We know that data is the cornerstone of a business. Our HubSpot credentials allow us to provide the best technical services to your business.
Making sure the right people have access to the right data at the right time paves the way for interconnectivity and success.
We've designed our HubSpot Custom Integrations and Migrations service with one goal: To deliver this success to your business.
Speak to our HubSpot Specialists today. Schedule your consultation in the calendar below or contact us, here.
Request a callback or quotation