Picture yourself in a new city, without a map or anyone to show you around, and you want a coffee. What do you do?
Walking up to a stranger and asking where the nearest coffee shop may seem a little weird; and besides, what if they recommend somewhere that just serves cheap instant coffee in a cracked mug? No, that won't do at all.
To find your perfect cup of coffee, you'll unknowingly delve into the world of local SEO, and in this strange digital world, reviews reign supreme. This blog explores why.
I Just Want a Cup of Coffee!
When on the hunt for that elusive cup of joe, the obvious starting point is to take your phone out of your pocket and do a quick Google search. You'll probably search something like, 'good coffee shop' with a location term such as 'Manchester', and this is what you'll be presented with (see the image below).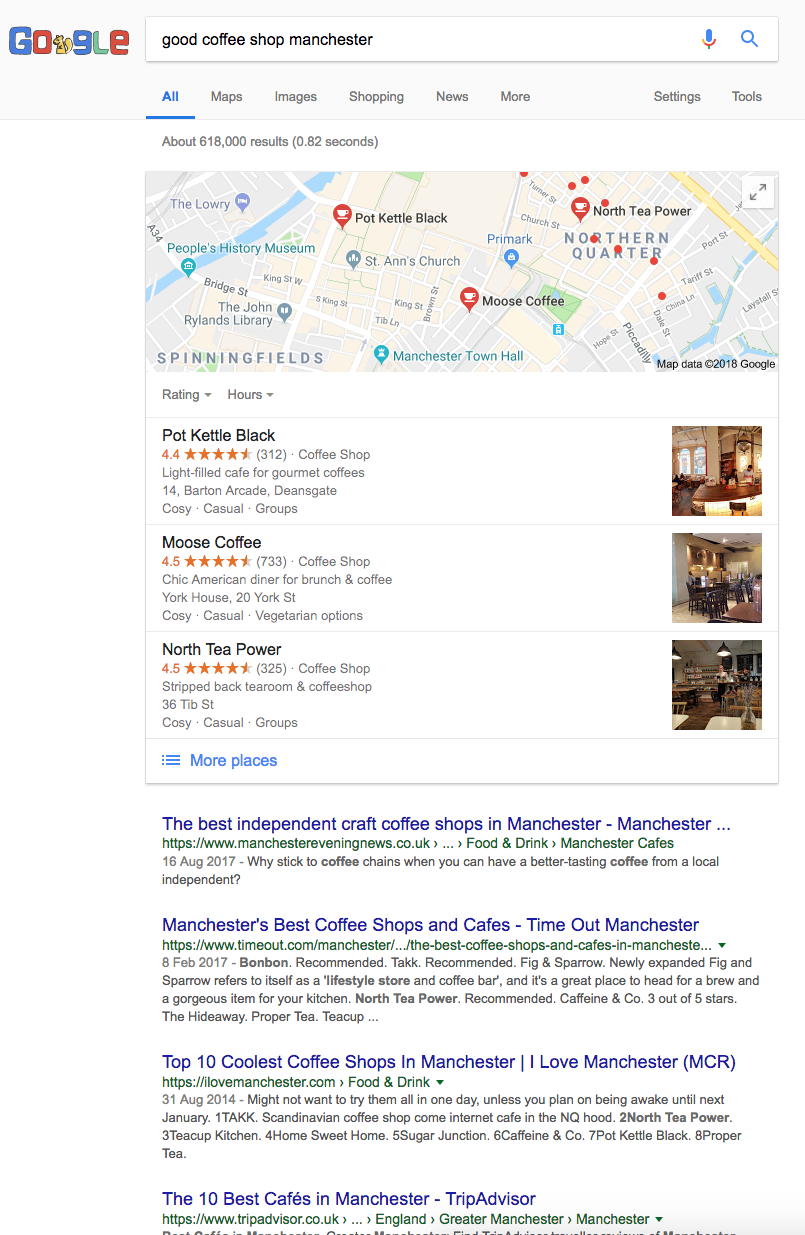 Now, you don't know anything about these coffee shops, but somehow you'll need to make a decision. Luckily, each of the three options highlighted in Google's local three-pack comes with its own set of reviews.
Manchester has pretty good coffee (and we'd know), so it's a close run thing, but in the snapshot above, Moose Coffee has 4.5 stars and more than double the reviews of the other two, so that's the winner.
This simple example is illustrative of the process consumers go through before purchasing. Positive or negative reviews are often the deciding factor in a person's decision to purchase, with 90% of customers saying their buying is influenced by online reviews.
Not only are online reviews used by the majority of shoppers, but they are beginning to be considered almost as trustworthy as personal recommendations. This is seen by the 84% of customers who said they valued online reviews as much as suggestions from friends or family.
So, the value of reviews is clear, but how do you make the most of them in your business?
Reviews' Place in Local SEO
Search engine optimisation (SEO) is a familiar concept to any business looking to grow their brand online, but what may be less obvious is the value of a specific strategy to grow local SEO.
If your business is looking to market to customers in nearby locations, local SEO should be at the top of your priorities. Especially since recent statistics show that 72% of people who do a local search end up visiting a store within five miles.
To achieve this, you'll want to move your business into Google's three-pack, which refers to the three listings featured on and below the map that appears on a local search. As this is such as dominant element on the page, it immediately draws the eye of the searcher and pushes other organic listings lower.
Reviews are one of the top factors that influence whether a business appears in the three-pack, with signals such as quantity and diversity having a 13% influence on the Google rankings.
Having Reviews in the Right Places
In order to properly benefit from the reviews your business is gaining, you'll need to ensure your company is listed in the right places. Unsurprisingly, Google values reviews from its My Business system highest, so making sure your business has one of these free listings is crucial.
Other platforms your customers use may draw upon reviews from other sites, such as Apple Maps, which uses Yelp reviews. Take a moment to research which reviewing sites are most influential in your industry, and create a business listing in these channels also.
The Visibility of Your Reviews
Once you start gathering reviews on your Google listing, you'll hopefully find yourself in the three-pack, but if you don't, try not to panic. Google prioritises location proximity highest when choosing businesses to showcase. This means that whether you appear in the three-pack will depend on how close your business's location is to the area the Google search originated from. If you are appearing in the three-pack for nearby searches, your local SEO strategy is working.
If you aren't finding yourself in the three-pack, check to see whether you are featured in the 20 sites listed on the map view. Some testing shows that these listings remain almost the same, regardless of specific location, so if you're appearing here you're reviews are doing their job.
There's always more you can do though to increase the click-through rate to your site. Take some time to ensure your Google My Business listing is properly populated, with a unique description, quality images, correct categories and company information.
Finally, don't forget that while reviews may have the greatest impact on local SEO, they can also play a prominent role in your overall SEO efforts. Hosting multiple reviews on your site amounts to a large chunk of content, all of which has a positive impact on your rankings.
Wait, What If My Business Doesn't Have Many Reviews?
You can never have too many positive reviews, but the number you should aim for is entirely dependant on your industry. Restaurants should expect to have hundreds of reviews as they have many customers walking through their doors on a daily basis, while law firms may only have a handful.
We know this, consumers know this, and so does Google, so the number of reviews your business has doesn't always have to be something that keeps you awake at night.
How to Encourage Reviews
Having said that, we wouldn't want to dampen your ambitions for gathering new reviews, so below are some strategies you can use to boost your numbers...
Make the review process clear: Many customers may be ready to leave a review but simply don't know how or where. Provide clear information at the point of purchase and follow up with an email a few days later to let them know how to leave a review.
Ask for reviews: It may seem a little forward, but if you're providing a high-quality product or service to your customers, simply asking them for a review may be the nudge they need to share some good words about your business. If that doesn't work, try the next step, but only as a last resort.
Provide incentives: Offering discounts or free trials for other services can create an environment where giving reviews is mutually beneficial to both business and customer. Just ensure you do this ethically, which means not making your incentive conditional on a positive review.
Monitor when your business is mentioned: Setting up a service such as Google Alerts allows you to be notified whenever your business is mentioned online. With this knowledge, you may be able to engage with people on platforms like Twitter and gather reviews.
Implementing these simple suggestions can see your review numbers and your revenue rise, with research showing that customers are likely to spend 31% more on a business with "excellent" reviews. While good reviews are always welcome, there is another side of the coin, and as such you need to prepare for the possibility that you get a bad review.
How to Deal with Bad Reviews
From an SEO perspective, one bad review isn't likely to damage your place in the Google rankings, so all you really need to worry about is the impact it has on prospective customers who read it.
While you may feel hesitant about engaging with negative reviews, ignoring them is never the answer. By staying silent, your business can appear to not value your customers' feedback.
Depending on the content of the bad review, you'll want to react to it in different ways:
If the reviewer has a legitimate complaint, you owe it to them to acknowledge their grievance and do your best to resolve it.
If the reviewer is misrepresenting the facts, you'll want to set the record straight – just make sure you do it politely.
If the issue can be resolved then do your best to rectify the situation and not lose a customer.
If it all seems to be getting out of hand and tempers are flaring, step in and remedy the situation as quickly as possible.
For the most part then, you'll want to engage with negative reviews, but always keep in mind that some reviews will be unfair and hurtful, so never respond to reviews while angry.
Okay, that all got a little heavy, so let's look at the positive side of responding to negative reviews.
Leads who see a brand respond to a negative review reported an increase of 116% in purchase intent, while customers who saw a business offering a refund, upgrade or exchange to upset customers were 92% more likely to purchase.
Negative reviews don't have to be all bad then.
There's no denying that reviews play a prominent role in your business by influencing local SEO rankings and giving your leads the confidence they need to make a purchase. Reviews can also prove to be a valuable source of consumer feedback which you can use to improve your products or services.
To find out how your business could benefit from a tailored marketing solution, book a free Marketing Assessment with one of our team.
We'll take a look at your business and show you where you could be improving online and how this Manchester SEO Agency can help with that.