Have you heard of the term 'customer profile template'? Do you know what a customer profile template is or why it's important?
Don't worry if you haven't. It might be something you have thought about but didn't know the term for it. Surprisingly, it goes by many names such as 'buyer persona', 'client profile' and 'ideal customer profile'.
In this blog, we will answer all your questions on customer profile templates. What are they? Why are they important? How do you create a customer profile template? By the end, you should have a good idea of why you shouldn't write another word of content without having your template in order.
Want the in-depth guide? Read it here now: Customer Profile Template.
What Is a Customer Profile Template?
If you're familiar with the marketing world then you most likely will have heard the term 'customer profile template' thrown around your institution all too frequently. They are the backbone to any marketing strategy and a way of understanding and specifically targeting potential customers for your company.
So, let's jump straight in and answer that burning question. In simple terms, a customer profile is a semi-fictional representation of your ideal customer based on market research and real data about your existing customers.
A template simply makes it easier for you to lay out your customer profile in a clear, concise way so that you'll be able to understand and identify your client needs. A well-designed template will reveal insight into how your client buys and how you can reach out to them with relevant information they require which will generate into a lead.
If you want to download your FREE customer profile template, click here.
Companies that know their ideal client have a huge marketing advantage than those who haven't done their research. Having relevant, useful material personalised for an ideal client will help your company.
There are several key areas to a customer profile template:
Common Behaviour Patterns
Influences
Universal Goals, Wishes, Dreams
General Demographic & Biographic Information
What websites are your potential customers visiting? Where are they getting their information from?
What is influencing your customer to affect their buying decisions? Do they have someone they think of as a key leader?
What are your potential customers looking to achieve? By creating a customer profile, you can dig out the deeper information. What are the effects of achieving this goal for the company or for them personally? Can and does your product or service address their need?
You can best tailor your marketing message by understanding who you are talking to. You need to consider personal demographics such as title, role, and age while also considering company demographics which include their industry and business size.
Why Is a Customer Profile Template Important?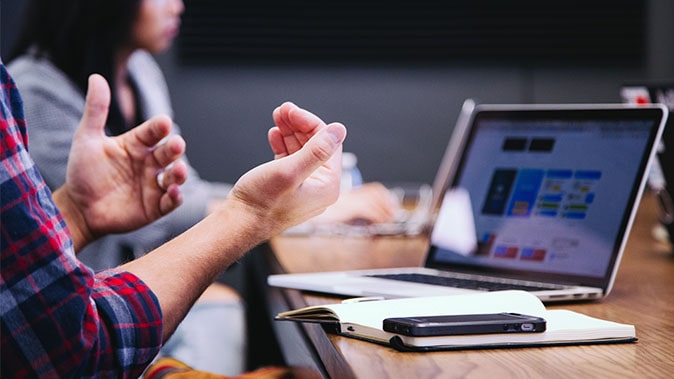 Believe me when I say, customer profile templates are situated at the heart of all marketing strategies and relevant throughout every part of your inbound process. They provide tremendous structure and insight for your company that will help you determine where to focus your time and guide product development.
Furthermore, building crisp and concise templates around specific and forensically detailed information will allow you to segment your audience and contacts - allowing you to deliver targeted messages.
Think about it, why are you doing what you're doing if you can't say who you're doing it for?
Discover Why eBooks are one of the most cost-effective B2B content marketing strategies in this blog.
That's a long-winded way telling you to identify your target audience before you do anything else. Otherwise, with no target in mind, all your activities will be wide of the mark and you'll lose time and money focusing on the wrong people - or worse yet, no people at all.
Why Do You Need a Customer Profile Template?
As a result of new technology and how people work these days, it's best to keep up to speed with the world. Researched in the right way, customer profiles can help your organisations to accomplish and understand the right clients that are right for your business.
Customer profiles are not old methodologies you apply when understanding a problem your product is trying to solve. Consider them as the holy bible for your content marketing and digital marketing activities.
Customer profile templates will show you the way you need to create content. Its similar to writing a great essay. You don't just think of a title and type away - hopefully, that is not the case - but you do days, maybe even weeks, of research to help you write the essay that will achieve the most effective results.
How Do You Create a Customer Profile Template?
Creating customer profile templates will not only help you develop content that motivates and resonates with your customers, but it will also help you discover what channels of communication are best used to deliver this information. With adults spending more and more time every day on digital devices, the "where" question becomes extremely important, and a little more difficult to answer.
That being said, taking the time to answer each of these questions will help you begin to develop a complete and accurate vision of what is driving your ideal clients, and ultimately make your marketing and sales efforts more effective.
Here are some key point questions you could ask your clients:
Who your customer is
What they are trying to accomplish
What goals drive their behaviour
How they think
How they buy
When they buy
Where they buy
Why they make buying decisions
It is important to note that your customer profile templates will likely change over time as you discover new information about your customers and what motivates them. Always make sure to check back and continually re-define your customer profile templates to ensure you're targeting potential customers in the most effective way.
As mentioned above, we can't stress enough how vital understanding your customer profiles is to your marketing strategy and the development of your content. Now that you're familiar with customer profiles, taking the time to define your understanding of your customers will help your company succeed.