How well do you know your website - like, really know your website?
If yours is the kind of business that aligns marketing with sales, you'll know just how much each one impacts the other. But for a busy company with so many aspects to manage and analyse, it's often tricky to quantify a good, holistic view of the way your business performs online.
But Digital Media Stream is on hand to help with our nifty Marketing Evaluation Template. This self-assessment spreadsheet has been specially designed for the professional services marketer to show you every aspect of your efforts. The result is a well-rounded view of what's being done well and where you could make improvements.
And it's really easy to use, too - in fact, to use it effectively it takes just three steps. We'll take you through each step to show you how to use our template for maximum effect.
Step 1. Monitor Your Website
The first step to evaluating your business is to take a look at your current online performance. In this section, we analyse all aspects including your website, social media, blogs, SEO and inbound links.
Our worksheet is incredibly easy to use, with either drop-down selections or a simple percentage input to answer each question.
In the example below, we show how someone might answer the following questions. Once each question has been answered, the total below (the Website Grade) tallies up the figures, resulting in a final grade for this section out of a maximum of 27 points.
In the pictured example below, based on the answers given, this section scores a 9.2 out of 27: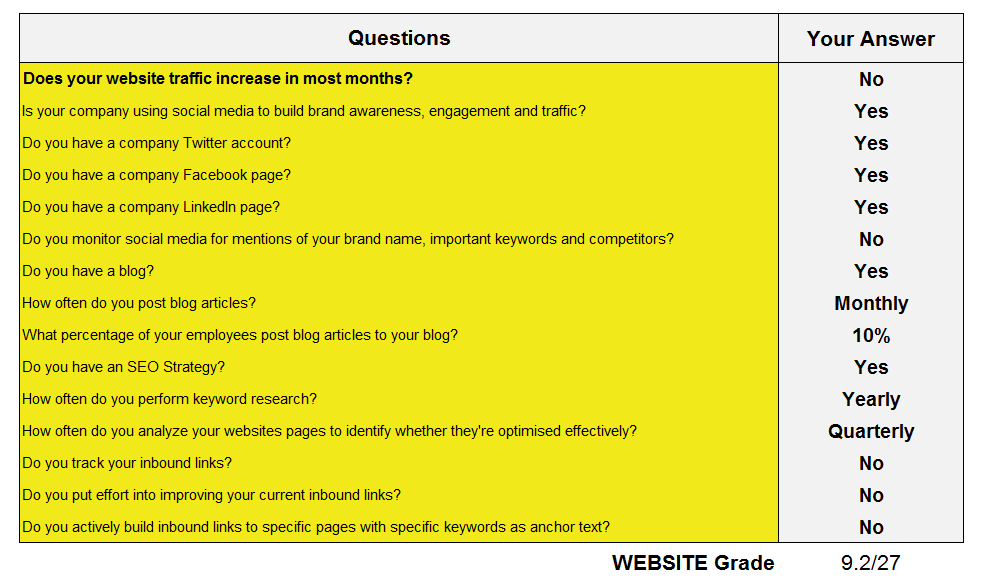 Step 2. Quantify Your Leads
The next section focuses on your current lead generation efforts. The questions will cover each variable aspect.
Here's a sampling of what you'll be asked about:
The percentage of visitors on your website that converts to leads.

The number of leads generated from your website.

How many offers (eBooks, whitepapers, webinars etc.) you make available.

Whether you create calls-to-actions for those offers.

Whether your inbound sales leads derive from search engines, social media, blogs or pay-per-click (PPC).

The percentage of leads that convert to customers.

The regularity of email marketing campaigns you send.

If you segment your email marketing lists for different groups.

Whether or not you use marketing automation tools.

How well your analytics perform and what they tell you.

If you've defined your target audience profiles.

The alignment between your marketing and sales departments to work towards a common goal.

If your sales team connect with leads through their social media platforms.
In the example given below, we scored a 15 out of 50 for this section: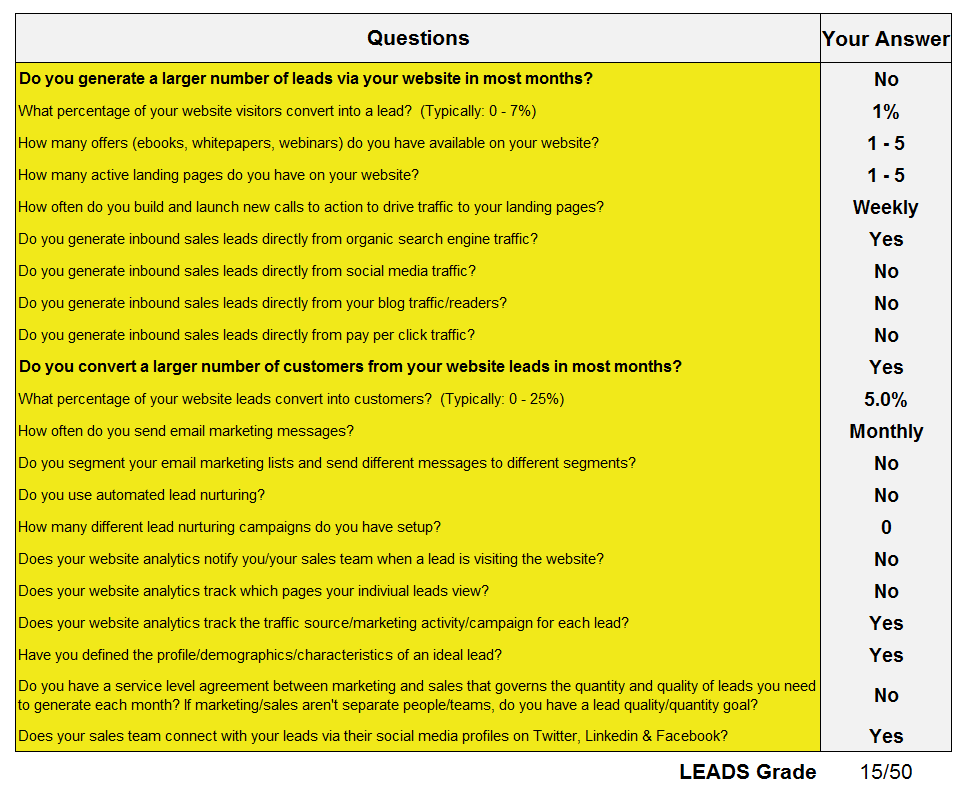 Step 3. Analyse Your Efforts
The final section looks at how you analyse and track your marketing efforts across the board. It delves into areas like:
If you analyse results on a monthly basis in order to improve.

If you track your traffic sources when it comes to converting visitors into leads and leads into customers.

Which traffic sources or marketing campaigns you track - whether from SEO, PPC, email, social media or other channels.

Whether you keep a record of your followers on social media (LinkedIn, Twitter, Facebook etc.).

If you report on social media/blog comments, inbound links and page views.
Statistical analysis is integral to understanding every aspect of the marketing you do for your firm and how the results of that analysis impact your overall business goals. Conducting analysis checks also allows you to get a comprehensive view of your performance and determine where you could make improvements.
In our example worksheet below, based on the answers given, the participant has scored 11 out of 23: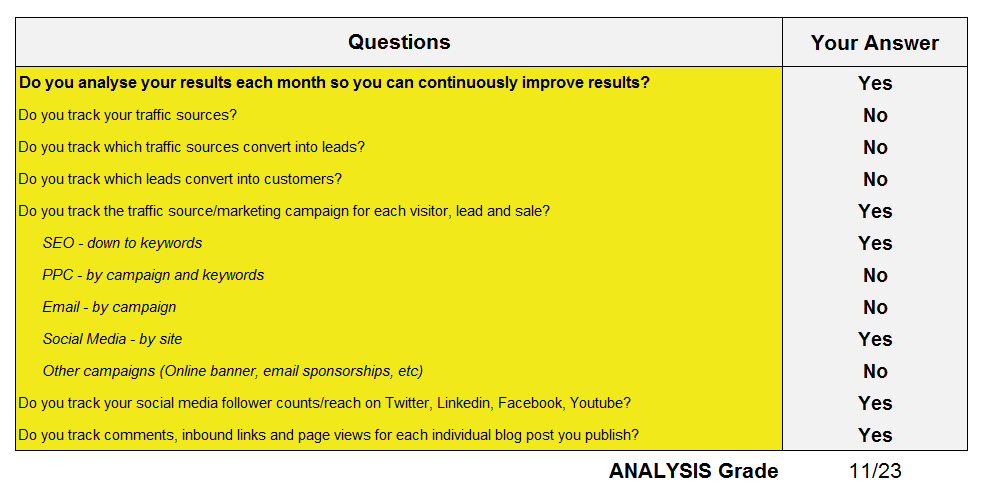 Results
Once you've completed all three sections within the marketing evaluation template, you'll receive a calculated result from the combined score of each page.
So, from our examples (drumroll…), our total score is 35.2 out of a maximum of 100: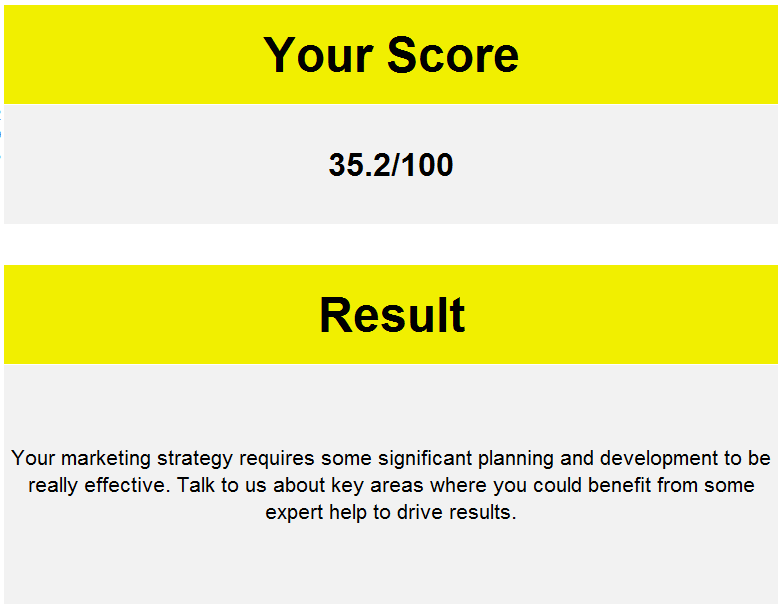 So based on this score, we reckon that the participant's marketing strategy could definitely do with some changes to bring that score higher. With the help of an inbound marketing consultation and through improving the planning and development, they'll see greater results in their lead generation.

What's great about a tool such this evaluation template is that it can help you look at and measure a great number of metrics - even those you may not have thought to look at before. The benefit of this template means you get everything you need in one place that explains the results of your score and how it relates to what your current marketing strategy does. And the best part? It tells you what you need to do next in order to improve. How good is that?
CONCLUSION
With our Marketing Evaluation Template, any professional services company - legal, accounting, recruitment, it doesn't matter - can determine:
How effective your marketing efforts are right now

Whether those efforts are generating leads into sales

How optimised your online presence is

Whether your social media marketing is speaking to its audience

How compelling your blogs are

Your strongest areas and your drawbacks

Whether it's time to bring in the expertise of a digital growth agency to improve your marketing and sales to the fullest extent

And the next steps? Try out our Marketing Evaluation Template today and see the results yourself. Go on, you know you want to!