The Marketing Software Industry, or the 'MarTech Sector' as it has become known, is providing fantastic value for companies of all shapes and sizes. However, with the growth of this industry comes complexity, and finding the best-fit software to support the needs of your sales and marketing efforts takes careful consideration so we wanted to share why our digital marketing agency chose Hubspot.
When we look at a typical digital marketing strategy, we look at a number of different areas which fall under one of 4 stages in the buyer's journey, detailed in the image below.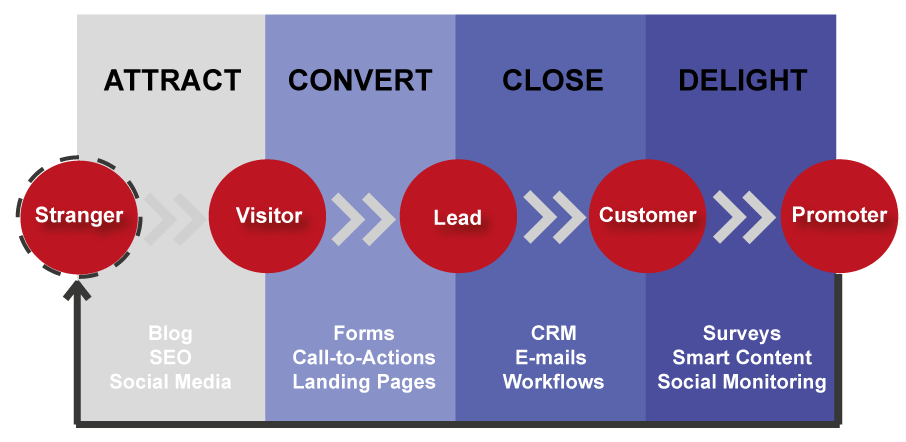 Attracting the target audience, Converting the target audience into an identified lead, Nurturing that lead to the point of sale, Delighting the customer to generate repeat and referral business. Within each of these stages there are many tools, tactics and processes which come together to form a strategy that aligns with a company's overall business goals - so how does this impact on software requirements?
Forbes wrote an article based on key findings from an IDC report which gives a good picture of how the Marketing Software Industry has grown. In terms of revenues, Forbes reference the IDC report by stating 'CMOs will drive marketing technology spending to $32.3B by 2018, reaching a compound annual growth rate (CAGR) of 12.4%. From 2014 to 2018, marketing technology spending will reach $130B for the 5 year period'.
This growth rate is substantial and one reason for this continual rise is that so many new technologies are created out of the need to simplify a growing complexity in how we create, consume and communicate information. For example, think of how many social media management technologies have entered the market alongside the rise of Facebook and Twitter - the likes of Hootsuite, Sproutsocial and so on… the last time I checked Capterra I came across 54 Management Technologies in this space.
What I found really useful from the Forbes report is the IDC Marketing Technology Map - a framework that categorises marketing technology into 4 key categories:
Interaction

Content

Management & Admin

Data & Analytics
You can see that there are 76 subcategories within these top level buckets. Perhaps the 'Map' could be updated to reflect the connect between some of the key categories to show how executing a 'complete' campaign will include an overarching digital strategy touching on many parts within all four quadrants.
Where we started as an agency in 2011 - the software we used and why:
Social Media Stream began life as a Digital Marketing Agency back in 2011, and our area of expertise focused on deploying Content Marketing & Social Media Marketing Campaigns for our clients. Many projects we undertook were executed as part of a wider initiative i.e we may have deployed a social media engagement campaign that coincided with a PR and content strategy that was handled by in-house client teams. Other campaigns were effectively 'end-to-end' whereby we were involved in every step of the buyer journey.
Our service offering expanded as we strived for higher ROI and by 2013 we were creating digital marketing strategies for our clients from scratch. We created content, deployed search & social campaigns, optimised conversion rates and fuelled our client's sales funnels with email nurturing workflows.
To run these types of campaigns we needed to 'tool up' and the software that we used included the likes of:
Interaction:
Web Content Management: Wordpress
SEO: Raven SEO, SEO Yoast (WP Plugin
Community Management: Sproutsocial
Social Ad Management: Native Interface - Facebook, Twitter, LinkedIn
Content:
Graphic & Web Design: Adobe Design Tools
Office Apps: Google Docs
CMS: Wordpress
Landing Page: Leadpages
Management & Admin:
Email Apps: Mailchimp
Project Management: Google docs, later..Basecamp
Data & Analytics:
Analytics: Google Analytics, Sproutsocial, Mailchimp
This included 13 software tools - an approach that many in-house and outsourced digital marketing teams still use today.
But why did we change our approach….?
The challenges we had to keep up with in the industry, our competition and our client needs:
Time Resource: Whilst no one person in our agency would be responsible for every deliverable in a client project, there was a lot of time spent logging into multiple software tools to keep on top of a campaign workflow - 13 tools is a lot!

Internal Skills / Training: More tools means more learning. We ended up having too many parts of a client project dependant on certain members of our team - in many cases this led to delays when the project was passed from one person to another.

Stability: Each tool either had a separate support contract or no support contract at all so when an issue arose there was often a lot of resource spent identifying where the problem was and what knock-on effect it had on any of the other parts of the campaign.

Reporting / ROI: we spent a long time putting our monthly reports together - getting an overall picture for the success of a campaign when you are pulling in reports from so many tools can be challenging.

Tactical Vendor vs Strategic Partner: Too many of the projects we undertook were isolated from other marketing initiatives meaning that we did not have enough data to make solid strategic recommendations for growth.

Why We Chose an Integrated Marketing Platform called Hubspot:
It addressed our challenges which which were directly correlated to our customers needs!
We are not the first company to compare projects side by side - some using multiple software tools versus an integrated marketing platform. There are a number of great articles that have been published around this topic - The Sales Lion reviews Hubspot vs Wordpress as example - http://www.thesaleslion.com/hubspot-vs-wordpress-review-compare/. There is also a nice article that Hubspot themselves have put together to discuss how you could potentially 'mimic' the functionality they provide - you can read this here. You can start to get a feel for the time required to handle so many tools to run an end to end campaign
Internal Skills / Training
Bringing our team up to speed with the latest skills and expertise can be difficult enough with the pace at which the digital world moves. The more streamlined our internal process, the better. We used to have our marketing team segmented into a larger number of specialist areas - much of which was a result of using different tools to complete a campaign deliverable. We now find that our team structure has changed - we are more efficient with our time and we employ more people who can manage larger parts of our clients project. This is all down to using less tools and the support of a fantastic online training portal - Hubspot Academy.
Stability: Not all covered by the one support contract
What happens when something breaks? There is the distinct possibility that like us, you would have a big problem if your website stops working. If you are using multiple tools then there are a few issues:
You may be using free tools that do not offer any support.

For tools that do have support - their support teams may pass the blame onto another tool you are using.

Performing upgrades to your website can cause compatibility problems.

It can a long time to even locate the cause of an issue….
We have had issues in the past when there has been compatibility issues between tools and finding a workaround has been time consuming to say the least. Using Hubspot, we have a single point of contact - which for us means a single point of failure should something go wrong. Having the support of a support team like this is invaluable.
We are only as good as the results we deliver so being able to quickly and accurately communicate results to our clients is a huge benefit. Reporting at an overall 'campaign' level is what our customers want to see i.e budget allocated versus return. What makes things difficult is when you have to extract separate reports from your social media dashboard, your email marketing platform, your google analytics, your landing page software etc
Tactical Vendor to a Strategic Partner: Delivering a methodology aligned with real business goals, not a tactical 'point' solution disconnected with the rest of the business.
It is easy to get confused with too many 'fluffy' marketing metrics - yes, we do want to keep visibility on growing community sizes, engagement metrics and so on. But, our clients want to focus on top level metrics that clearly impact pipeline and revenue. Hubspot allows us to do this really well which makes review meeting with our clients extremely meaningful.
Deploying a complete Inbound Marketing Model through Hubspot has enabled us to align with Senior Management Teams, Marketing , Sales & IT. This has moved the partnership from a tactical aid to an integrated Strategic Growth Partner as we are deploying a solution to touch every part of the buyer journey which is fully aligned with the clients sales model.
To Conclude:
There are a lot of options out there when to comes to Inbound & Marketing Automation Software. Hubspot may not be the perfect fit for every company but if you selling B2B or high value B2C and want to solve the likes of the following challenges then it might just be worth having a look!
Website is not generating enough traffic or leads?

Your are spending too much budget on Paid Advertising with Poor Results?

Your sales team is not happy with the quality of leads being produced?

ROI is difficult to measure?

Too much time is spent on current marketing activity?

Your current marketing partner just can't generate results
If you would like to find out more about whether Hubspot could be a good fit for your company - claim your free marketing assessment today!