Backlink building is one of the most effective marketing methods you can use to help push your website to the top of Google's rankings.
The problem is, backlinks can be hard to find, and the process of reaching out to those who can help you can often be tedious work.
If you've heard of Help a Reporter Out (HARO) you'll know how valuable it is for journalists. What you may not have realised is that HARO is an incredibly useful tool for marketers as well. In fact, it can be the difference between spending hours on unsuccessful outreach and benefitting from countless backlinks with just a few minutes work.
This blog post will help you understand how HARO can become an invaluable asset to your inbound strategy. By following our 25 steps to using HARO, you too can become a successful backlink builder and get your blog ranking at the very top of the Google results page.
Starting with HARO:

1. Understanding HARO
As mentioned on their website, "HARO provides journalists with a robust database of sources for upcoming stories and daily opportunities for sources to secure valuable media coverage."
You can use HARO two ways:
As a 'Journalist' - searching for expert information
As a 'Source' - providing expert information
2. Paid or Free?
You can sign up to HARO for no cost if you choose to do so. However, their paid option affords you the opportunity to set up keyword alerts, text alerts and a profile. Without a profile, fewer community members will be likely to help you out, if any at all, which will limit your chances to gather high-quality backlinks.
3. Your Bio
Whether you're a journalist or a source, the most important aspect of your HARO profile is your bio.
This is the first thing the community will see and should demonstrate your credibility as an expert. This is important, as journalists will scan profiles to determine who they should feature in their story, so you need to spend time crafting a compelling bio if you ever want to be selected.
The best way to go about creating your bio is to include your area of expertise and relevant accomplishments along with proof of your standing in that specific field. Think, if you were looking for a source, what would convince you that this person is an expert?
4. Profile Template
You can change your account type at any time...

Here's where you need to provide as much information as possible in the fields to help other HARO users to identify you as a credible journalist/source...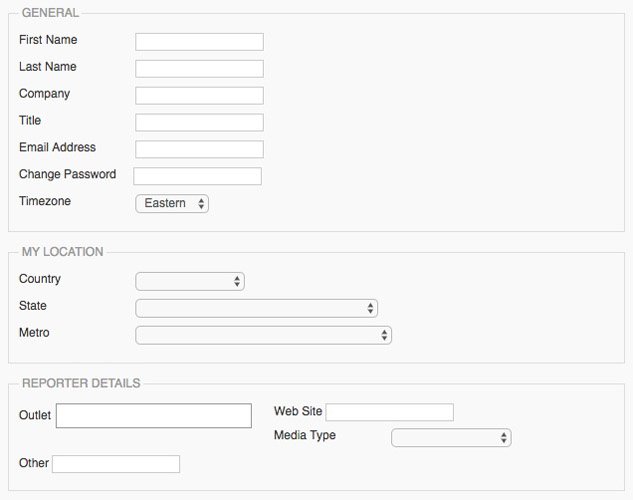 You can select the types of emails you receive...

So, how can you use HARO to deliver regular, high-quality backlinks to your website?
Well, let's split it into two ways:
Content Creator (Journalist):
5. Select 'Journalist'
HARO makes it pretty simple to set up your account as a journalist. If you're a blogger, don't let the title of journalist put you off. This section simply caters to content creators who are looking to connect with experts that can provide sources of information for their next article/blog.
6. Create a Query
This is the part where you actually make a request and wait for the contributions to come rolling in. Think about what it is you want help with. Don't speculatively post a query onto HARO if you don't seriously intend to use the contributions for your content. This can waste many people's time, including your own, and it might mean sources are less likely to want to help you in the future.
7. Write a One Line Summary
The first part of communicating a request for expert assistance is writing the summary of your query. Sources will be looking to skim through queries to find the ones they can contribute to the most. That's why it's important to keep your summary short and concise, something like: "I am looking for ___ experts to share their ___ strategy". You want Sources to be able to quickly identify that your query is appropriate for their expertise.
8. Write the Query
One reason to be concise in your summary is that, once you have the attention of your desired sources, you can elaborate on exactly what you are looking to get from them. Make sure that the query you write relates to the summary but doesn't just repeat the same information as the source will be looking to your query as an expansion on the summary line. Write around 200-300 words and just expand on the format you used in your summary.
9. Set Requirements
Setting requirements for your potential contributors is essential. This will help weed through those who aren't willing to take the time to provide valuable information. Just be sure not to ask too much of your sources, otherwise, you risk them not taking the time to respond.
Ask them to:
Write a brief bio
Include a profile image
Respond with 200-400 words for use in your article
Include a link to their website, twitter handle and email address
10. Read Each Contribution
Once you begin receiving contributions, make sure you read each one. It might sound simple, but many journalists don't pay attention to this step. There might be a brilliant piece of information buried behind a poorly constructed pitch and if you simply dismiss it based on the summary, you might miss out.
If you want to optimise your content with the best information, read each pitch you're sent and try to pick out the best information. By being specific with your query, you'll ensure you don't have too many irrelevant pitches to trawl through.
11. Identify the Best
Once you have your list, it's time to narrow your options. If multiple contributors provide you with similar information, you'll need to decide which is the most appropriate to include in your content. Create headings for each contributor and ensure that you don't use the same heading twice in your content.
You want to make sure that everything you include in your content makes sense with respect to the topic. Don't simply include a contribution because it's from a reputable source that you think will be a great backlink opportunity.
Remember: the priority is always to create a piece of content that delivers value to your readers and great backlinks for you.
12. Create Post
It's now time to create the post and give back to those who helped you generate new content. If you set up your query properly, you should have more free content from sources than you know what to do with. Just copy and paste it and you can create a blog post that breaks the 3000-word mark in less than an hour.
Don't forget to reciprocate your source's assistance by linking to their website or social media handles when you reference their information. This is important as, after all, they've provided you with the content in the first place, so it is only right to credit them with their name, picture and links. Not only is this good etiquette but it also means sources will be more likely to link to your new article from their website, generating backlinks for you.
13. Create an Infographic
This step is more optional than the rest but it's a great way to increase engagement. Once your blog is created, it's also a good idea to create an infographic with all the information you've received as a handy takeaway for your sources to share on their social media channels.
Infographics benefit from high engagement on social media. So, by distributing one to your sources, you can maximise the promotion of your article without having to lift a finger.
14. Send Thank You Emails
This might seem like a formality but, yet again, it's a step that many miss. Send an email to your sources, thanking them for their contributions and letting them know your blog is live. Remember to include a link to your content so they can see their contribution in context and be sure to send individual emails to each source since sending a group email could get lost in their spam filter.
Following up by thanking your sources for their help will make them more likely to contribute to future queries and trigger them to start sharing your post on their social media and backlinking to it in their own content.
15. Link on Social
When you post your new content on social media, always be sure to contact your sources first so they can help promote your content on their social media as well. This is a great way to make the most of your contacts to get more shares on social media and deliver your brilliant content to more people.
16. Query Template
Here's an example of a HARO query: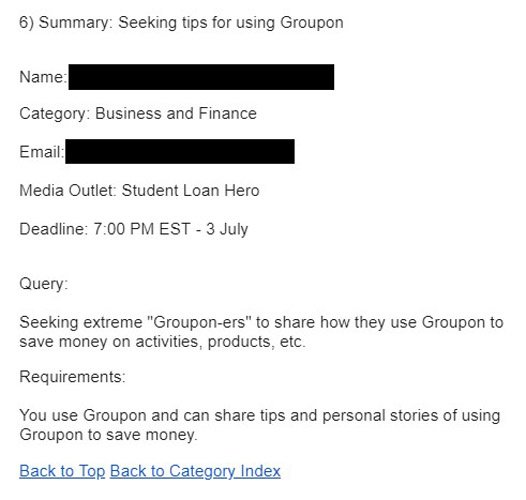 It's a good idea to be creative and grab people's attention to push through the clutter of other queries they'll receive in each email.
Best Practice Tip: Creating a listed format for your blog can help save time and increase the number of links you are able to include. Listed blogs are more popular and the more people who read your content, the higher your rank in Google!
Backlink Builder (Source):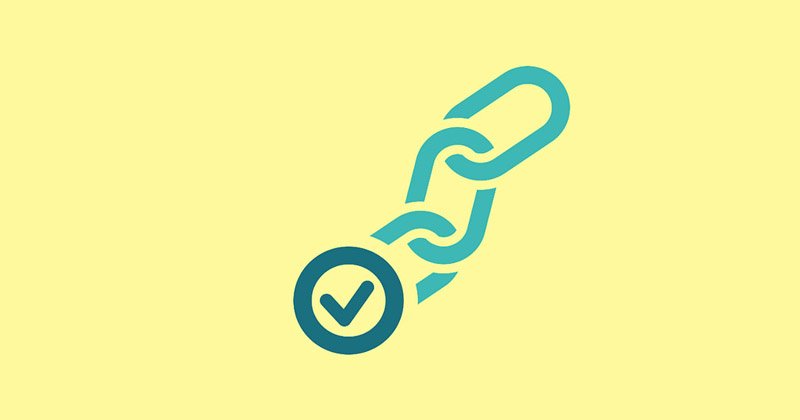 17. Select 'Source'
If you're looking to utilise HARO as a backlink builder for your website, create a 'source' account so that you can provide expert information to other journalists and content creators. As a source, you'll be able to search for queries and provide contributions that demonstrate your expertise.
Just as you provided links in your article to your sources' websites when fulfilling the role of journalist, so to will you benefit from a backlink if a journalist chooses to use your reply to their query. In short, when you contact a journalist through HARO, they can agree to use your information in exchange for linking to your site from their content. It's a backlink builder gold mine!
18. Set Keyword Alerts
The main way to filter the queries that you see from HARO is to set up keyword alerts. Once a query is posted that includes the keywords you've selected, you'll receive an email update. These emails are sent around three times a day - in the morning, afternoon and evening. Journalists frequently work to deadlines so it's important that, when they post a query, you're one of the first to provide a pitch. Be alert to your alerts and try to respond within ten minutes!
19. Identify Queries
Identify the queries you want to pitch your information to. Ensure that you don't select too many queries. It should take you about one hour to make around 5 pitches. Depending on how many you wish to pitch in a week, try to do at least 5. Identifying and creating these pitches will take around an hour a week so you want to be sure you select a few queries that'll be worth your time.
20. Check Domain Authorities
If you're using HARO to generate backlinks, you need to ensure you're targeting the right people so you can get a high-quality backlink. One way to check the quality of the backlink is to look at the reporter's website domain authority.
If the journalists agree to use your information and provide a link to your site, the higher their domain authority, the higher your site will rank in SERPs.
At Digital Media Stream, we use a brilliant tool from SEMrush to check domain authority score. Once you create an account, you can search the Journalist's domain to see if their query is worth your time. Getting a backlink from a domain authority of 30 or above can drastically improve your SERP ranking.
You can sign up to SEMrush here: SEMrush Pro Package 14 Day Free Trial
21. Check Their Website
As well as checking the domain authority, it's a good idea to actually look at their website to see if your information will be appropriate. You should ignore any queries that come from anonymous journalists as you won't be able to determine what kind of website they will be posting to and what their domain authority is. By ignoring these, you can focus primarily on the Journalists who will provide a valuable backlink.
22. Pitch with the Title
This is a useful tip to remember. Many journalists will have multiple queries on the go at once. So, when providing a pitch, you should always use the same subject title as the journalist's query. If a journalist sees their title as the subject line in your pitch, they can be sure that it relates to that specific query. Don't just name your pitch after their query, though. Make sure the information you provide is based around that title or they won't use it.
23. Meet Their Requirements
Just as we discussed in the previous section, Journalists are looking to have their requirements met as quickly as possible. If they require you to provide certain information, provide it exactly as they have requested. Again, it's a simple step but by following the format that they have outlined, you stand above the rest who couldn't or wouldn't take the time to conform. However, if you've identified a journalist that you want to help it is always best to evaluate whether the requirements they provide are worth your time.
24. Set Google Alert for Name, Brand & Domain
Google has a feature that allows you to monitor new content that is posted to the web. You can sign up for alerts when any content is added that contains certain keywords including your name, brand and domain name.
This is a great way to stay in the loop about any content that contains a mention of you and your website. Journalists may forget to contact you once they have published content that includes the information you provided them with. So, rather than constantly contacting them for the latest, you can monitor any updates with Google.
25. Read the Article!
Once the content has been published, read it from start to finish to help provide context for your contribution. You need to know how the journalist has portrayed you and your contribution if you are to assist them in a future query. Be sure to also check that the journalist has included a backlink to your site and test the link. If the link isn't included, wait 3 weeks before you contact them.
Sometimes, as a measure of best practice, new articles on the front page of a news website will never include external links as they will not want people to be taken away from their front page. Wait for the article to fall down the pecking order and leave the front page before you make contact about the lack of an external link to your site.
26. Comment Intelligently
By including an intelligent comment that adds more discussion to the journalist's content, you show that you are engaged with their material and that you have actually taken the time to read it. By displaying the depth of your knowledge on the topic, you can increase the chances that they will choose you as a source again if they create a future piece of content on a similar topic.
27. Share on Social
Sharing their content on social media not only promotes yourself and your expert information but also encourages a healthy relationship between you and the journalist. It shows everyone that you have trusted expertise and that you're engaging with like-minded content creators. By opening up the relationship you've just created in HARO on social media, you encourage others to approach you for your insight.
Best Practice Tip: It is important to build relationships with journalists on HARO. Become their go-to source for information on a specific topic. By being a reliable and engaged Source, they'll be more likely to pitch their queries only to you!
28. Pitch Template
Here's an example of how you might send a pitch back to the query we showed: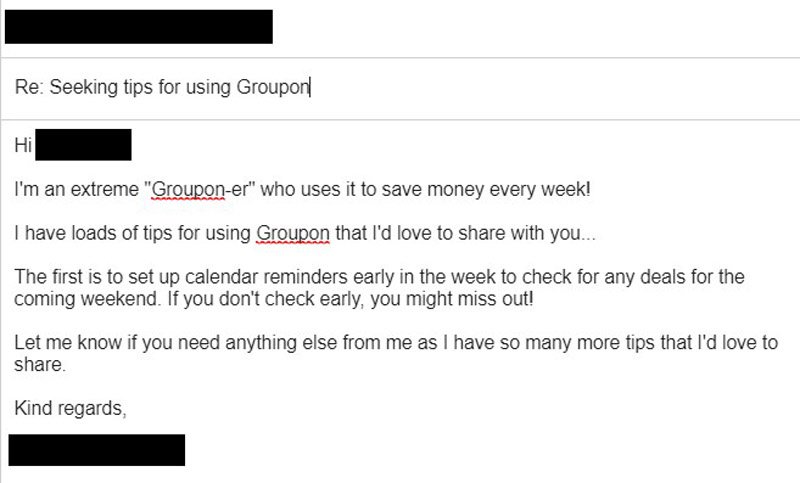 Again, try to be passionate and sound engaged with the topic to stand out from the crowd. By providing the first tip in the pitch, you immediately set yourself apart and make it easier for the journalist to use you.
29. Get Some Expert Advice
By incorporating HARO into your content creation strategy, you can create content much quicker, provide valuable niche insight and use HARO to give back to the community, all while you earn valuable backlinks. Remember, however you plan to use it, if you're looking for help through HARO, make sure that you're adding value in return.
HARO is a brilliant tool for content creators and backlink builders alike. The tool is simple enough to use and its format ranks the quality of content and backlinks over their quantity. Using our steps when you sign up for HARO can help you optimise its uses and increase the number of backlinks which should be a crucial part of your SEO strategy.
Having said that, this method of backlinking can be time-consuming and is best used as a small part of your backlinking efforts each week. If you're looking to gain enough backlinks to make a real difference to your SEO, you'll most likely need to source the help of a team of people who are dedicated to your online visibility.
If you want to learn more about your company's SEO and how you can use backlinks to earn a higher domain authority, book a free Marketing Assessment with one of our team.