It's a new year and you're researching marketing trends to kick off 2018, but launching a Snapchat channel, getting influencers to support your brand, and targeting the new Generation Z aren't necessarily the right priorities for your business. Whilst these trends are new and exciting, they won't drive the best results across professional services businesses.
So, what will work? Here are 6 marketing trends for 2018 in the professional services sector. Even though we've already seen a month of action, there's still plenty of time to incorporate these trends into your marketing strategy for the rest of this year.
3. Incorporating Chatbots and AI
1. Creating Videos
Most companies now have social media accounts, from Facebook to Twitter to LinkedIn – and some have even tapped into the more creative market of Pinterest and Instagram. But, it's not about how many social media accounts you have – if you aren't creating content that resonates with your audience, you're missing out on the opportunity to build social engagement.
You've likely heard that video is the future, but the future is now (or even yesterday). Let's sum things up in a few quick facts...Each day on YouTube, viewers watch a billion hours of video, Facebookers consume a staggering eight billion videos every single day, and a massive 82% of Twitter's audience views video content.
We're not alone in raving about the rise of video content either. 52% of marketers say video content generates the best ROI. But, how do you create videos without overspending on your budget or taking up too much time?
Video creation doesn't have to be a drain on your marketing budget. The most effective videos tend to be short and sweet; in fact, nearly two thirds of viewers prefer watching videos that are under sixty seconds. Video provides an alternative medium to communicate your business's message and services. Doing so within a short sixty second timeframe (or less) will ensure that your content is succinct and easy to digest for potential customers and clients.
Consider producing video content that introduces your business, offers a behind-the-scenes glimpse of your office and a day-in-the-life of your staff, showcases a new service, or even elaborates on a particular blog article previously written.
The key to getting your video content right is practice. Planning out what you want to deliver in terms of a script and visual elements is crucial. But, your video content doesn't have to be expertly produced with a big spend (some of the most successful content is actually made on a mobile phone!). The best video content is well planned and provides another way for your business to boost visibility of its services.
2. Preparing for the GDPR Crackdown
With GDPR around the corner (25th May 2018), there's an excellent opportunity for businesses to become more transparent with their marketing. People understand automated marketing emails; they aren't hoodwinked, so you want your consumers to be engaged willingly.
That's where GDPR comes in. Companies can no longer rely on sneaky auto-tick boxes or enrol users in marketing and third-party emails unawares. Revising your current email strategy will help ensure that the leads you do have on your books are actually interested in your product or service because they are actively choosing to receive your emails.
Setting your business up for GDPR compliance is the perfect opportunity for you to reassess your current processes. Are they legal and safe for your customers, and is your business being transparent about how you use customer data? In order to answer 'yes', you'll need to place the customer at the centre of things.
Assessing your current processes will allow you to be cleverer with your data capture. You have to make sure opt-ins are clear, your disclosure statements are written in plain terms, and unsubscribe buttons are easy to find (and that it's easy for people to unsubscribe).
Email marketing will be impacted by GDPR, but it doesn't mean it has to be eliminated completely. Email isn't dead, but, with GDPR, you have to be careful who you email and how you use their personal information. Transparency will be the buzzword of 2018 because consumers want to trust the companies they use.
If you want to find out more about how to become GDPR compliant download our free guide here.
3. Incorporating Chatbots and AI Into Everyday Services
Artificial intelligence sounds like a scary, futuristic prospect, but AI has manifested itself mostly in customer service via the use of Chatbots. Many companies are adopting Chatbots to answer basic queries and common FAQs, with a vast number of consumers unable to distinguish between your customer service chatbot and a real person.
Chatbots don't need sleep, they don't have an 'off day', and they're excellent at collecting and collating data directly from the most important source: the customer. Chatbots can be set up for personalisation as well, which makes customers feel important; they can send a quick message on the customer's birthday, ask them how they are enjoying their product, and foster brand loyalty. Consumers like chatbots because they give immediate answers without the wait of phone lines, email service, and social media.
There are many platforms that allow you to build your own chatbots on your website and your social media accounts; however, marketing platforms like HubSpot are rolling out chatbots to their users in 2018. Exciting times ahead!
4. Optimising for Voice Search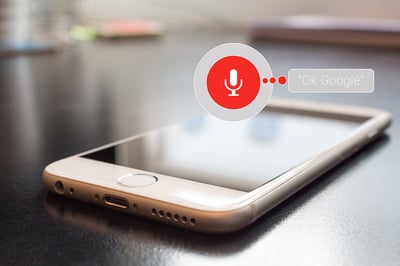 Along with Chatbots and AI, voice search is a big trend set for this year. By 2020, it's estimated that over half of all searches will be done through voice.
Just as with any marketing plan, all content should be created with the reader (or listener) in mind (if you don't know who your audience is yet, we'd recommend mapping out some client profiles and personas).
The rise of voice search means that you will need to create more question-based content that easily answers the queries of your potential customers. Using clear and succinct wording with natural-language keywords will also help to capture your audience.
Instead of typing word snippets into Google such as "weather Manchester," with voice search, customers are now more likely to ask, "What's the weather in Manchester today?". For those optimising for voice search, it's important that you use natural speech patterns, long-tail keywords, and ensure your platform is mobile-ready. Furthermore, since text searches are usually around 1 to 3 words, voice searches can capture upwards of ten or more words as well as conversational keywords.
So, in 2018, consider ways to comb through your content and make sure it's voice-ready, especially since Amazon's Echo Dot was the best selling product of 2017.
5. Embracing the Content Marketing Evolution
Despite the popularity of voice search and video, content marketing is still relevant and very much a vital part of your company's marketing strategy. Some still maintain that content marketing will have the biggest impact on companies this year. As always, content should focus on every stage of the buyer's journey and not too heavily on solely bottom-of-the funnel content (information about your products or services).
Awareness stage content is often important to capturing your audience and being the first point of engagement, so it's paramount to write plenty of educational content, research reports, eBooks, editorial content, expert content, and whitepapers. This content should be helpful and informative for people who may not yet have heard of you.
As far as blogging goes, one in every ten blog posts you write compounds, meaning that over time, organic traffic increases. In fact, marketing experts, HubSpot, admit that over 75% of their views and 90% of leads are generated from old posts. As a result, it's important to get as much quality content out there as possible.
Don't be dismayed if you see a potential lead consuming lots of your content without getting in touch. 47% of buyers view at least 3 to 5 pieces of content before contacting a sales representative or point of contact for a company. Some stats say that that number can be as high as ten or more pieces of content, but all agree that purchasing decisions are complex and consumers don't always know why they choose one product over another – it's often to do with gut feeling and personal connection. However, 68% of customers enjoy reading content published by brands they love.
Personalisation is a way to evolve your content strategy. Psychologically, users connect more when they see their name used (yes, even if they know it's automated). Furthermore, when you send marketing emails it's important to send content that is relevant and something that you know that person will like.
6. Expanding Your Content Team Past the Writers
Content does not simply mean plain-text eBooks, blogs, and emails. The average organisation uses at least eight marketing tactics across a range of media types and channels, as part of a successful marketing strategy. This year, you should expand your content team, thinking outside of the box, past the writers. Your content team could benefit from growth, including those with experience in any of these fields:
Video production and editing
Graphic design, illustration, and editing
Audio production and editing
Content optimisation across multi-channels
Content distribution and promotion
Strategy development and execution, and campaign management
Advertising and media buying
Communications and branding
A village of people could enhance your content team so that engagement can happen with quality, well-designed content that works for social media, blogging, email, video, voice search, SEO, and more.
Last year 70% of businesses aimed to create more content than the year before, which means that content should still drive your marketing efforts, but it's important to consider new content formats as well, such as videos and voice-search ready content. If your business doesn't have the time to create all of this content or the budget to hire several additional staff members, you can outsource to an agency that has the skills and expertise to create fully-optimised content for you.
Perhaps none of these suggestions are surprising, but it's best to be early to the party than late. When it comes to Chatbots, video, and voice search, if you aren't doing something for them already, it may be time to jump on the bandwagon.
As far as content marketing goes: increase your efforts, increase your quality, increase your quantity. Consumers are smarter, more informed, and more aware, which means that transparency will be important in 2018 – from GDPR to data protection and more. To gain consumer trust, it's important to conduct one's business with dignity and integrity.
So, which of this year's biggest trends will your business be tapping into?
Prepare Your Marketing Department for the Future
Discover how to future-proof your marketing with these techniques that will allow you to keep ahead of trends, focusing on what works. Download your FREE copy of our Future-Proof Your Marketing: How to Keep Ahead of the Curve eBook.