Telemarketing remains an effective strategy for millions of businesses around the world, but in recent years it has faced increasing challenges. At a time when companies are striving to appear more human, are becoming approachable via social media, and their adverts are personalised, the approach of cold telemarketing can often alienate customers and cause frustration. Despite this, it is possible to unleash the potential of your telemarketing activities by combining them with inbound marketing - let us show you how!
Outlined in our blog here (and shown in the diagram below), the inbound methodology uses educational content, shared via e-mails and social media to capture a lead and drive it through the buyers journey – but how does this improve your telemarketing strategy?
Warm up your leads
Inbound marketing software like Hubspot helps your team to target specific people and qualify those leads BEFORE they are passed onto the sales team to make contact. You can nurture your leads from start to finish, throughout the entire buying process and deliver targeted, personalised messages. As a result, when the sales team do make contact with a prospect, that person is already familiar with the business, you may already know the service or product they're interest in and perhaps even their barriers to purchase.
Knowledge is key

When a lead is captured through inbound, the lead capture form will already allow you some information on that lead; their name, phone number, email address and perhaps their job title too! However, this is just the beginning! From the moment that lead landed on your website, Hubspot can track their visits, their downloads and more to create a walkthrough of their experience with your business. The Hubspot CRM and the Hubspot Marketing Platform are both built on the same database, meaning that every piece of information you have on prospects in the marketing product are readily available for your sales team in the CRM. There's no time consuming syncing, no lost or importing data, no mess, no fuss! With this kind of closed loop and rich knowledge, your sales team will be more effective than ever.
Marketing Automation
What about that customer who didn't buy with you when you made contact? Inbound marketing can help here too! Having a presence across social channels will keep your business on their radar. Not only this, but Hubspot has excellent marketing automation capabilities. This means you can set each lead on an predefined workflow of emails depending on their behaviour and contact with your business. If you keep them in the loop with e-mails personal to them and their customer journey, then the more likely they are to come back to you in the future! Depending on how they respond to these emails, they will continue down the workflows. You can see on the Hubspot e-mail tracker if and how many times they've opened your email, if they've clicked through to a link or downloaded an attachment!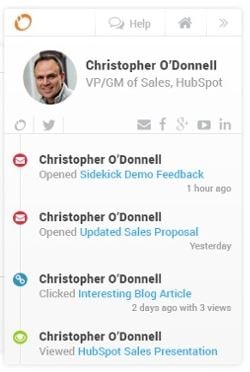 By keeping prospects aware of and engaged with your business, at the point they become ready to buy in the future; you will be in their first port of call. Alongside helping you identify leads, marketing automation and e-mail tracking will also help you weed out those contacts who are not interested. If they never open your emails or never engage - you'll know not to waste your time with a prospecting call!
Futhermore, Hubspot allows you to track visitors to your website, even if they don't click through from your marketing content. Whatever their referral route, if they visit your site - you'll know about it! Maybe they haven't responded to your e-mail, but if they've visited your website recently, it's worth keeping in touch with them as they're still engaged in their buyers journey with you.
Let your leads come to you!
If you're still looking to make cold calls in addition to using inbound marketing, Hubspot can help you narrow down the list! Using the Prospects tool, you can find businesses who have recently visited your website. As shown in the screen-shot below, you'll get infomation like company name, domain name, number of views, number of visitors from that business on your site and when they were last seen. Armed with this information, you can then go ahead and make a sales call to these businesses. Having visited your website perhaps several times, there's a big chance that they're already interested in what you have to offer!

You can also click on the company name and get specific information on what page of your website they visited, and when.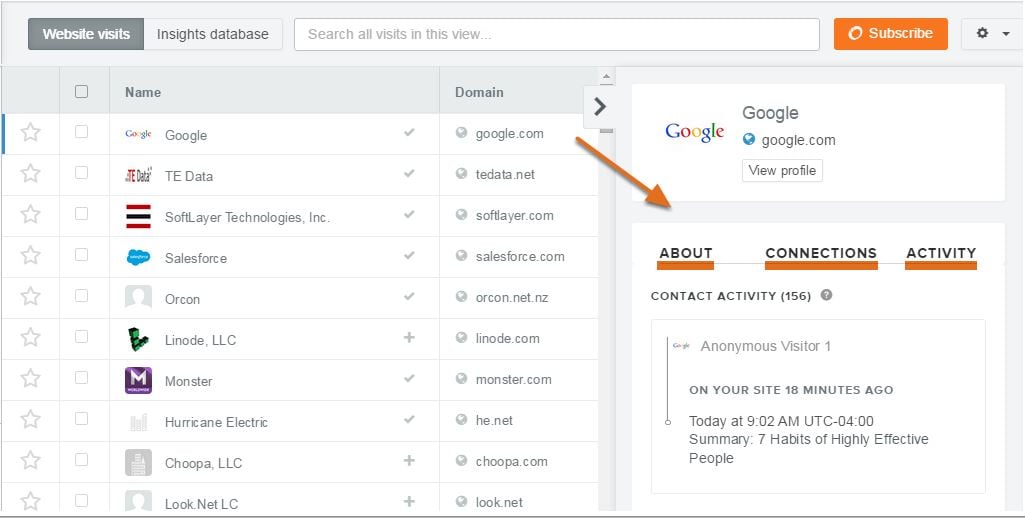 You can filter and identify prospects with keywords - such as the location of the business. With this approach, even your cold calls are getting warm!
Alongside saving you time and resources, and reducing your dropped call rate, using Hubspot together with your telesales operations will give your business a better reputation and relationship with its customers!
Find out more about how inbound marketing can increase your sales efforts here!