It's good to be ahead of the curve. Here is a roundup of all of the HubSpot updates released in November.
Almost all of these make content management and email composition slicker and more intuitive and refine the HubSpot CRM experience.
Master these tips and watch your campaign successes keep rolling in.
#1: Avoid over-emailing contacts with email send frequency cap
Released: 1st November, 2018. Original post here.
Everyone has a limit of how many emails they can meaningfully engage with in a certain period of time. In a post-GDPR world, the amount of emails we receive is, theoretically, a bit more manageable, but it's still best to respect your contacts by not sending them too many emails.
HubSpot's "email send frequency cap" is a simple and elegant way to limit the number of emails received, automatically and in the background. Just tick 'Recipients receive a set number of emails' in your HubSpot Email settings, set the maximum number and frequency, and you're good to go.
There is an override option, too. This lets you send important emails to people who have received the maximum number, to make sure vital announcements don't get missed.
The email frequency safeguard page in HubSpot's Knowledge Base gives more information.
#2: Work seamlessly with your team using content partitioning
Released: 1st November, 2018. Original post here.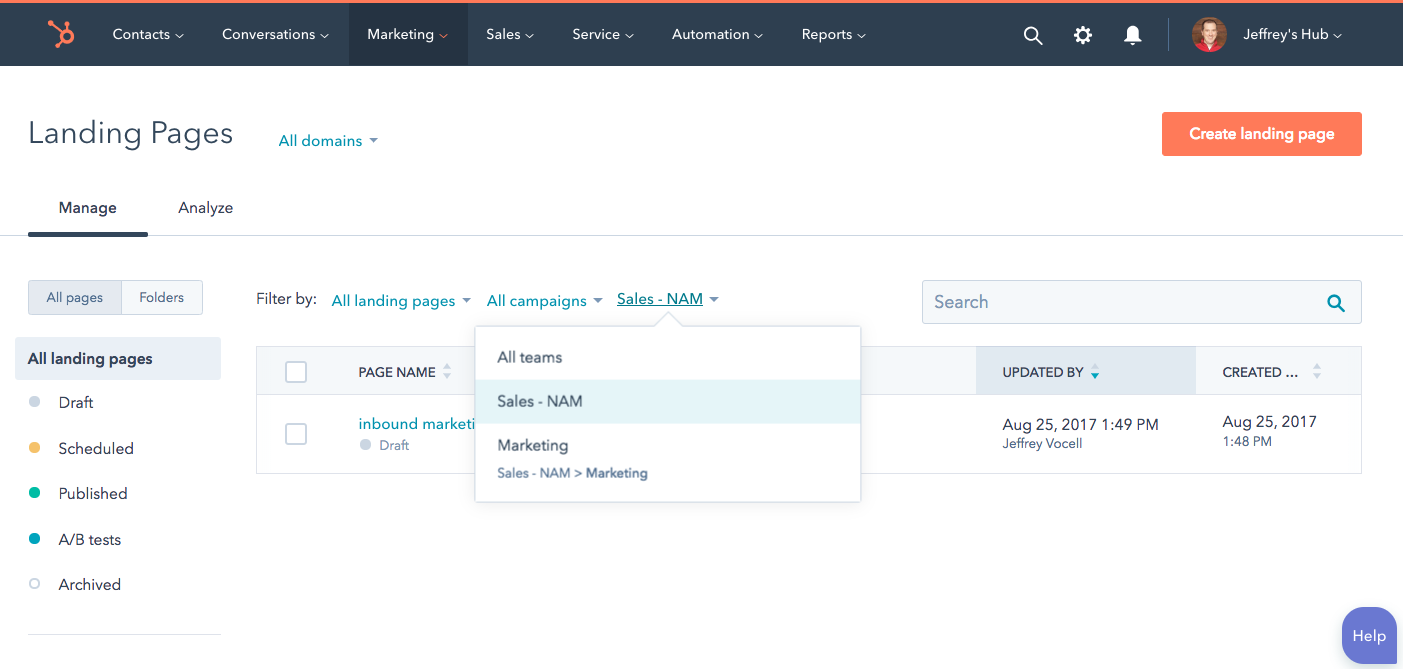 The Content Partitioning feature in HubSpot shows each contributor only the content which is relevant to them. This reduces clutter in the workspace and lets everyone easily see where their attention should be focused.
View, edit, and publish information can also be allocated to teams and members, meaning control over publication is restricted only to the relevant people.
#3: A/B testing & other new features within the drag-and-drop email editor
Released: 7th November, 2018. Original post here.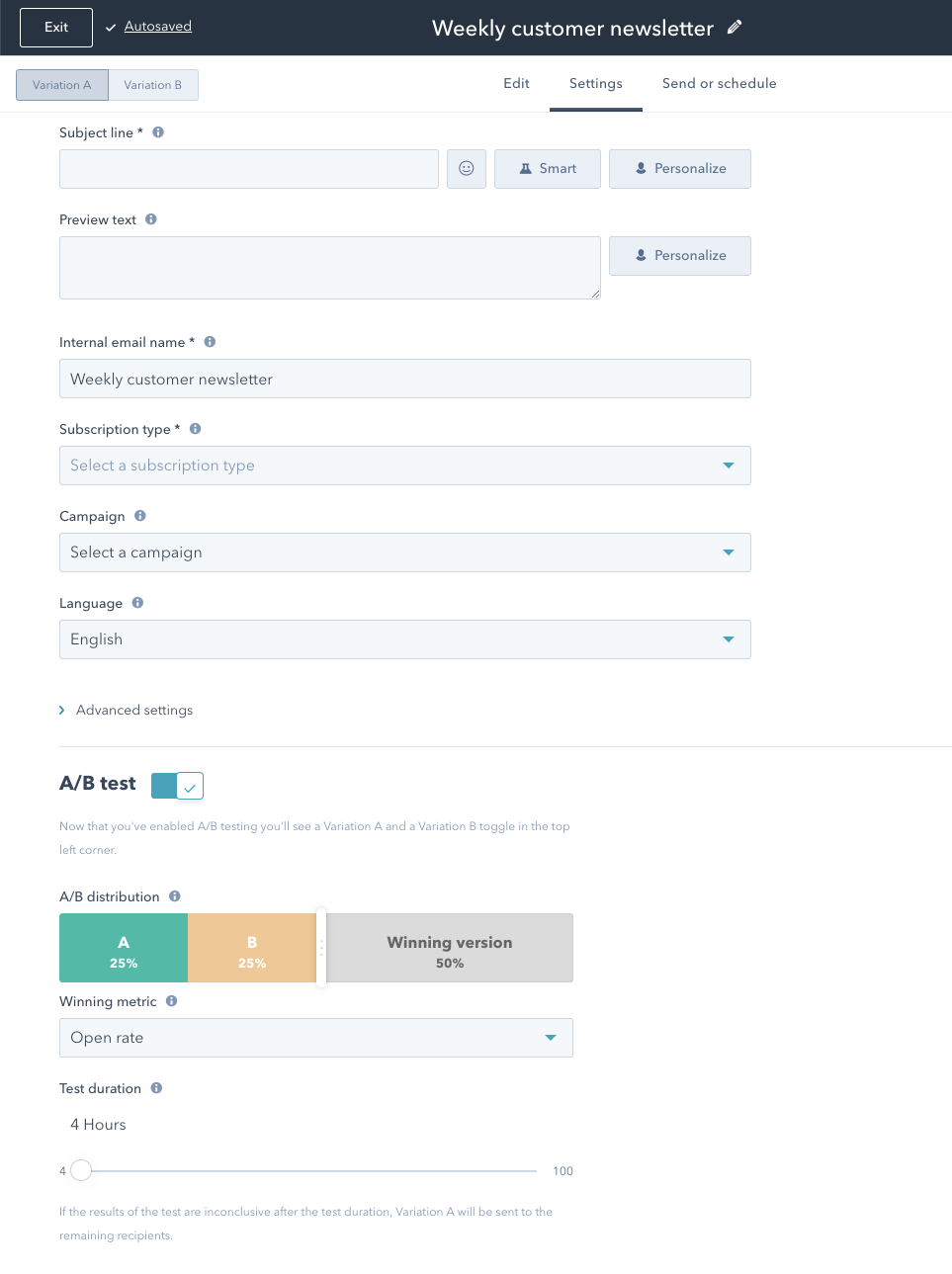 The drag-and-drop email editor has been updated with features, some of which were already available elsewhere in HubSpot. These are:
New templates: more choice of pre-made templates means emails for a wider range of purposes can be created quickly and easily.
Refined sending process: recipients and scheduling fields are now included on the same page, making the send process more streamlined.
Time zone send: you now have the option to send at a specified time, regardless of the recipient's time zone. The platform also gives you an estimate of how many recipients are in other time zones.
Quick switching between regular and automated for email campaigns
A/B testing: you can now use A/B testing within a campaign to see which features and elements work best. You can decide which elements to test, how they vary, and when to declare a 'winner'. A campaign can be 25% A, 25% B, 50% winner, for example, to ensure that most people see the most effective version.
#4: Customer experience survey web delivery in feedback, Service Hub
Released: 14th November, 2018. Original post here.
Service Hub customers can deliver surveys through their websites via HubSpot.
Giving the option to engage customers and incorporate their feedback into site developments. Collecting feedback from real site users at various stages of their journey through your site is a great way to gain
#5: Upcoming changes to webhooks in workflows
Released: 15th November, 2018. Original post here.
The details an upcoming change, which will launch on December 17th.
HubSpot webhooks allow you to trigger actions in other apps when actions are completed in HubSpot. The changes in December will be:
Secure connections (https) required: this change is made to keep your customer details safe. Webhook actions triggered between now and 17th December will attempt to use https: if they succeed, you will be able to manually switch to https now, or HubSpot will do it automatically on the 17th. If they fail, you will be prompted to update the webhook.
GET support will be removed in favour of POST: these are two different http request methods; the former stores encoded query data in the URL, the latter in the body of the request. POST is used by more people and considered to be more reliable.
#6: Refine your SEO strategy with the new Google Search Console integration
Released: 19th November, 2018. Original post here.
Integrating the insights that Google Search Console makes readily available is a great way to increase the relevance and appeal of your content by aligning it with real searches.
This integration shows several things next to each piece of content in your HubSpot backend:
Average time on page: based on bounce rate, and given in human terms like "a few seconds" or "a few minutes"
Inbound links
Views
Average position in SERPs
Link to pillar page: a quick yes / no on whether this content links to the relevant pillar page
#7: HubSpot Connect - November's new integration roundup
Released: 19th November, 2018. Original post here.
You can now integrate these things into your HubSpot account:
These handy tweaks let you save time, reduce hassle, and increase the centralisation of your marketing efforts.
#8: Deepen insights with filtering in customer feedback
Released: 20th November, 2018. Original post here.
This one is particularly slick.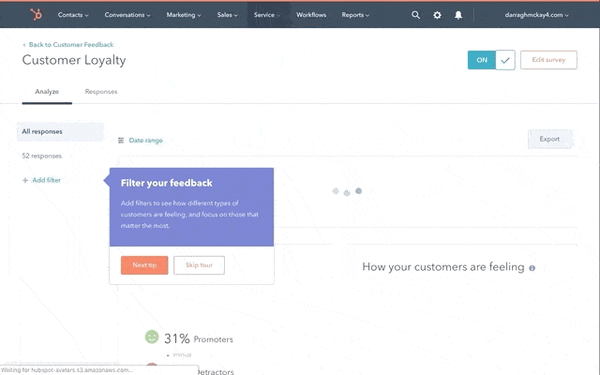 All marketers know that your customers are not uniform people with uniform needs. In fact, effective marketing strategies are built on customer segmentation and delivery of personalised content.
Until now though, it has not been possible to isolate feedback from different customer segments through HubSpot.
Now you can apply filters to feedback you've received from customers to break it down by demographic, and to gain a richer understanding of how each segment is experiencing your website. This is incredibly empowering when making changes to content and when building future marketing strategies.
#9: 3 new features that will make importing into HubSpot CRM better than ever
Released: 28th November, 2018. Original post here.
This post outlines upcoming changes to the HubSpot CRM import process which are "specifically designed to make your day easier". Nice.
They are:
Multi-file associations import: this lets you establish associations between files during upload to keep things better organised, improve reporting and data management processes. You'll be able to link people, organisations, and opportunities together without the hassle.
Single-file multi object import: you'll now be able to pull multiple properties from a single upload file, and map them to different HubSpot properties. Another time-saver and hassle-remover.
Import your notes: notes associated with contacts, organisations, opportunities, or tickets can be linked to them, giving you additional time stamped information to improve record-keeping and synergy.
That's all for November: quite a few things to get familiar with!
Keep your eyes peeled for the December update roundup! If you're looking for any help implementing your HubSpot inbound marketing strategies, get in touch today!