With over 30 million companies having an active Facebook page there is a massive amount of content posted every day. One of the key challenges businesses face is answering the question:
"What Type of Content Should We Post To Facebook in order to generate a return?"
Content marketing continues to play an essential role in search and social marketing and ultimately lead generation. Creating useful content aimed at solving customer issues, answering everyday questions and stimulating interest can certainly lead to engagement but what type of content can specifically form part of your lead generation campaign?
Before rolling out too much information to your company Facebook page revisit your content marketing plan and focus on creating content for different stages of the buyer journey.
When it comes to generating ideas for content it is vital to ensure it is focused on providing value to your target audience and structured well to align to the buyers journey. Before jumping in and putting together blog posts, eBooks and webinars, start by considering the following:
Who is the content for?
Define who your target persona is by identifying their demographic information, job title, responsibilities & challenges, where they typically find information. Paint a picture of what potential solutions you can provide to help them perform their daily activities or solve their problems.
What Stage is the Buyer at?
The content you produce should be relevant to the buyer at different stages of their journey with you. Hubspot define this very well as follows:
Awareness Stage: Your prospect knows they have a problem to solve or a requirement to meet but it is at a very early stage of investigation - there is a warm need but the content you produce should be geared around helping them in their research phase.

Consideration Stage: The buyer is aware that there are potential solutions for their problems or goals - it is now the time where they are looking for content that will help them learn more how these solutions can be implemented.

Decision Stage: The buyer is clear what the solution looks like and you are providing information that helps them make the decision to by from you and not your competitor - focus on the likes of customer reviews, specific data-sheets, interactive demos etc Key content that will help your sales efforts close the deal.
Hubspot, a marketing software provider, know how to generate leads on Facebook and has a very successful Facebook presence. With over 700,000 fans they have generated over 200,000 leads from Facebook. Hubspot's target market includes those in sales and marketing positions primarily within B2B organisations globally. Hubspot focus their content marketing efforts across 6 key types of content including:
eBooks, white papers & guides

Templates

Checklists

Blog Posts

Webinars

Content Creation Assets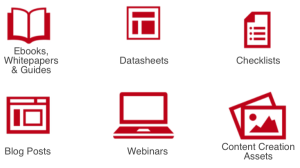 Hubspot then utilises Facebook targeted referral traffic to key content typically behind lead capture landing pages or the likes of blog posts with further Call-To-Actions (CTA) that lead to a useful content resource.