We understand that B2B Lead Generation can be a minefield, especially if you're unprepared. The problem is, it can be hard to even begin preparing or even knowing where to start. However, there are several "quick wins" you can employ, most of which are easy to accomplish. Common sense tasks like crafting the perfect titles for an expansive blogging campaign, knowing which terms to use, abuse or simply avoid altogether, and the frequent use of social media and getting to grips with SEO and call-to-actions all will form a basis for an effective B2B marketing strategy.

Today we'll go over some of these quick wins with you. We believe the following seven steps will have you well on your way to fueling a solid, respectable B2B marketing strategy.
Creating an amazing title
You can have the most irrefusable offer known to man, but it will all be for nothing if you can't hook the potential lead to click the link. The user still requires a reason to click through, and this is where creating an amazing title is an invaluable skill to have. Think of it as judging a book by its cover. If the cover (your title in this case) is unappealing, you won't see many conversions regardless of the quality of your actual content.
If you've put a ton of effort into an eBook, white paper or blog, their quality should be met with a superb title that instantly catches the eye. There's a reason "clickbait" titles works for online news outlets. Their catchiness and ability to withhold exactly the correct amount of information is a winning formula for click throughs. Of course, we're not suggesting you use a clickbait title - it doesn't have to sell a revolutionary way of thinking as that could undermine the content you've created, but it should clearly address that the user will take some form of knowledge away from it.
Blogging Matters
According to Hubspot, if your company blogs between 6-8 times a month you'll likely double your lead volume. In short, this means blogging is invaluable to you. Blog about topics related to your offers and include a relevant Call-to-Action as well as hyperlinks; show to users you want them to visit a particular page.
Here's a selection of blogging statistics taken from Hubspot's list of marketing statistics:
Marketer's who prioritise blogging are 13 times more likely to enjoy positive ROI.

B2B companies place a higher value on educational formats such as blogging, webinars and infographics.

84% of inbound marketers cite organic sources such as blogging, SEO and social media as rising in importance.

82% of marketers who blog daily acquired a customer through their blog.

79% of companies that have a blog reported a positive ROI for inbound marketing in 2013.
There are some things you should know before diving into the deep end, however. Blogging is a superb use of your personal creativity, and when paired with your business ideals can lead to wondrous results. Here are some of the most prominent blogging do's and don't's:
DO share newly posted blogs on social media. Chiefly, Facebook, Twitter and LinkedIn. DON'T share the same blog twice in a week. Let some time pass for new followers to experience the content at a steady pace.

DO respond to any and all feedback, including criticism. DON'T enforce your opinions on those who disagree with you.

DO join relevant LinkedIn groups and share your content there (not just on your personal page), but DON'T promote your works without also engaging with others in the group. That includes commenting and reading the works of others.
Creating a call-to-action button that transports users to your blog will attract more people to your work, than simply a link with the word "Blog" attached to it. You'll learn more about CTAs below!
Finally, make sure to spellcheck. It may seem like common sense but we've seen many business bloggers publish posts without proof-reading their work first. Remember, bad spelling and grammar will reflect poorly on your business!
Understand CTAs
A CTA (or Call To Action) is a link that promotes your offer. The CTA, if designed well, should take your leads to a dedicated landing page for the offer. The challenge is in making the CTA convincing enough to click in the first place.
Many offers will present obnoxious CTAs crammed with text, typos or unnecessary touches like animations or clashing colour schemes. As you've probably guessed, these only serve to push people away, which is why it's so important to get CTAs right the first time. The CTA should indeed stand out from the rest of the page, but in a way that is uniform to the visual style of the page it occupies. Don't overload the CTA with text; treat it like you would the title of your project.
Here are some great Call to Action examples as evidenced by Hubspot's blog on the topic:
Notice how the call-to-action button below on Spotify's homepage clearly stands in the company's familiar light green colour on top of a crisp white background. They have also made the button to download the paid version stand out more than the free version.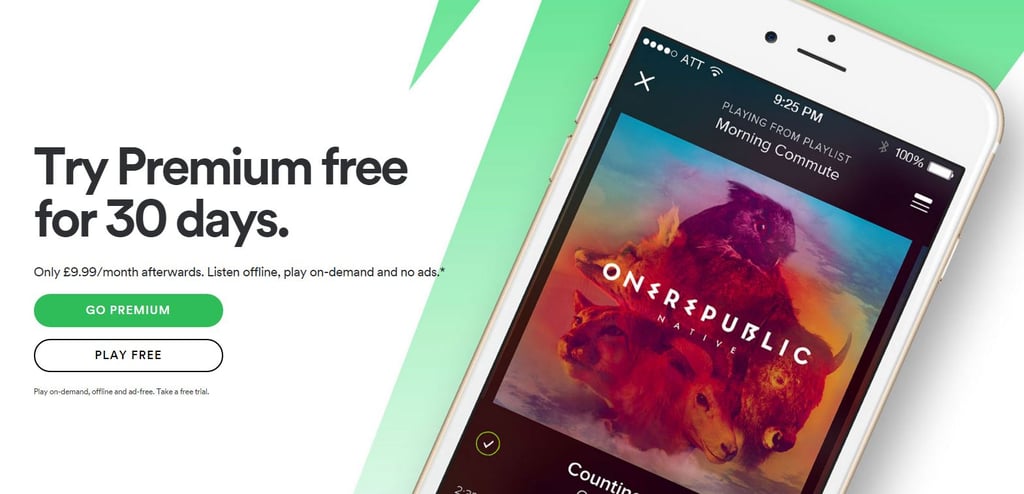 Similarly to Spotify's call-to-action button, the colour scheme here is uniform with Dropbox's blue logo. There's deliberately very little to draw the user's attention away from the button thanks to the purposefully simplistic design.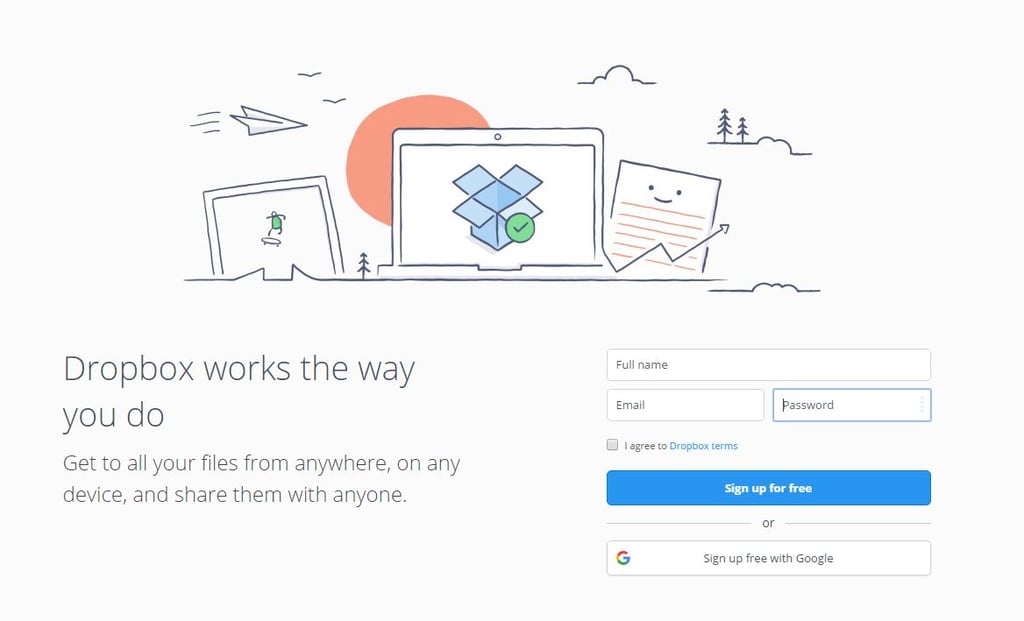 Upon clicking through, the user should be greeted with a dedicated landing page for your offer. If you feel you've found an opportunity to use a CTA, you should always be sending people to a dedicated landing page. Regardless of what the offer is, you're still looking to turn them into a lead, so specialise your offers where you can.
If your offer entails a download, you can go the extra mile by directing the user to a "Thank You" page for taking the time to click through. The person will note the extra effort you've taken on to nurture them, increasing the chances of turning them into a lead.
Employ an element of scarcity
It's a fact that people love the lure of limited time offers; it's simply hard-wired into our psyche. The thought of obtaining rare knowledge is a powerful one, and can influence us to jump out of our comfort zones by becoming involved in something we wouldn't normally consider. You can play on our pre-programmed psychological tendencies with your marketing strategy!
A great example of this would be an advertisement of a Christmas sale; the advertiser demonstrates items that you've potentially wanted for a while, are now more readily available, albeit for a set amount of time. There's also limited quantity offers. These serve to make the product finite, and thus more rare and/or valuable. By contrast, a limited quantity offers will display its product as something you need, simply by virtue of the value of its scarcity.
Avoid overused terms
Is your offer "robust, cutting edge and groundbreaking?" Great, just don't tell that to your leads! Such overused terms nowadays just serve to roll the eyes; terms like these are no longer taken seriously and are lumped into the pile of every other offer that tries to oversell itself. Here are some classic zingers that should be avoided:
Revolutionary

Change the way you look at/work with...

Game changing

Next-gen

Flexible

Easy to use
Such expressions have grown as meaningless as including the word "passionate" on your CV. Avoid them if you can, and see if you can reword them with various synonyms.
Social media
While you may have previously used social media to post pictures of cats fearing the sight of a cucumber, or videos chronicling a particularly unfortunate night on the town, you may also want to start using it to promote your blogs and offers. Social media allows you to build a following, and form a personality associated with the company.
Regular content writing allows for more varied posting options, and justifies your ability to schedule posts several times on a daily basis. But social media should not exclusively be a means to push your offers. Use it as an opportunity to reach out and engage with your audience. If people like your tone, you'll be viewed favourably and this could help spread good word of mouth about your company.
It's the people who grow to like you who will notice the CTAs on your blog posts. They're the ones who won't immediately bounce from your site, and indeed they're the ones who'll keep coming back for regular content and offers. They're the ones you'll nurture into successful B2B lead generation.
Make your landing page effective
Creating the perfect landing page can be very tricky. Ultimately, your ideal aim will be to cram as much information into as short and concise a way as possible. Your landing page should always consist of five key elements:
Your title and an optional subheading

A brief description of what the offer is

One or more related images

A testimonial, security badges or anything that instills trust in the user

A form for the user to input their information for the download
You might view this as a little sneaky, but you should also remove any navigational panes from the landing page. These will only encourage the user to click through to elsewhere on the site, thus decreasing the chances of creating a lead. Find out more about optimising your landing page here!
Remember, less is more! Be sure to emphasise the key benefits of your offer; keep them short and sweet to avoid the user feeling like you've wasted their time. Holding their patience until the last second is key!
To get more tips on how to generate more leads for you business, download our eBook below!