Facebook marketing is just for 'Business To Consumer' based businesses right? Well actually that's not the case. Let me tell you why you need to use Facebook for b2b lead generation too.
Many marketers get hung up about Facebook B2B and focus on the interaction with other business pages where as the priority should be on targeting content and promotion to individuals. Businesses do business with one another but people buy from people and reaching the right person in that organisation is key to generating interest and therefore leads for your sales team to engage with.
Potential Reach
There are approximately 30 million Facebook users in the UK which is nearly half of the UK population - what other avenue can boast this level coverage...
Around The Clock
Facebook users log in throughout the day including evenings and weekends - unlike business email and linkedIn. Times when users have more availability can also be a consideration for targeting your campaigns - try to avoid the noise. Facebook users are on the platform for an average of 8 hours per month according to their reports.
Facebook Introducing 'Facebook At Work'
Announced earlier this year that they have been testing new features for an Internal Company Social Network - effectively a form of a Social Intranet. Whilst there will be separate accounts created by employers for their employees, they can also be linked to personal accounts so everything can be accessed from the one place.
I can only see this addition to the platform as a positive for B2B companies marketing on Facebook - business audiences will inevitably be spending more time exposed to the Facebook platform during the business day.
Facebook Custom & Lookalike Audiences
Use Facebook advertising to target custom audiences - go beyond the standard targeting features and zone in on contacts that are close to you:
Upload customer email lists: Have you got existing customers that you would like to upgrade, renew or simply ensure they know about your latest resources that could help them? Try creating a custom audience campaign by uploading your customer email information so you can target them whilst they are in Facebook.
Export LinkedIn contacts and do the same as above: LinkedIn allows you to download your LinkedIn contacts including their email addresses.
Retargeting
We have all seen adverts online that remind us of products or services we have shown interest in recently - do the same with Facebook - integrate the tracking pixels to your website and display your messaging to them again within Facebook.
Mobile Devices
A report from Comscore / Flurry shows the extent to which users log into Facebook - a huge 14% percent of their device time on the network: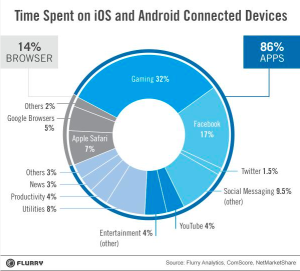 Here is an infographic from GroSocial- a Facebook Marketing platform outlining why companies, including B2B companies need to use Facebook. What is interesting is that 25% of Facebook users check their account more than 5 times per day and with around 75% of the UK population online - approximately 25 million users have a Facebook profile so the audience is there!

Courtesy of: GroSocial by InfusionSoft