So, you've come here because you're looking for some awesome inbound marketing stats, right? Well good news, because we've got just that!The Inbound Marketing Statistics 2017 report is chock-full of research and survey data conducted by HubSpot to show the current marketing and sales trends, challenges and priorities; not to mention the future disruptors to industries (we're looking at you, video and AI).

These reports are designed to give you an insight into the inbound marketing journey and how businesses are taking on board the practices and methods in order to keep up with the ever-changing digital and consumer landscape.

We've cherry-picked ten of the best statistics from the report to share with you today and hopefully leave you with a sense of inbound enlightenment.
1. Conversion is on the Rise
70% of marketers are focusing on converting more leads into customers as their company's top marketing priority - a priority which continues to hold steadfast each year for the majority of businesses.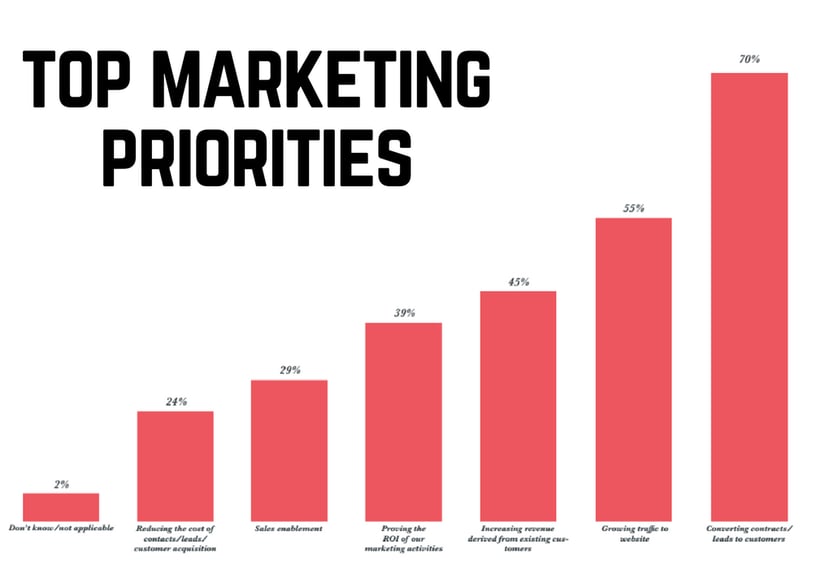 2. Better SEO Through Inbound
Sometimes with SEO, the foundation simply needs to be reinforced and solidified. 61% of respondents stated that improving their organic SEO presence - including looking at industry directories, fixing up their website and interacting with prospects through social channels and forums - is a big priority.

3. Sell, Sell, Sell
This is a big tie-in for aligning sales and marketing departments (more on that concept later). 71% of sales professionals will focus on closing more deals by building stronger partnerships and using thought leadership to start conversations in an effort to increase lead to customer conversion rates.

4. A Challenge for Marketers
63% of respondents said generating traffic to their website and leads via online portals is the biggest challenge for their company. This could be due to the amount of online competition that already exists online. Whatever the reason, it's clear that marketers want to get ahead and be able to market services and products to potential customers online.

5. "How Do You Solve a Problem Like Sales?"
38% of sales representatives say that it's getting harder to evoke a response from prospects in today's business world, especially since consumer behaviour has shifted the balance of power in the buyer's journey. For the inbound marketer, this represents a solid explanation for why professional services firms need to understand where their customers sit in the buyer's journey. After all: a repeat customer expects a different style of content outreach than the unique visitor to your website.

6. Manual is Mundane
On average, 57% of salespeople spend up to an hour each day performing manual tasks such as data entry. As the graph below indicates, a third of salespeople (31%) reported spending more than an hour. Judging by this indication, reducing the amount of time spent on the mundane activities is a big need. Enter marketing automation software, which could reduce these times significantly, opening up more time to be allocated to tasks that will help grow the business.

7. Working Relationship
Only 22% say that their marketing and sales departments were tightly aligned with a formal service level agreement (SLA) between teams, compared to 44% who said that their departments were only generally aligned. That statistic flies in the face of current needs to join up both marketing and sales.
8. Inbound = Quality
Companies with a tightly aligned Sales and Marketing SLA find that inbound marketing practices provide the highest quality leads by 66% when compared to only 15% of quality leads provided by outbound methods. Regardless of the degree of alignment in place, it's revealing that all respondents reported that they see better quality leads via inbound than either outbound or self-sourced leads from sales.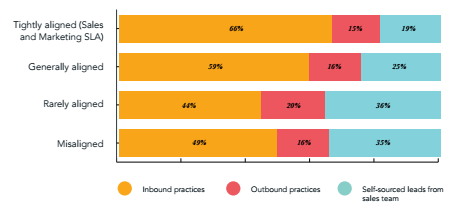 9. Inbound is Worth the Investment
Compared to 2016, there is a healthy buoyancy in budget allocation for inbound marketing strategies, to the tune of 71% of respondents saying their budget would remain the same or grow. And grow is in the majority of those two options, too. There has been an increase in budgeting for inbound marketing for 2017 and beyond by at least 37%.

10. Preparing for Disruptors
Nearly half (48%) of marketers are looking to increase their social presence on video channels such as YouTube and Facebook video in the future as the demand for video content continues to be on the rise since 2016's figures in the chart below.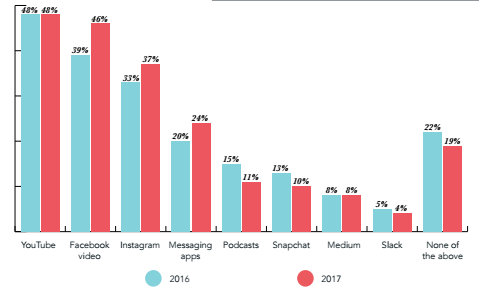 CONCLUSION
The constant evolution of inbound marketing as the go-to method for many marketers is truly reflected in the Inbound Marketing Statistics 2017 report. It will only continue to grow as sales and marketing teams continue:
Generating more leads
Converting more customers
Retaining loyal customers

Much like we found with Inbound Marketing Statistics in 2016, priorities and challenges such as converting leads will always remain consistent. It's a results-driven game, and conversion remains the biggest driving force behind growing a business for marketers and salespeople alike.

With the changes to how business is conducted and how consumers shop around, inbound marketing is set to remain at the forefront of adapting business change. One main goal, as a result, will be to strengthen the manner in which companies can work around potential issues and turn them into positive challenges.

These are just ten statistics from the Inbound Marketing Statistics 2017 report, and there's plenty more where those came from Download the full report below to sink your teeth into more and see what others are saying about the future of inbound methodology.